Nonprofits
The Doe Fund raises over $1.4 million at annual gala
Nearly 500 guests were in attendance at the event, "A Bridge to Opportunity."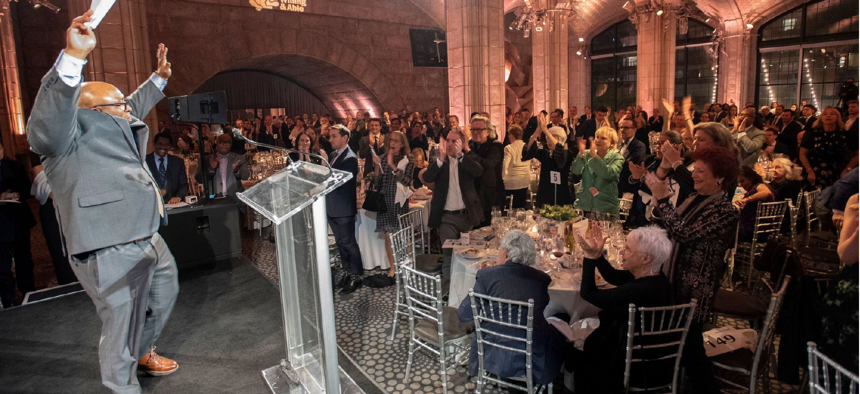 The Doe Fund, a nonprofit organization that aims to end the cycle of homelessness and recidivism and provide work and opportunity, raised over $1.4 million at its annual gala, A Bridge to Opportunity, with more gifts still coming in, organizers said.
The gala held at Guastavino's in Manhattan on Oct. 20 was attended by nearly 500 people who came out to celebrate the organization's impact in New York City. The night consisted of a cocktail hour and dinner while the program was moderated by Dean Meminger of Spectrum NY1. 
"Today, New York needs The Doe Fund and The Doe Fund needs New Yorkers. This room, filled to capacity, tells us that New Yorkers are showing up," Meminger told attendees..
The night also honored The Doe Fund's Board Chairman Steven C. Koppel and Joy Fishman, wife of the late Jack Fishman who was the co-creator of naloxone and whose son suffered a fatal overdose. 
"Naloxone has saved 27,000 people. The Doe Fund has done the same for nearly 30,000," said Fishman, now an advocate for harm reduction.  "After my husband Jack developed naloxone and after I lost Jonathan to addiction, I made it my mission to ensure naloxone gets into the hands of as many lay people in as many different places as possible. That includes The Doe Fund's facilities."
The organization has served nearly 30,000 homeless and previously incarcerated individuals through housing, economic opportunity and other comprehensive services. The fund recently opened a seven-story, 150,000 square foot affordable housing complex in the Bronx. 
Also speaking at the gala was Carlos Jones, who graduate of the fund's Ready, Willing & Able program, who noted that it took him a lifetime to, "understand that there is nothing wrong with failure." 
"Life is about getting up," Jones told attendees. "What separates us from the rest of the world is that Doe Fund men know how to get up and stay up. The floor to us will never be comfortable again. We can never look onto others and not mentor, teach, preach, shoulder pain, comfort tears, or just hold out a hand. We are Doe Fund men and we live with purpose."