University Settlement's early childhood mental health program receives $650,000 grant
The grant is the largest single-year gift in the organization's history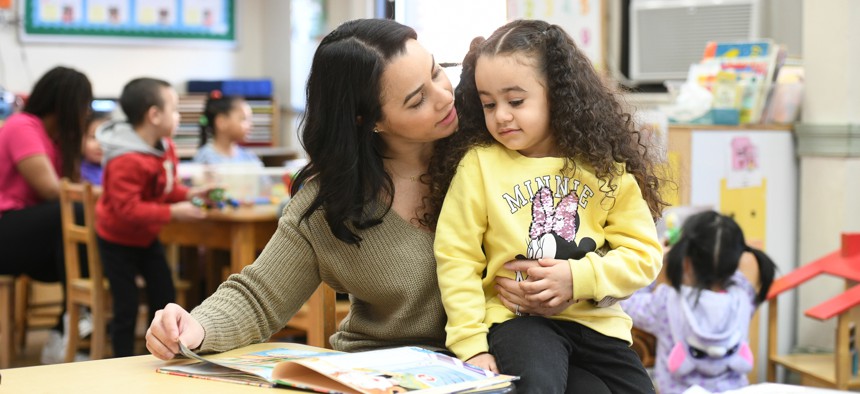 University Settlement's Butterflies early childhood mental health program has received a $650,000 investment from Robin Hood, New York City's largest anti-poverty philanthropy. 
Butterflies was founded in 2006 and serves children under five-years-old, alongside their families, offering mental health services to those who have experienced extreme stress or trauma. 
The grant, which is the largest single-year private gift in University Settlement's history, will allow the organization to expand its services amidst the youth mental health crisis. It will also allow the organization to create a strong Medicaid billing infrastructure that will aid in financial sustainability and make more services available. 
The grant will also enhance the quality of services offered through the implementation of the Climate of Healthy Interactions for Learning & Development tool, in partnership with the Yale Child Study Center. The tool is an observational measure of classroom climate, assessing all interactions between members of the classroom and classroom behaviors. 
"Robin Hood is committed to turning New York City into an early learning metropolis, and we're proud to deepen our support of University Settlement, one of NYC's most forward-thinking early childhood education institutions." said Kelvin Chan, managing director of Early Childhood at Robin Hood. 
"When children are able to access mental health supports embedded within early childhood education settings, it pays dividends in their lives going forward, and makes a big difference for their communities," Chan told New York Nonprofit Media. "That's why we're investing in Butterflies – to help demonstrate the value of these sorts of interventions to policymakers."
Chan added that Robin Hood hopes the CHILD tool can "become a new standard model for assessment of children's social-emotional development." 
The grant will allow the organization to hire more staff, including bilingual staff, to meet the needs of clients. 
"This grant is already having a transformative impact on Butterflies," said Marilus Castellanos, senior program director, Early Childhood Mental Health and Family Wellness, University Settlement. "We're currently recruiting for 6 new full-time positions, including 4 clinicians, and we're already onboarding a Spanish-speaking clinician, which will make our services available in Spanish for the first time since 2019."
Castellanos said that by early next year, the Yale Child Study Center will begin training a full team to administer the CHILD tool. The organization expects this will help in more readily demonstrating the efficacy of the program's approach. She added that Robin Hood made the rare opportunity for clinicians to receive training under the instruction of the creators of an assessment possible. 
"We are grateful to Robin Hood for its longstanding commitment to our work, and for this latest and largest investment in our teams," said Melissa Aase, CEO of University Settlement. "And we are thrilled about the opportunity to collaborate with Yale Child Study Center to implement the CHILD tool – we believe that together we're building a new best practice for understanding and productively supporting young children's mental health."