Carrión will be a "tough act to follow," nonprofit providers say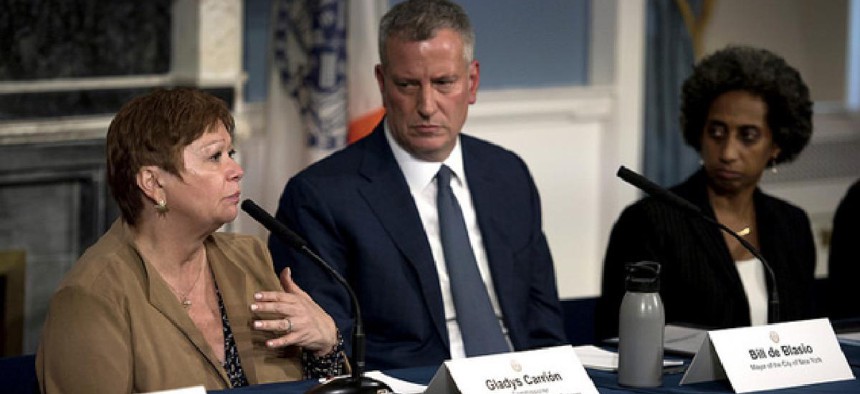 New York City Administration for Children's Services Commissioner Gladys Carrión announced her resignation on Monday, capping several months of turmoil as the agency came under fire for issues that contributed to the recent deaths of two children.
"I have struggled with this decision but have come to the conclusion that it is best for my well-being," Carrión wrote in her Dec. 12 resignation letter, released on Twitter by Mayor Bill de Blasio's press secretary, Eric Phillips. "After 40 years of working on behalf of children and families, it is time for me to retire."
During an Oct. 31 City Council hearing, she tearfully apologized for the death of six-year-old Zymere Perkins, whose case was reportedly prematurely closed by caseworkers, though an official investigation is ongoing. Earlier this month, three-year-old Jaden Jordan died after being severely beaten. ACS workers attempted to respond to a child abuse tip, but they were given the wrong address. They found the correct house three days later. His mother's boyfriend was charged in connection with the death.
Last week, two children were killed after a steam explosion from a faulty radiator in a Bronx apartment used to house formerly homeless tenants. While there wasn't a known ACS connection, the incident could only have heightened tensions within City Hall.
City Hall spokeswoman Aja Worthy-Davis said Carrión would remain in her post until the Mayor appointed a successor.
"Gladys has spent four decades serving the public with excellence and an unparalleled commitment to the children and families of New York," de Blasio said in a statement. "Gladys' leadership and reforms have ushered in a heightened level of accountability and performance at the Administration for Children's Services. That progress must continue as we work to meet one of the most difficult missions and mandates in city government."
The heads of some nonprofit providers which work closely with the agency said Carrión performed well, considering the high pressure and difficulty of the job. In recent months, as stories of death and neglect played out in the media, nonprofit leaders shared perspectives with New York Nonprofit Media that generally supported the commissioner. While recognizing the need to hold ACS accountable, others were careful to note the scale of the challenge, and the need to support and properly train caseworkers.
Jim Purcell, the CEO of the Council of Family and Child Caring Agencies, which represents the state's foster care, adoption, juvenile justice and other youth nonprofits, said he was stunned when he learned of her retirement. "My guess is that she's been contemplating this decision for a little bit. She's not somebody who walks away from challenges," he said, noting that she did the job "exceptionally well," despite the pressure of the spotlight.
"All New Yorkers have lost a friend and an important person who gave her professional life to taking care and protecting the most vulnerable among us," he said. "That's a huge burden that she carried and she did it with grace and calmness too, which is not always easy."
Purcell wasn't sure who could best fill the spot. "I'm sure the mayor is struggling with that, even as we speak," he said. "It's in many ways a thankless job. You don't get credit for all of the good things."
He didn't think that the transition would stand in the way or slow down some of the agency's reforms because Carrión shared de Blasio's priorities.
City Comptroller Scott Stringer, who has vowed to investigate the agency and is said to be mulling a primary challenge to de Blasio next year, said Carrión's passion was "unquestionable," but that the city was "failing our most vulnerable children."
"Whether it's kids being put in dangerous foster care homes, cluster sites with serious violations, or commercial hotels where there are no services, the status quo is unacceptable," he said. "City Hall must break down agency silos and put forward a clear, transparent plan for reform. Commissioners come and go, but fundamental change must be here to stay."
In a joint statement released after the announcement, City Council Speaker Melissa Mark-Viverito and Stephen Levin, who chairs the Council's General Welfare Committee, wrote, "In light of recent tragedies, it is clear that ACS must fully commit to working with the City Council to enact needed reforms to save lives and better protect families."
Mary Pulido, executive director of The New York Society for the Prevention of Cruelty to Children, said in a statement, "We have the utmost respect for their leadership and staff. We wish Commissioner Carrion all the best in her retirement and look forward to working with her successor."
Gerard McCaffery, president and CEO of MercyFirst, which provides residential and community based youth programs in New York City and Long Island, told NYN Media that Carrión withstood a high level of media scrutiny and attention in a "pressure cooker of a job" that left little margin for error. He noted that while few demand the resignation of a police commissioner after a crime, the ACS commissioner is often in the spotlight after every agency misstep.
"Things do go wrong and we have to give people a little breathing room to just understand that," he said.
He said Carrión, like every commissioner before her, has built upon the successes of her predecessors, and has now reduced the number of children in foster care to less than 10,000, cut caseloads of foster care providers and emphasized preventive services. But, he added, it would be a tough to find a person to replace her who knows child welfare and is tenacious enough to make inroads.
In her letter, Carrión said that during her tenure – which began in 2014 at the start of the de Blasio administration – ACS created 630 positions, provided worker training to more than 5,000 employees, reduced caseloads and instituted an instructional program to help teachers and parents guide children through traumatic experiences.
Carrión started her career at the nonprofit Bronx Legal Services and rose through the ranks to become commissioner of the city's Community Development Agency and take leadership posts at nonprofit Inwood House and the United Way of New York City. In 2007, then-Gov. Eliot Spitzer tapped her as commissioner of the state Office of Children and Family Services, which oversees child welfare, early childhood care and juvenile justice. She closed 21 youth detention centers and emphasized bringing juvenile offenders closer to their families, according to her official agency biography.
She's the latest high-ranking City Hall figure to succumb to controversy in the administration's handling of social services issues. As the ongoing homelessness crisis ballooned, Deputy Mayor of Health and Human Services Lilliam Barrios-Paoli and Homeless Services Commissioner Gilbert Taylor stepped down late last year.
"I don't think ACS needs a reformer, I think there's plenty of reforms and initiatives going on that are working," McCaffery said, adding that Carrión would be a "tough act to follow."
"They probably also need a crazy person who would be willing to take that job because even under the best of circumstances, it's a grueling position, incredibly difficult," he said.