The latest from the NYC Employment and Training Coalition ... NYC contracts and data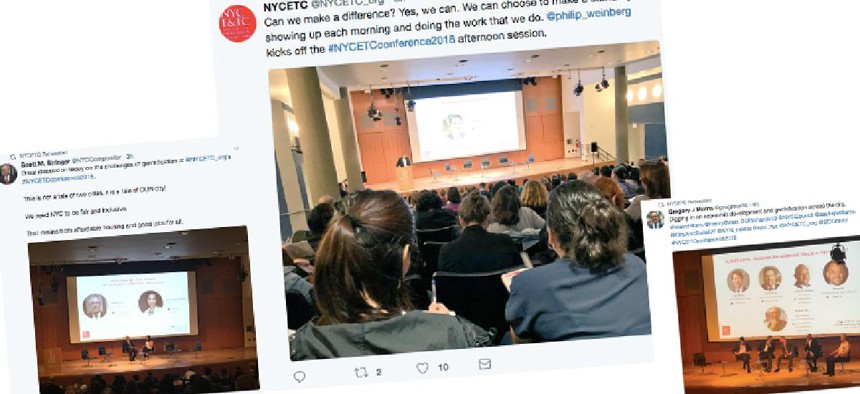 Acacia Network Housing has received a $9.6 million contract extension from the New York City Department of Homeless Services. The money will fund shelter services for families at a facility located at 38-01 112th Street in Queens through June 2022, according to the City Record. The Department of Correction intends to give two contracts to the Osborne Society to provide discharge preparation skills to Rikers inmates and after their release in the Bronx and in Brooklyn. The City Record did not include a financial total for the contracts.
New York City has released an annual update of publicly available data. A total of 600 datasets from 38 agencies were released as part of the NYC Open Data Plan, according to a Sept. 19 press release. This includes new information on poverty, domestic violence, and housing developments receiving city financing. Read the full 100-page report on the release here.
The New York City Employment and Training Coalition hosted its 2018 conference, Innovative Solutions for an Equitable Workforce, on Sept. 20. The event featured numerous representatives from the nonprofit sector discussing the current state of affairs in the city and how it relates to issue such as gentrification, economic development, social inequity, and job training. Here are some highlights from the midtown Manhattan event, via social media.
Kathy Wylde of @Partnership4NYC and @jarrettmurphy of @CityLimitsNews take stock of how workforce development has evolved over the past years and how nonprofits have taken on more and more responsibility for training the workforce. #NYCETCConference2018 pic.twitter.com/4NejxPPUa7

— NYCETC (@NYCETC_org) September 20, 2018
"All of us, at all of our organizations, can make a decision to think differently, to act differently, to partner differently."

Our president and CEO Phil Weinberg kicks off the second half of #NYCETCconference2018 by encouraging us to take a stand and make a difference. pic.twitter.com/02tXpARONt

— STRIVE New York (@STRIVE_NY) September 20, 2018
"Philanthropy doesn't perceive of itself as dependent on our community partners, but we are." Ana Oliveira of @NYWomensFdn encourages practitioners and philanthropy to reframe our relationship. #NYCETCConference2018

— NYCETC (@NYCETC_org) September 20, 2018
Great discussion today on the challenges of gentrification at @NYCETC_org's #NYCETCconference2018.

This is not a tale of two cities, it is a tale of OUR city!

We need NYC to be fair and inclusive.

That means both affordable housing and good jobs for all. pic.twitter.com/LJbtJdQlqQ

— Scott M. Stringer (@NYCComptroller) September 20, 2018