What a new attorney general means for nonprofits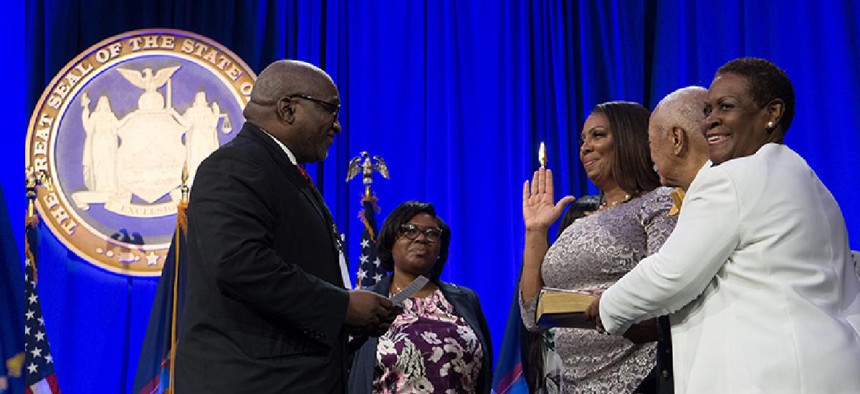 The New York Immigration Coalition has something to say about Gov. Andrew Cuomo's inauguration speech. Immigration was a high-profile issue for the governor in his third inaugural address, given on Ellis Island on Jan. 1. In response, Steven Choi, executive director of the coalition released the following statement on how Cuomo can match his rhetoric with action:
#BREAKING @NYGovCuomo Speech On Ellis Island: Strong Words, Need for Action ⬇️ full release ➡️ https://t.co/z696Vxliqo #DriversLicensesNOW pic.twitter.com/zqKW1IhJO0

— New York Immigration Coalition (@thenyic) January 2, 2019
Breakthrough New York has received $160,000 from the New York Jets. The NFL team provided the money to the New York City-based social justice nonprofit as part of a wider effort to help combat social inequality. BTNY will use the funding to support ongoing efforts to help low-income students get on track to attend college. The Black Alliance for Just Immigration, JustLeadershipUSA, The Legal Aid Society's Decarceration Project, and The New York Foundling also received funding from the team, according to a Dec. 22 press release.
"Inadequate access to resources for education, poverty reduction or racial equality has affected every member of our locker room," NFL player Kelvin Beachum said in the press release. "From the communities we came from, to the one we now call home, it is abundantly clear that these organizations are not only needed but are causing direct change in the fight against social inequality."
There is a new state attorney general in power. In that role, Letitia James will oversee the charities bureau that regulates nonprofits statewide. While her inaugural speech did not explicitly mention that part of her new job, it did touch on some themes relevant to the nonprofit sectors, including economic and social justice.
"We see corruption eating away at the bedrock of our society and too often we feel powerless to respond, but today my friends we take that power back," she said in remarks given after a ceremony held on Ellis Island on Jan. 1. See her full speech here. It is still unclear what approach James – a former New York City public advocate – will take towards regulating nonprofits but she has hinted that she will more or less follow the same approach as her predecessors Barbara Underwood and Eric Schneiderman.
"The power to approve or disapprove dissolutions and the resulting distribution of assets should and will be informed by a deep concern for the impact on the affected constituency," James told NYN Media during the Democratic primary for attorney general, adding that she is "deeply aware that small, grassroots nonprofits often struggle to keep updated on changes in the law and need advice to remain in compliance."
Missouri Youth Services Institute has scored a new contract with the New York City Administration for Children's Services. The $1.8 million contract will provide juvenile justice consulting services, according to the City Record.The Department of Social Services has awarded a $3.45 million contract to Woodstock HDFC for Senior Citizens to fund supportive housing services for single adults at 127 West 43rd Street in Manhattan. New York Asian Women's Center will provide senior services on behalf of the Department for the Aging, per a $135,000 contract.