A nonprofit leader's advice to graduating seniors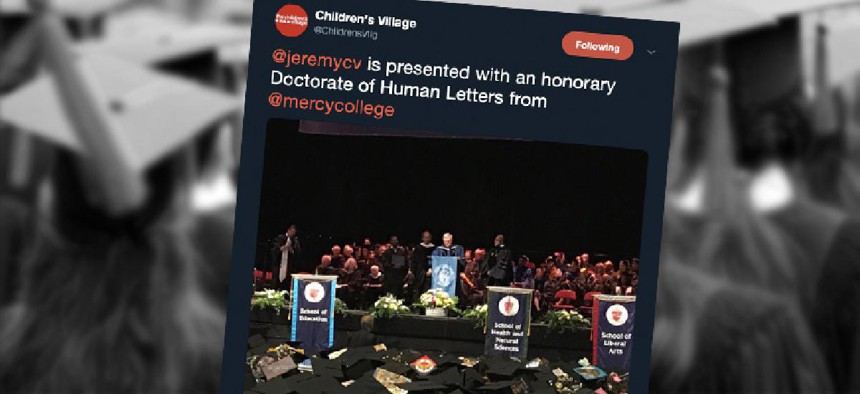 Nonprofit Coordinating Committee of New York is no more. The organization, which advocates on behalf of nonprofits statewide, announced that it has rebranded itself as Nonprofit New York. This means that in addition to the new name, there is a new website and social media handles (Twitter, Facebook, LinkedIn). New contact info for employees can be found here.
While the nonprofit has a new look, a statement on its website states that the mission of Nonprofit New York will not change despite the new moniker, which has been in the works for some time.
"In 2017, we announced our FY18-FY20 Strategic Plan that would enable us to offer stronger programming and better services, and that took us back to our roots in policy and advocacy," reads a post on the nonprofit's new website. "That strategy led us to develop programs to better serve our members. But we didn't just want to build stronger nonprofits. We wanted to inspire a powerful nonprofit community. To do that, we needed a clear, concise brand that told everyone who we are and what we do. So, we began the important (and daunting) work of rebranding."
New York state nursing homes are moving up the national ratings – but that does not mean they are getting better. The state has moved up from having the 27th to having the 31st best care nationwide, according to the federal government's latest Nursing Home Compare report. However, the state's overall score has fallen in recent months to 3.19 out of 5 stars.
"New York's middling statewide performance comes in spite of high costs," reads an analysis of the report on the website of the Empire Center for Public Policy. "The median price of a semi-private room, at $141,000 per year, was the fifth-highest in the country."
FPWA President Jennifer Jones Austin appeared on NY1 to discuss a new report on the poverty-to-prison pipeline. The report, released last month, examines the role of poverty in the criminal justice system, outlines steps to mitigate it, and considers the role that nonprofits play in the effort. See the interview here.
Nonprofits joined elected officials at the state Capitol on Monday to push for more social and economic equality in development projects. A new package of bills has been introduced to address issues of transparency and social impact highlighted by the failed Amazon HQ2 deal. A coalition of more than two dozen groups, including Make the Road New York, New York Communities for Change, the Fiscal Policy Institute, and CAAAV Organizing Asian Communities, joined lawmakers in pushing the package.
UJA-Federation of New York has $84 million in new funding for Jewish day schools and yeshivot in New York. About two-thirds of the money was generated by the Day School Challenge Fund, which raised the funds through its new endowment, according to a May 20 press release. The remaining third came from a matching fund. "The new endowment dollars provide a predictable revenue stream for schools to provide scholarships and invest in educational excellence," reads the press release. "The fund is managed and invested by UJA-Federation, with annual distributions to the schools."
One nonprofit leader just got an honorary doctorate degree from Mercy College. Jeremy Kohomban, president of The Children's Village, already had a doctorate from Regent University's School for Business and Leadership in Virginia. But the Dobbs Ferry-based Mercy College saw fit to honor Kohomban for his contributions to the child welfare system, including his leading role in the landmark federal Family First law.
@jeremycv is presented with an honorary Doctorate of Human Letters from @mercycollege pic.twitter.com/4Cfgp1gXYf

— Children's Village (@ChildrensVllg) May 20, 2019
But there was a catch. Kohomban had to impart a bit of wisdom to the college's graduating seniors. Here is what he had to say: