Fair Futures continues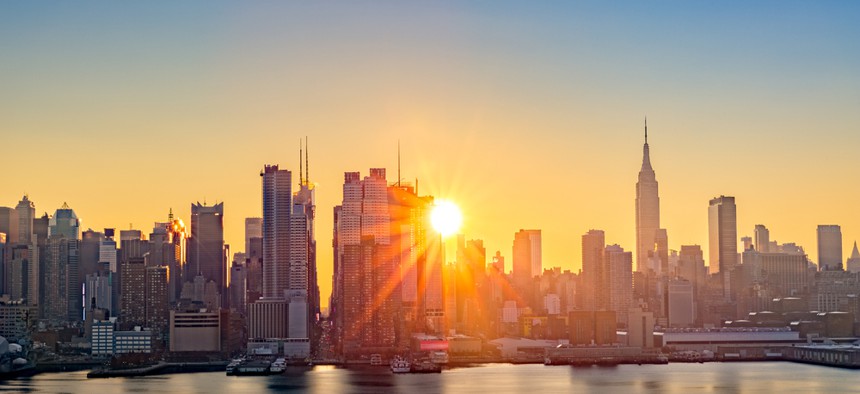 Chirlane McCray spoke with Jeff Simmons on the day Mayor Bill de Blasio announced his presidential run. Simmons' day job is at Anat Gerstein, a New York City-based PR firm that specializes in nonprofits, but he landed the big interview in a separate capacity. Hear the interview on WBAI here.
https://twitter.com/jackhites/status/1129033299140186112?s=21
More than 2,200 people turned out for The New York Women's Foundation at a May 14 event in Manhattan. Among those honored at the event were singer Cyndi Lauper, co-founder of True Colors United, and Rhonda Joy McLean, former board co-chair of The New York Women's Foundation, according to a press release.
Things got interesting at a City Council hearing on youth development programs. The New York City Employment and Training Coalition caught on video a part of the meeting of the Committee on Youth Services when Councilwoman Helen Rosenthal began talking about the reasons advocates are critical of the mayor's approach to funding Bridges Programs.
1/2 TY @HelenRosenthal @ @NYCCouncil Youth hearing re: Advance&Earn serving only 900 youth: "I think it's disingenuous to say 'this is a higher quality program so we have to serve fewer people.." #InvestInSkillsNYC #BridgesToBetterJobS pic.twitter.com/t7xrnYhrvK

— NYCETC (@NYCETC_org) May 16, 2019
2/2 @HelenRosenthal @ Youth hearing re: Advance&ararnos only serving 900 youth: "the Mayor promised higher quality (bridge) programs & understood they cost more. To improve quality you must increase funding, not cut the number served." #BridgesToBetterJobs #InvestInSkillsNYC pic.twitter.com/wC1viNIqZL

— NYCETC (@NYCETC_org) May 16, 2019
The Fair Futures campaign is continuing to push for city funding in the final month of budget negotiations. A coalition of 60 organizations wants $50 million in funding for the proposal, which would provide young people with life coaching as they grow out of the foster care system. Advocates staged a rally in Queens on May 14 and another one in Brooklyn two days later, which included Assemblywoman Jo Anne Simon, Public Advocate Jumaane Williams, Brooklyn Borough President Eric L. Adams, and child welfare agencies like Rising Ground and HeartShare St. Vincent's, according to a press release.
"I'm calling on the mayor and City Council to fund Fair Futures, a common-sense program to provide our foster care youth with comprehensive care and life coaching from middle school to age 26," Brooklyn Borough President Eric Adams said in the press release. "This funding request is a rounding error in a $92 billion budget. This is proactive, evidence-informed support for young people who we want not just to survive, but to thrive."