Exonerated member of Central Park Five helps at Harlem nonprofit's school giveaway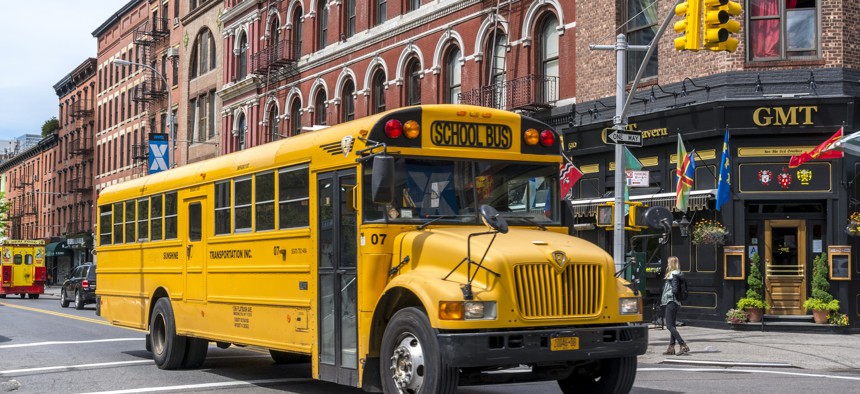 Korey Wise, one of the exonerated members of the Central Park Five, returned to Schomburg Plaza to help out with a school supply giveaway. Friends of Public Schools Harlem hosted the event, with funding from the Migdol Family Foundation, giving out backpacks and school supplies to more than 200 families.
"It was great to be back at Schomburg Plaza, where I grew up, and give something back to today's children," Wise said, according to the Amsterdam News.
With the new school year starting next week, many other nonprofits such as Graham Windham and Good Shepherd Services have held similar events. Additionally, Operation Backpack, an initiative from Volunteers of America – Greater New York, is supplying 20,000 free backpacks to homeless children in New York.
The Human Services Council rated the Empire State After-School Program request for proposals as being a moderate to substantial risk for nonprofits. The RFP, which was released by the state for academic and recreational after-school programs, scored a 68% in the council's RFP Rater based on three main factors: insufficient time to respond, inadequate funding and the indirect cost rate calculation pilot. 
The Human Resources Administration awarded two contracts related to the New York Immigrant Family Unity Project. Brooklyn Defender Services received a $533,334 contract, while The Legal Aid Society received a $533,333 contract. The department also awarded a $320,900 contract to the Safe Passage Project to provide legal services for unaccompanied children and families. It intends to renew two contracts with Bushwick Stuyvesant Heights Home Attendants and School Settlement Home Attendant Service for home care services. The Administration for Children's Services awarded a $310,000 contract to the Performance-based Standards Learning Institute, an organization which evaluates residential care providers and juvenile justice agencies. 
The Manhattan District Attorney's Office and the state Department of Corrections and Community Supervision posted a corrected version of a recent solicitation open to nonprofits. They are requesting proposals from qualified nonprofits with a Manhattan location, preferably in northern Manhattan, to administer the borough's Re-entry Task Force.
Human Rights First is honoring a soon-to-be-released film about the CIA's use of torture. The New York and Washington, D.C.-based organization gave The Report its 2019 Sidney Lumet Award for Integrity in Entertainment. Each year, the nonprofit gives out the award to a work in pop culture that raises awareness about human rights. The movie explores a U.S. Senate staffer's investigation into the CIA's interrogation techniques, an issue Human Rights First has advocated on. 
New survey data from the Commonwealth Fund shows uninsured working-age adults were disproportionately low-income, Latino and under the age of 35. The number of uninsured in the United States has increased since 2016, with cost being a major concern for those forgoing health insurance. New York state has been an exception, however, with its uninsured rate reaching a new low this year. Expanded Medicaid coverage is a key reason for the disparity across the country, although the issue brief notes that half of uninsured adults nationally may be eligible for subsidized marketplace plans or expanded Medicaid. Read the rest of the brief below: