Nonprofits
Funds are pouring into racial justice programs. Will it help?
Grantmakers and activists explore how to most effectively fight systemic racism.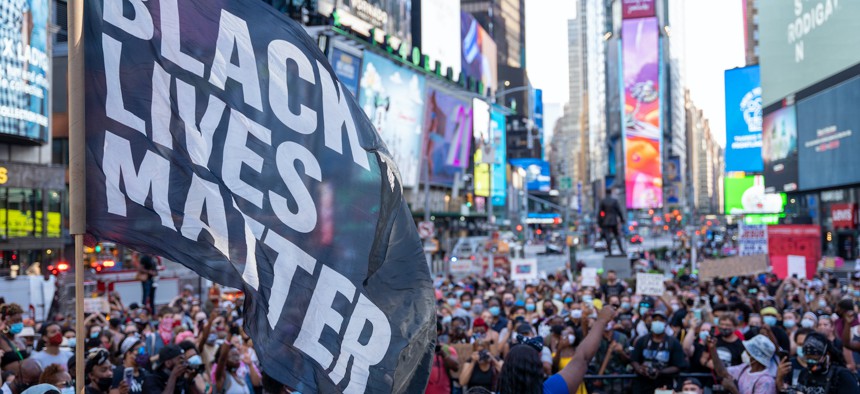 Since George Floyd's death in May and the ensuing protests against racism and police brutality, major foundations have stepped up their funding for racial justice efforts. Funders and large donors have committed $4.2 billion to racial equity in 2020, according to a report from nonprofit research organization Candid in July, compared with the $3.3 billion in total given over the preceding nine years. But some racial justice advocates question how effectively that money will be deployed and fear that resources will dwindle in the future. 
Many of the country's largest foundations, including several based in New York, have announced new funding efforts over the past several months. The Open Society Foundations, founded by billionaire investor George Soros, has dedicated $220 million to racial justice initiatives, much of which is to be given to Black-led organizations. The Ford Foundation has borrowed $1 billion in order to distribute more donations, in part to support funding to address racial justice. More local funders have announced new efforts as well. The Community Foundation of Herkimer & Oneida Counties will commit $10 million over the next decade to fund organizations tackling systemic racism in the region. 
These efforts are a change in course for the philanthropic world, which often fails to specifically set aside funds for communities of color. Before 2020, Candid found that funding focused on racial equity accounted for less than 1% of all foundation funding in the country. An analysis of community foundations in 25 cities from the National Committee for Responsive Philanthropy found only 1% of grants were specifically designated for Black communities, despite the fact that a combined 15% of the cities' populations are Black. About two-thirds of grants were dedicated to human services rather than initiatives related to structural change, such as policy advocacy or civil rights litigation. 
That focus on systemic change through Black-led and Indigenous-led organizations will be a feature of Rockefeller Brothers Fund's new $10 million racial justice initiative announced in July. Keesha Gaskins-Nathan, director for the Democratic Practice at the foundation, who is overseeing the three-year initiative, said it's still being formulated, with insight from funders experienced in racial justice and grantees. The Rockefeller Brothers Fund has explored multiple possible areas to prioritize, such as the connection between disability rights and racial justice or the use of artificial intelligence within communities of color. 
"We want these dollars to be guided by people impacted by oppressive systems and we want to support efforts to transform or create new democratic and economic institutions that decenter whiteness," Gaskins-Nathan said.
The North Star Fund is one regional grantmaker that has funded grassroots organizing in New York over the course of four decades. It started the Let Us Breathe Fund in 2015 managed by Black advocates, which specifically gives grants to organizers and groups focused on police accountability in New York. 
Rae Leiner, a member of the fund's committee and head of the Newburgh LGBTQ+ Center, said the committee takes into account several factors when looking at potential grantees: "What is the leadership of your organization? Is it actually compiled of Black people? Are Black people in positions of leadership? Are Black people impacted? Who are the people you're serving?" The strategies applicants use to engage in community organizing is also an important focus. 
For funders newly supporting racial justice movements, Leiner said it would be helpful to keep grant applications streamlined and make sure that funding isn't temporary.
"This is not a fad," Leiner said. "With the philanthropic world, typically what happens is that, whatever the hot-button issue is, is where people want to throw their dollars."
The Rockefeller Brothers Fund, for example, is not just donating for a short period of time but investing resources to incorporate racial justice principles across all its grantmaking programs, which fund democratic efforts and the arts, among other issues, Gaskins-Nathan said. 
Aleah Bacquie Vaughn, executive director of the Circle for Justice Innovations, which makes grants to criminal justice activist groups with insight from community organizers, donors and people who have been involved in the justice system, said she had complicated feelings about the current influx of racial justice funding. "I do think there are genuine partners that have emerged, even from legacy foundations, that are really trying to walk with us lock-step." But she said this moment came with a significant cost. 
"Would we be experiencing an increase in funding to these communities if so many Black and brown people hadn't been killed, unarmed, by police?" she said. "I don't think so."