The return of the Met Gala
And in-person fundraisers.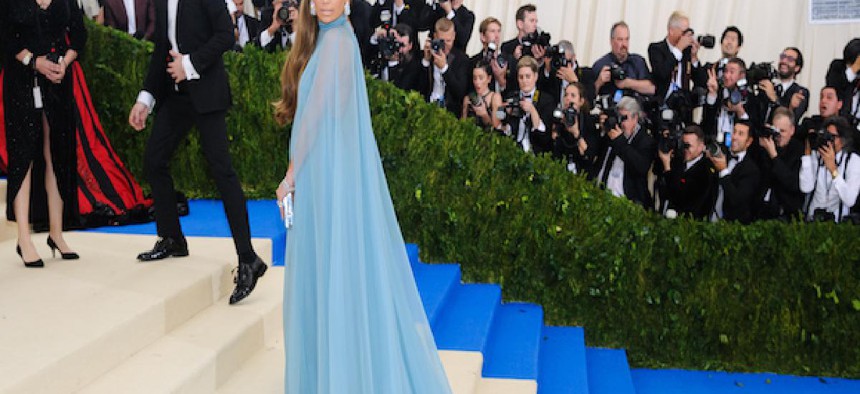 After skipping a year due to the COVID-19 pandemic, the Metropolitan Museum of Art's Costume Institute Gala – most often referred to as the Met Gala – returned on Monday, signalling the resurgence of fundraising events for the arts in New York City.
This year's star-studded benefit, which raises funds for the museum and is known as "fashion's biggest night out," will be heralding in the museum's new two-part exhibit, that will begin with its first, "In America: A Lexicon of Fashion," opening on Sept. 18. Guests were asked to dress in accordance with this year's theme, "American Independence,"
Rep. Alexandria Ocasio-Cortez sported a dress emblazoned with the phrase, "tax the rich" on it, while Rep. Carolyn Maloney wore a gown paying homage to the suffragette movement.
In 2019, over $13 million was raised to support the museum's fashion department, the Costume Institute. Surprisingly, it's the only department in the museum that has to raise its own funds. Tickets for the gala, which are highly coveted, can cost as much as $30,000 or $275,000 for a table.
However, most of the city's cultural and art institutes were forced to postpone or cancel all in-person events last year, leaving them in the lurch and in need of funds to stay afloat. As much as 20% of a museum's operating budget can come from hosting events and galas, according to Artnet News. The New Museum's spring benefit accounts for 15% of its annual operating budget, alone. After the Met Gala was cancelled last year, Page Six reported that Anna Wintour, the editor-in-chief of Vogue, and her team were asking ticket holders to consider making a donation, rather than ask for a refund.
Throughout the pandemic, many cultural institutions wondered when they would be able to host events again and offered online events in lieu of in-person ones. Still, many people were not in a position to give due to the past year's economic downturn. "We lost probably 75% of our regular income," Karesia Batan, director of the Queensboro Dance Festival, told NY1 in January. "That usually comes from sponsorships, online fundraising. People just didn't have the money to give us that they usually do."
While the Met Gala is hardly the first live, in-person event to occur this year, its triumphant return signifies the resilience of the city's cultural institutions and serves as a reminder that in-person fundraising is on track to resume.