Adrienne Arsht and the power of her giving
The business executive and philanthropist talks to NYN Media about her passion for the arts and her latest philanthropic endeavors.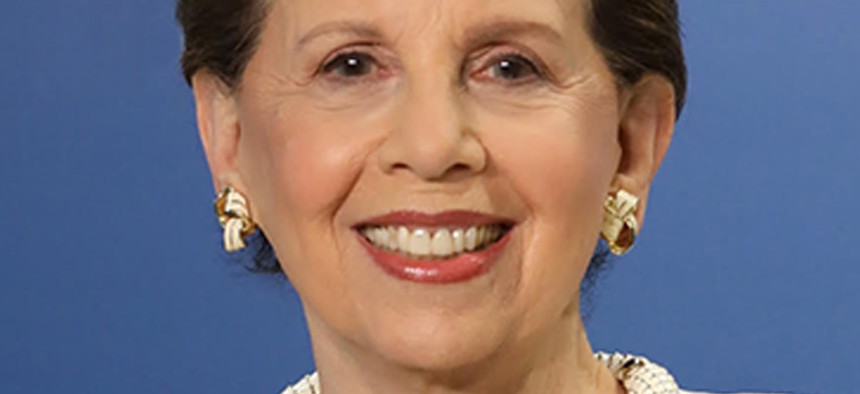 During a time when the arts have been close to being decimated due to the economic impact of the COVID-19 pandemic, Adrienne Arsht, a business executive and philanthropist, has made sure to keep the arts alive through her giving. 
It is because of Arsht's philanthropic endeavors that The Metropolitan Museum of Art now has a high quality internship program with a challenging, hands-on curriculum and a paid for salary for all of its 120 undergraduate students. While the museum has always attracted students for work opportunities, it is now receiving thousands of applicants thanks to Arsht.
Aside from helping to create a paid internship program at The Met, Arsht helped save a performing arts center in Miami when it was close to going bankrupt, which is now named the Adrienne Arsht Center for the Performing Arts. The philanthropist has also made major gifts to many other arts centers and organizations, allowing a wide array of artists to continue to serve their communities.
NYN Media spoke to Arsht about her passion for giving to the arts and how her philanthropic endeavors have helped different cultural institutions, as well as many underserved students, to thrive during the COVID-19 pandemic. 
This interview has been edited for length and clarity.
What inspires you to give and what are you most passionate about when it comes to giving?
I think that what inspired me is human, DNA, if you can call that an inspiration. I think humans are wired to care for others. I think it's what we're born with, looking after others, whatever the circumstance. And it's always been a part of my existence since I was a child. We met as a family, my parents, sister and I, every December, and we would decide where the family would make their contributions. Yes, it was my parents' money but my sister and I were allowed a vote. And so, it has just always been (that way for me) – but I don't believe it's (the desire to give) specific to me, I believe that it is specific to the human race.
You've impacted the lives of so many people, especially through your work with The Metropolitan Museum of Art and the establishment of their paid internship program. What has been your proudest moment thus far and how did you realize you made an impact?
I guess we'll just talk about the most recent moment when I was in New York at a Met dinner (at the The Metropolitan Museum of Art), where a number of the curators came up to me and thanked me, saying they've never had the quality of interns that they have gotten. Now under the Adrienne Arsht internship program, there is diversity and varied backgrounds because interns can get paid. And so, hearing the curators tell me what it meant, not only to them but for our future, it told me that not only did I provide an opportunity for an income and a venue to work but actually, they (interns) will have a future to rise in the ranks in the many areas in which they are now interns, whether it's Chinese pottery or within the administrative and executive department. And that's a particular joy to me, when the president has an intern, and the head of development, and the legal department. It gives people from so many wonderful and important backgrounds the ability to move up into the higher levels in the nonprofit world.
When it comes to giving, how do you decide when to give and where to give? What does that process look like for you?
It's a lightning bolt. Or to paraphrase the Supreme Court, you know it when you see it. I don't have a process. Upon my death, my estate will all go to my foundation but right now, I just have a checkbook and a bank account, and somehow when I see something that appeals to me, I just know it. The paid internship actually came about, sort of simultaneously through thinking about it and right after George Floyd.
The Met's priority was paid interns and so I said I'll do it. And it (the program) grew exponentially. Who knew how it was going to grow? I will also say that the year before interns were paid, they had 1,000 applicants, after the internship was paid, they had 3,000 applicants.
COVID-19 has created a lot of devastation for businesses, communities and organizations. How has COVID-19 impacted individual giving?
Certainly there were new needs and all the theaters shut down. They reached out saying we need money for our artists, things like that. People rose to the occasion and gave specifically for those kinds of things. So I think giving switched to current needs.
We're seeing a difference in the way that nonprofits are being affected by COVID-19. For example, based on data from more than a hundred arts organizations, a study found that aggregate revenue from individual donors in the first nine months of 2020, fell 14% in North America.
What are some things the philanthropic community can do right now to continue to create an impact during the COVID-19 pandemic to ensure that these organizations, particularly arts organizations, are able to continue to serve the community? And what can organizations do to continue to build that relationship with the philanthropic community?
I don't think they ever lost the philanthropic community, the philanthropic community kept in touch with other organizations and kept in touch with their donors. There was an understanding that there were different needs. 
The Arts Center in Miami has been able to perform and take performances outside. The weather in Miami makes it possible for these pop up performances to happen year round. In New York, as much as they could, the Lincoln Center and other orchestras showed up in different boroughs. So they found a way to continue performing and they got funding for a particular quartet in the Bronx. And now, everywhere it's coming back in different ways, certainly the Met museum is back with many exhibits opening, as is the case with most of the New York museums. And so, donors are coming back gleefully. 
I mean I went to a theater the first few days that the theaters were opening. We all had to show proof of vaccination, ID, we were all masked. Just when the curtain went up, the joy was palpable and you could feel it. I think that the appreciation for the arts is much greater now, as is often the case. When they say, "absence makes the heart grow fonder," we realize what we missed and we're so appreciative that we got it back.
What do you hope to continue to achieve now and for the future through your work in philanthropy?
I hope that every day I make a difference. And I hope that everyday I use the 24 hours in that day to do the best I can and not waste time; minimize sleep, although Arianna Huffington would be upset with that. But I don't know what I hope to accomplish specifically but I do understand the concept of making a difference. For example, this paid internship in Miami at the Adrienne Arsht Performing Arts Center, which I believe in so passionately, they had one or two interns and I asked them to develop a program for interns and I made a major contribution and challenged others to match it. We raised several hundred thousand dollars to not only fund interns but fund someone to oversee the internship program as well. This gives you a real place in the organization, it's not just showing up, you (interns) do more than copy papers. This is a curriculum that is created within the institution and they are interns in a particular department. They meet, all of them together, share their experiences, swap what they've been doing backstage, then they get a chance to be (at the) front of the house. And so that program is now, such that I believe, it is basically the only performing arts center that has a structured paid internship program. Perhaps, what I would like to see is that The Met and the performing arts center are considered the gold standard for being prepared and for interns to be hired elsewhere as jobs open up.