50 women's groups trying to halt move of women and transgender inmates from Rikers
Advocates call for the release of detainees amidst worsening conditions at the jail and say that transferring inmates is not the solution.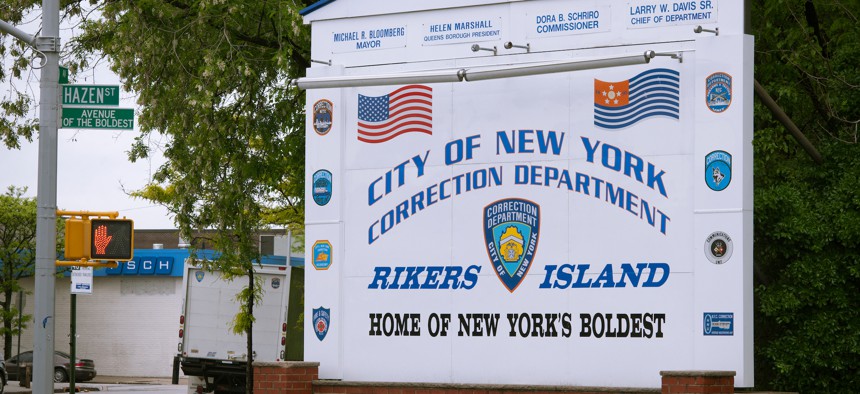 Organizations across the country are demanding the immediate release of women and trans populations within Rikers Island amid the Hochul administration's order to transfer them to upstate prison facilities. The administration is ordering detainees to be transferred to Bedford Hills Correctional Facility and Taconic Correctional Facility, 40 miles away from New York City. The idea is to solve the ongoing crisis at Rikers, which has been suffering from overcrowding and staff shortages. Over 50 organizations have signed a letter pressuring Mayor Bill de Blasio and Gov. Kathy Hochul to stop the transfers immediately.
While the administration hopes that the transfer will alleviate the lack of services and medical care, organizations argue that the opposite will occur. According to Deborah Lolai, Supervisor of the LGBTQ Defense Project at The Bronx Defenders, "Removing women and trans folks from RMSC would not mean better services. It means ripping people away from the necessary services they are already engaged in, moving them farther from their families, communities, lawyers, and advocates, and subjecting them to much stricter rules and disciplinary procedures, which always disproportionately harm the most marginalized people, such as trans people". 
Advocates also argue that this move will only continue to infringe on the basic rights and privileges detainees were promised. "We are already beginning to see this. We were told that people would be able to call their lawyers for free anytime of the day, the way they can in DOC custody. However, we are already hearing reports of people who have been transferred not having access to free phone calls". 
Over 90% of the detained people identified to be transferred are awaiting trial and have not been convicted of anything, according to Bronx Defenders. Organizations say that the harms of transferring people who are being detained pretrial to a prison that was not created to accommodate the needs of pretrial individuals drastically outweigh the benefits of slightly better living conditions.
So far, 11 people have died in custody at Rikers Island in 2021, with 5 being death by suicides. There are also reports of chaos inside the jails, such as 500 inoperable cell doors, and a lack of toilets, causing areas to be filled with human waste. 
"The burden should not be put on transgender people because the city has not fixed the ever-deteriorating conditions on the island, despite knowing of the dangerous conditions have existed for well over a decade. We need to focus releasing transgender women from Rikers and ending cash bail. These women are solely in jail because they could not afford to pay the fee. This is unacceptable." says Lynly S. Egyes, Legal Director of Transgender Law Center's New York City Office.
The ideal solution, according to advocates, is complete decarceration. "If Rikers is not safe enough for people to live in, then the answer is not moving them to another facility which will infringe on their rights as people who are detained pretrial. If the city cannot ensure the safety of the people in their custody - the most basic responsibility of corrections - those people should be released with the support they need to live outside of jail. Substituting one harm with another harm is not the answer" says Lolai. 
Ultimately, advocates believe that this transfer will have horrific consequences on detainees' lives, their cases, and their access to family and community support.