Nonprofits
Jaclyn Tacoronte's new nonprofit media center aims to uplift marginalized voices on Staten Island
The project will offer digital production and editing courses for young people.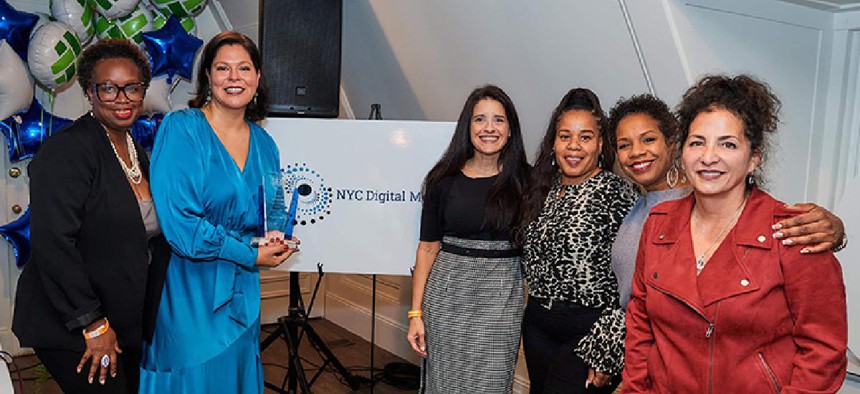 After her public relations agency, JMT Media, was denied MWBE (minority- and women-owned business enterprise) status in 2017 due to her Native American background, founder and CEO Jaclyn Tacoronte worked to modify the way the city decides who qualifies as an MWBE. She worked alongside City Council members and other elected officials to change the rules to include Native American business owners in 2019.
During her time at JMT Media, Tacoronte noticed that something was missing when it came to building community for content creators across her home borough of Staten Island. Over the past two and a half years, she worked nonstop during a pandemic to push out her latest project: the nonprofit New York City Digital Media Center. 
City & State spoke with Tacoronte about her newly announced nonprofit, shaping the future of media creators and what this means to Staten Island.
This interview has been edited for length and clarity.  
What is New York City Digital Media Center? What inspired the creation of this project?
In Staten Island, our agency, JMT Media produces close to 600 videos a month in content for clients. We were noticing that a lot of young adults were reaching out to us saying, 'Can you help us? Can we work with you?' We could have easily said, 'Sure we have an internship program,' but I wanted to take a step further and include some of our major partners and community partners, to present this new digital media center. We'll have a couple of nomadic studios across the island that we will be doing partnerships with. The goal is to have two cohorts that have already been selected and will be announced this spring. We're looking at partnering with several sports entertainment organizations across New York City. We're also going to be teaching kids because I don't want them to just shoot videos and edit them. I want them to really learn how it can be distributed. It's really a cradle to grave to make sure that students have an opportunity to learn but can also be applied to college credits. It's the first of its kind on Staten Island. This will certainly help young adults be prepared for the digital footprints and digital landscape that's coming our way. 
What specifically is the center going to offer students and other participants? What does it look like?
Our program has four different tracks, some of which will be released in the spring. But initially, it's an introduction to an editing course, what it means to work in a media center course, where participants will have the opportunity to have hands-on experience at a sports entertainment complex. Participants will have the hands-on experience to be at major events, press conferences, concerts and more. There are going to be partnerships with corporate and city entities so that we can not only place these students in a great internship program but also the goal is to make sure that there's sustainability as they can have a job. I learned that even if you give just the skill set, it's not enough. The real goal is to get young scholars an opportunity to get the skillset, get a job and more importantly get into the pipeline to go to college. 
During the pandemic, how were you able to collaborate with different people and organizations in order to release this project? 
Through JMT Media, we were able to provide resources in the middle of the pandemic to small businesses and we were able to utilize several digital platforms. In order to communicate with board members and prospective partners, I was able to accomplish this in a relatively shorter period of time. I was able to connect and coordinate with many different city agencies and local partners to share my vision. I was guided by existing community leaders to help shape this digital media center. It's not just my brainchild but the community's as well. 
How will this project center help elevate the voices of individuals that are often left behind in the media industry?
When we talk about diversity and inclusion, it has to start from the top. Leading this project as the first Native American MWBE in New York City history, we have a concerted effort to focus on doing outreach in neighborhoods and communities, primarily communities of color that do not have the same resources. We're very cognizant of observing what is available and what needs a little more support. The beautiful thing about Staten Island is that when it comes to education, everybody wants to see everyone thrive. We want to make sure that everyone has the opportunity to tap into these resources that we're putting together for them. 
With all of the work you've put into making this project, what do you hope will come out of this center for the community? 
I want the rest of the world to see what I see. Staten Island is made up of this amazing, diverse pool of creative, intelligent and curious minds. I want these young adults to tell their own stories about their communities, where they live and where they want to go. Whether it's in radio, television or film so that the people can see not only do they have the skillset to produce something that's Emmy worthy but to also continue this in college. That's why partnerships with the local universities and colleges are important. It was more than just, hey, we have a free program. For me, it's like, hey, we have a free program, but I want you to apply this long term, so you can go to college and get a great job.