Hochul dedicates $35 million in state money for abortion access
As the Supreme Court moves toward reversing Roe v. Wade, the governor is working to make New York an access state.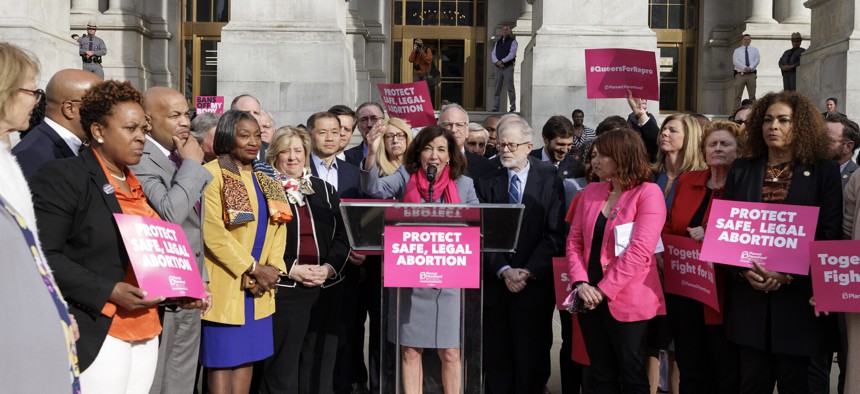 Gov. Kathy Hochul announced a landmark $35 million fund to provide cash to abortion service providers to further strengthen and expand access to the procedure in the state as the U.S. Supreme Court is poised to overturn Roe v. Wade. As her campaign for governor has begun to focus on reproductive rights, the new fund – which she called the first of its size in the nation – also gives Hochul a tangible new accomplishment ahead of her first election.
Joined by state lawmakers and reproductive rights advocates, Hochul said that the state will dedicate an initial $35 million for an Abortion Services Provider Fund, with cash going directly to qualifying organizations. "It's simple: If we're going to guarantee the right to an abortion, we have to guarantee access to an abortion," Hochul said at a virtual press conference Tuesday. "We're not just playing defense, we're playing offense." Most of the sum, $25 million, is earmarked for expanding access to abortions, such as hiring new staff and covering the cost for those who are uninsured or underinsured. The other $10 million will be for additional security for abortion providers to ensure both workers and people seeking abortions remain safe.
Hochul said that the money will immediately be available and does not require any reallocation from the state budget. Instead, the money will come from the health commissioner's emergency fund. "I'm really proud that New York will lead the nation and hopefully set an example for other states," Hochul said. She later added that she wants to have all the regulations for the fund in place before a final Supreme Court decision comes down.
With the number of days before the end of the legislative session dwindling, so too does the amount of time for officials to approve new abortion protections. In Hochul's case, her primary is just around the corner, and recent negative press around the late budget and her scandal-plagued former lieutenant governor gave opponents plenty of fodder. The creation of the new fund gives the governor a new accomplishment to campaign on, one with her fingerprints alone as she achieved it without lawmakers. "For the governor to get front and center on this… is definitely a positive thing to be focusing on right now," said Democratic political consultant Jake Dilemani. "It is important to be able to point to specific, yet easy to understand policies"
Hochul's campaign has already begun to capitalize on the anger around the prospect of overturning abortion rights, releasing two new TV spots soon after the draft opinion from the Supreme Court leaked. But state-level abortion protections came about before she became governor. The 2019 Reproductive Health Act, which codified the right to an abortion into state law, was a victory that her predecessor Andrew Cuomo may have been able to run on. Until now, Hochul did not have a major abortion rights victory of her own, so the fund further strengthens her position going into both the June 28 primary and likely the November general.
The announcement came just one day after state Attorney General Letitia James offered her support for legislation that would create a $50 million fund almost identical to what the governor has created. A key difference between the two, though, is that the lawmakers' bill would establish a program that would award grants to organizations that assist people accessing abortions, such as transport from out of state and accomodations for before and after the procedure. "I welcome the announcement of this funding by Gov. Hochul today to support abortion providers in New York state, and I think that we can and must go further," Assembly Member Jessica González-Rojas, the bill's sponsor, said in a statement. "Our communities need several actions by our state, and this fund will ensure that New York is a safe access state when the Supreme Court fails us."