Bronx students remember slain freshman in march against gun violence
The University Prep High School procession came two months after the fatal shooting of 16-year-old Angellyh Yambo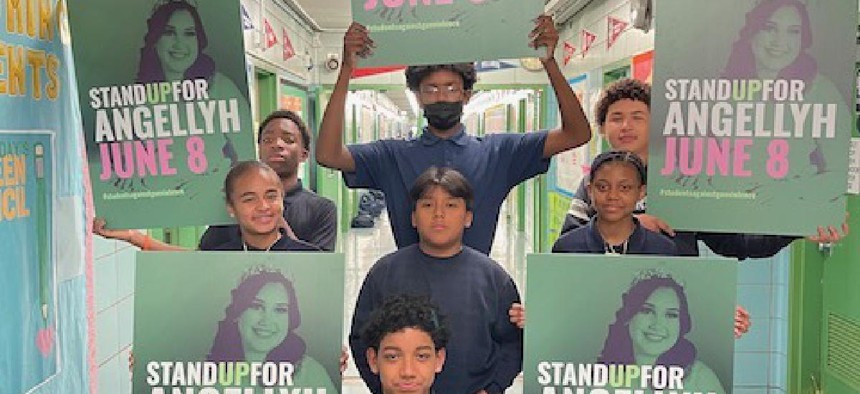 University Prep High School students hosted a march Wednesday to honor Angellyh Yambo, a freshman lost to gun violence earlier this year. 
The march came two months after the fatal shooting of the 16-year old, which also left two of her classmates wounded. "I've been without my baby for two months now, and it feels like it's been a year," said Yambo's mother, Yanely Enriquez, who spoke at the march.
With over a thousand students in attendance, a spokesperson for the University Prep High School march told 1010Wins news that "until our students are safe, we are not going to be quiet." 
The alleged shooter was 17-year-old Jeremiah Ryan of the Bronx, according to police, who after engaging in a verbal dispute with two men, pulled out a gun and fired six random shots. The weapon used was a "ghost gun" – an untraceable, illegal homemade firearm with no serial number, made of parts acquired online or from unlicensed retailers with no requirements of background checks. Some of these unserialized ghost gun kits, also called "buy build shoot" kits, can be assembled in as little as 30 minutes with at-home equipment. 
Last year alone, approximately 20,000 suspected ghost guns reported to the Bureau of Alcohol, Tobacco and Firearms were recovered by law enforcement in criminal investigations according to the White House – a ten-fold increase from 2016. Ghost guns pose especially difficult challenges as the absence of marked serial numbers makes it difficult to trace these weapons back to an individual purchaser. 
Yambo's death spurred new legislation aimed at removing ghost guns from New York streets. 
Rep. Ritchie Torres has announced new federal legislation to combat the distribution of ghost guns by removing the civil liability that protects [ghost gun] manufacturers, giving the individuals and families impacted by ghost guns the opportunity to file lawsuits against them. "If you are soft on guns, then you are soft on gun violence," he said during Wednesday's march.
New York Attorney General Letitia James recently sent cease-and-desist letters to 28 dealers of ghost gun parts located in western New York and Long Island, ordering them to "immediately stop advertising and selling the prohibited parts and warned of the legal consequences, including imprisonment, if they do not comply," according to her office. 
Bronx Borough President Vanessa Gibson, supportive of James taking action, also praised Gov. Kathy Hochul for signing a package of new laws aimed at curtailing gun violence.

"16 year-old Angellyh Yambo's death on April 9th stands as a tragic reminder that so much more needs to be done to protect our children and families from the scourge of gun violence. I am encouraged by Governor Hochul's signing of 10 pieces of landmark gun control legislation on June 6th that bars the purchase of semiautomatic rifles by anyone under the age 21."