Cultural nonprofits
Nonprofit gallery supports photo journalists covering Russian invasion of Ukraine
The Bronx Documentary Center will send proceeds from the sales made from the exhibition to support both American and Ukrainian photographers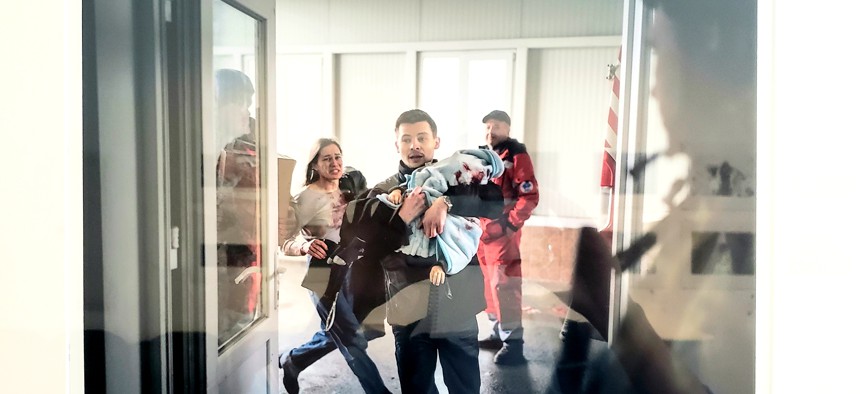 The Bronx Documentary Center, a nonprofit gallery and educational space located in the South Bronx has started a fundraising campaign in support of Ukrainian journalists.
The gallery is featuring the work of American and Ukrainian veteran conflict photographers who've been covering the Russian invasion of Ukraine. Proceeds from sales will go towards supporting the journalists via the 24.02 Journalism Emergency Fund.
"Many journalists have been killed over there. But there's a really, strong photographic record, and what we do at the BDC, we try to display important work and call attention to important issues that are happening around the world," said Michael Kamber, founder and executive director of the BDC.
The exhibition is also part of the BDC's Urgency! series, a real-time response to critical worldwide events, through exhibitions and public programs.
"A lot of museums will do things two or three years after they have happened and we try to do them while they are happening. So we do these shows that we throw together really quickly," Kamber said. "We think it's important. We think it needs to happen now, while it can bring attention to things and further the conversation."
Attendees were "stunned, disturbed and overwhelmed by the photos" at the opening reception on June 22, according to Kamber. "At some point, there was just silence because people were taking in the photos. I think that speaks to the power of the work."
The funds will go to the 24.02 Fund, which procures and provides Personal Protective Equipment, or PPE, for journalists and newsrooms around Ukraine, such as bulletproof vests, helmets, first aid kits, gas masks, and means of communication.
A panel discussion was held Tuesday at BDC, featuring nineteen photographers discussing their work. The exhibition will remain on view until July 7. 
Kamber said that once the fundraising is over, the exhibition may expand nationally and abroad. 
Through exhibitions, screenings and public programming, the BDC shows the work of internationally-renowned and emerging photographers and filmmakers. The BDC also provides free education programs for middle and high school students as well as adult Bronx-based photographers. These programs provide opportunities for professional development and skills training in photojournalism, filmmaking and documentary photography.