Cultural nonprofits
92NY launches large scale renovation of historic NYC campus
The nonprofit announces a major post-COVID-19 re-branding and transformation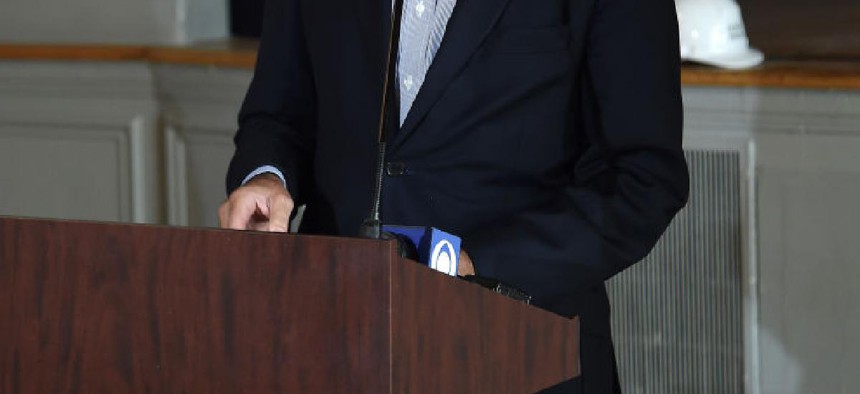 After nearly 150 years of being a cultural hub for New York City's Upper East Side, the 92nd Street Y, New York, recently rebranded under that name (or 92NY for short), has announced a major $200 million full-campus renovation project. The transformation also will help transition 92NY to better meet its digital demands.
Founded in 1874 as the Young Men's Hebrew Association by German Jewish professionals interested in creating a space to meet the social and spiritual needs of the American Jewish community, 92NY has since hosted a myriad of talented artists and served as a diverse cultural center with programs ranging from the theater arts, ceramics, literature, music, gymnastics, to educational programs for New York's elderly and youth population. The nonprofit's renovation project will create consistent branding across the organization's five operating pillars, now known as the 92NY Center for Children & Family, the 92NY Center for the Arts & Culture, the 92NY Center for Community, the 92NY Bronfman Center for Jewish Life, and the 92NY Belfer Center for Innovation & Social Impact - in addition to expanding its outreach to major domestic and international markets. This expansion was driven by the organization's major shift to digital platforms during the COVID-19 pandemic. As arts and cultural centers closed, 92NY launched Roundtable, one of several online educational initiatives to reach viewers across the globe. 
NYN Media spoke to Seth Pinsky, CEO of 92NY to learn more about the changes brought about this renovation. 
This interview has been edited for length and clarity.
How did 92NY weather the COVID-19 pandemic, and how did this experience trigger the digital changes (Roundtable) brought about by this new renovation project?
When COVID hit New York City, this was the first time in our 146 year history that we were forced to close our doors and entirely shutter all of our in person programming. Quickly thereafter, we made the decision to transition our programming online. We decided that our programming will be more needed than ever at a time when people are isolated from one another. We successfully accomplished this goal and in the process, learned that our programming was not only important to the people in the five boroughs of the New York metropolitan area, but relevant to people all over the world. Roundtable is indicative of a much larger transition that we've made in the digital world. Today, many of our classes and almost all of our performances are now offered both in person and online. With Roundtable, we were able to attract instructors and students from all over the world, a platform that marries the world's greatest experts in a whole variety of liberal arts fields with lifelong highly educated learners. Going forward, we'd like to make this platform accessible not just for 92nd Street Y, but also for cultural and educational institutions that don't have the resources to create a platform like this. And then to aggregate all of that content so lifelong learners will have a single destination that they can go to, to find high quality content. In addition to the 2,500 to 3,500 people coming through our doors, we now have hundreds of 1,000s and in some cases, millions of people joining us online to watch our programming, hence we really have transitioned from being a local institution to a global institution. In that respect, the pandemic was truly an eye opening experience for us. 
You have also announced a $200 Million renovation of 92NY's historic New York Campus. What do these structural renovations represent for the organization?
I like to say that in some ways, the 92nd Street Y is a microcosm of New York. Incredible content is taking place within our physical plant which has not been adequately invested in for many years. During the pandemic, we developed a master plan to renovate the entirety of our campus from top to bottom. There will be a phased plan, where we'll close down certain parts of the building and move the activities to other parts of the building. We're now moving into the $24 million phase that involves the renovation and restoration of our second performance space, called Button Weezer Hall, as well as the creation of a new facility called the Arnold family dance studios. 
As one of the oldest and most prominent New York nonprofits in arts and culture, what does this transformation, both digital and structural, represent for the future of such organizations in New York?
I think for a lot of cultural institutions and a lot of nonprofits we're observing, even pre pandemic, the world was changing around them and that it was necessary to survive, to evolve. What the pandemic did was accelerate all of those trends. What we're hoping is that the investments that we're making in our building, infrastructure and our programming, will help us to keep pace with those changes and allow us to continue to not only remain relevant but allow us to be more impactful than we've ever been in the history of the organization.
You mentioned earlier how 92NY is a microcosm of New York City. Why is it important for cultural organizations to retain their relevance and status within the New York nonprofit sphere?
Arts and culture are part of the soul of any civilization, and without this, all of our lives would be significantly emptier. The sector itself is also a major employer and major generator of economic activity with many people employed in the creative sector in New York, which is why the sector should be a priority for the leaders in the city. And, if you look at New York's economic success over the last couple of decades, the fuel that has powered the engine of our economy has been talent. We have been a magnet for the best and the brightest from all over the world. The reason is because of the magnetic infrastructure that makes living in New York so fulfilling and so exciting, with arts and culture being at the heart of the city. Going forward, if we want to continue to be an economic powerhouse, we have to keep attracting talent from all over the world by nurturing this magnetic infrastructure.
Going forward, how is the organization planning to reach a more inclusive audience?
We have always been an opening and welcoming organization. We've always served not just the Jewish community but the wider New York community for decades. If you look across our programming, you'll see that there's a diversity of perspectives that is similar to the diversity of perspectives and backgrounds that you find here in New York and across the country. We will also continue to serve the Jewish community by investing in expanding our Jewish programming. But the 92nd Street Y has always believed that our mission is to find ways to bring our programming to as many people as possible and have our programming reflect the beautiful mosaic of our city.