Nonprofits
How New York lawmakers and nonprofits are taking action after Roe v. Wade
Various groups are increasing efforts to make abortion accessible to New Yorkers and out-of-staters.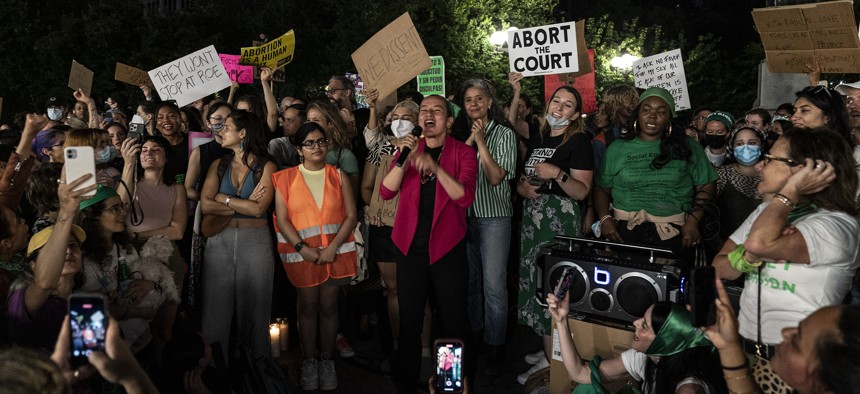 In the weeks since the U.S Supreme Court overturned Roe v. Wade, New York lawmakers and nonprofits have taken action to protect access to reproductive health care in the state.
After the court's decision, Gov. Kathy Hochul said the state would spend $35 million to support abortion providers in New York, including $25 million for the state Health Department to create an Abortion Provider Support Fund to both expand capacity for providers and ensure access for patients. Another $10 million went to reproductive health care centers for security grants through the state Division of Criminal Justice Services.
"New York has always been at the forefront of the fight for abortion rights, and as the first female governor of New York, I will not let us go backwards. I will never stop fighting to make New York a safe harbor for all who need care and a blueprint for other states to follow," Hochul said.
The first 13 programs to receive money from the fund covered 63 sites around the state. Participants already were part of the Comprehensive Family Planning and Reproductive Health Care Services Program, which provides family planning and reproductive health services to low-income, uninsured and underinsured people. The new fund is meant to improve the physical security of reproductive health care facilities, along with aid toward training of new staff members and clinicians. Hochul also launched a series of reproductive health care roundtables with providers to discuss their needs and experiences post-Roe.
Anticipating an influx of out-of-state patients seeking abortion care, reproductive health organizations, such as Planned Parenthood of Greater New York, told New York Nonprofit Media they were expanding services, both locally and nationwide.
Planned Parenthood of Greater New York announced a 20% increase in abortion appointment availability at its 23 health centers, in addition to having employees facilitate travel, lodging and secure funding for individuals who intend to travel to New York from states where abortion is no longer legal or has been greatly restricted. Planned Parenthood also increased telehealth services for abortion pills for women in the early stages of pregnancy. Planned Parenthood plans to expand local services in the Southern Tier by including second trimester abortion care at health centers in Ithaca and Corning.
Advocacy groups like the National Institute for Reproductive Health, which works with state and local reproductive health organizations, pledged to increase efforts through partnerships with local grassroots programs and universities to ensure protections and funding for abortion providers in Republican-led states.
"Anyone who believes that they are immune from the harmful effects of the loss of Roe v. Wade is simply fooling themselves," Andrea Miller, the institute's president, told NYN Media. "This will have a dramatic impact on the health, well-being, and future of individuals, families, communities and our nation. It will not just be a ripple effect: It will be a tsunami effect."
On July 1, the state Legislature passed a resolution that will prohibit "discrimination on the basis of race, color, ethnicity, national origin, disability, or sex including pregnancy and pregnancy outcomes, sexual orientation, gender identity, and gender expression."
"State leaders have set in motion a bold process to shore up New York's constitutional protections and enshrine the rights of people of all backgrounds. New York is acting to safeguard rights, meet the moment, and lead," New York Civil Liberties Union Executive Director Donna Lieberman wrote in a statement.
The New York Women's Foundation advocated for investing in pro-choice leaders who were from various racial and ethnic backgrounds, urging the need to care for "communities left out of the mainstream who typically fight to have access to safe abortion and care for their bodies," said Ana Oliveira, the nonprofit's president and CEO. "This decision to overthrow Roe v. Wade will penalize and further control and oppress women, especially women of color, poorer women, women with disabilities, trans and gender expansive people, younger women, immigrant women and survivors of gender-based violence."
Elizabeth Estrada, New York field and advocacy manager at the National Latina Institute for Reproductive Justice, emphasized the challenges faced by Latinas, including migrants who have entered the U.S. without permission and face compounding financial barriers to reproductive health care: "Even in a progressive state like New York, many Latinas/xs and people of color face the same hurdles to access health care that we see across the country. Although Medicaid does cover abortion in New York state, some are struggling economically but are still not eligible for Medicaid, while some need to keep their abortion private from a coercive partner or a parent whose insurance coverage they share."
Estrada added that migrants who entered the U.S. illegally "are scared to provide the personal information required on Medicaid applications for fear of exposing their immigration status." She also emphasized the intersectionality of the challenges triggered by abortion restrictions, which extend beyond reproductive health care: "It remains clear that all families need access to essential health care, not more economic barriers or obstacles due to their immigration status, race or how much money they make. Abortion restrictions do not change the fact that everyone deserves access to care without stigma or barriers."
The New York Abortion Access Fund, another nonprofit group, also has noted the disproportionate toll that Black, Latino, LGBTQ individuals, among other marginalized groups, will bear by the changes brought by the Supreme Court's ruling. The fund and other providers said banning abortion ultimately exacerbates a legacy of racism and discrimination in the U.S. The fund stated in a release that it "continues to provide direct financial support to people impacted by abortion bans, restrictions, economic barriers, and stigma. We're unapologetically here for people seeking abortion, and we're not going anywhere."