Education
New York City Council ramps up pressure on mayor to restore school budget funding
Even though they also approved the cuts, the council held a hearing on Monday highlighting the impacts on teachers and students.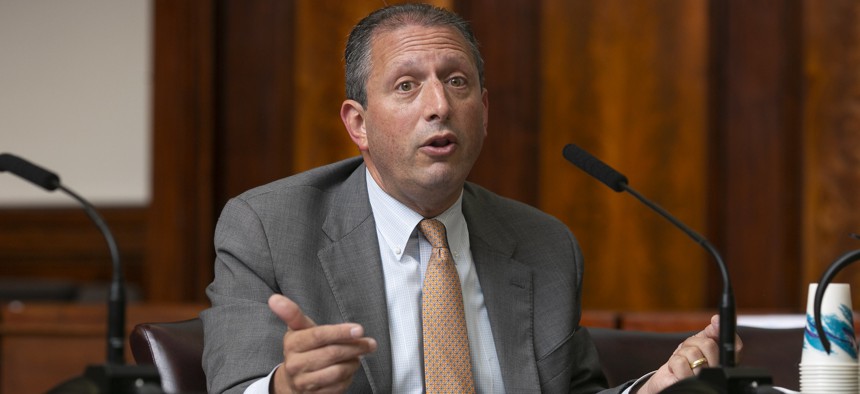 As Deirdre Levy, a special education teacher at P.S. 9 in Brooklyn, prepares to begin her 10th year of teaching, she has watched emails filter into her inbox from fellow staff members saying that at least 10 of their own have either been removed from the school faculty or resigned over the past couple days.
These departures, which Levy said also included her school's principal and guidance counselor, came in wake of a highly tumultuous school budget process. While the hundreds of millions of dollars in cuts have outraged educators and parents, New York City Mayor Eric Adams has argued the budget reductions were a necessary response to declining enrollment and the impending end of federal COVID-19 relief funding.
It's a complex situation. On one end, top city officials have said the school budget reductions were necessary for practical reasons, and on the other there are families, advocates and educators like Levy slated to bear the brunt of the cuts and have said that students need additional support now more than ever. And with school set to start on Sept. 8, there is little time to resolve the matter.
"This defunding of our schools is something that directly affects not just me, but the colleagues that I work with and the colleagues all across New York City," Levy said. "For someone like me and my students, the most important thing that we need to do is think about the students and their needs."
Levy was one of several educators who testified before the City Council on Monday morning in favor of a nonbinding resolution that would urge the mayor and schools Chancellor David Banks to submit a budget modification to the council so that $469 million can be restored into the Education Department's budget using unspent federal stimulus funds. The resolution was the latest development in a long back and forth that has pitted City Council members against Adams.
Ever since the council overwhelmingly voted to approve the budget in June – which some members have since apologized for – there's been rallies and court hearings, behind-the-scenes gatherings and City Council meetings. Though educators and advocates won an unprecedented victory earlier this month after a Manhattan Supreme Court judge ruled in favor of their lawsuit to reconsider the city's education plan, their triumph was short-lived when a state appeals court issued a temporary pause on the ruling. They now have to submit their appeal reply by Sept. 8, which could add urgency to the council's attempts to negotiate a deal with the mayor's office.
The mayor has repeatedly said that schools will open on time despite any budget uncertainty. During an unrelated press conference Monday afternoon, he reiterated this point, adding that although the city has an education budget of around $38 billion each year, many students are still struggling with hitting learning targets.
"But they just want to keep doing the same thing over and over again. It's not going to happen under my administration," Adams said. "We're going to get the money to our students where they need it. This is in the court system. The court will decide. Whatever the court decides, I'm going to respect." 
While largely symbolic, a resolution passed by the council would increase the pressure on the mayor – or at least continue to show New Yorkers that the members are trying to forge a solution.
Advocates, union leaders, educators and New York City Comptroller Brad Lander testified Monday morning in favor of the resolution, pointing to using unspent federal funding as a way to restore the cuts.
Lander said about 77% of public schools will open in September with larger classes, fewer arts programs, and/or fewer guidance counselors than they had the year prior if funding cuts persist. He estimated that $4.34 billion of the $7 billion allocated to the Education Department in federal stimulus funding remained unspent, meaning the department could fully restore $469 million in cuts and still have over $3.5 billion to spend on other things.
"What's especially painful and puzzling about this is that it is totally unnecessary," Lander said. "In the wake of the Great Recession, the city was forced by declining tax revenue to make painful cuts to our public schools, but there is no such fiscal necessity now."
The city recently granted schools a bit more flexibility by allowing principals to use $100 million of federal stimulus money already allocated toward academic recovery programming for teacher salaries, but Lander said the average amount of those funds per school translated to only about $62,710 – around 16% of the average cut to each school.
As for whether using stimulus funding to address the cuts was a fiscally responsible decision, Lander acknowledged that school enrollment was declining and that it would be one-time funding. Still, those funds can only be used for public education, and it must be used by fiscal year 2025. He said the city will need to have thoughtful and honest conversations in the future about enrollment and how it funds schools based on enrollment through the Fair Student Funding formula.
"As we emerge from the trauma of the pandemic we could do something better," he said. "If the mayor and the chancellor decide to heed this resolution and restore cuts, you can imagine how much joy there would be when that fifth grader gets their band program restored, when parents realize class size will be back to 24 instead of 30 or 31 in that fourth grade program."