New York City
New York lawmakers prioritize education of state's concealed carry law as enforcement details remain unclear
The state debuted a public information campaign on Wednesday, the day before the new law takes effect.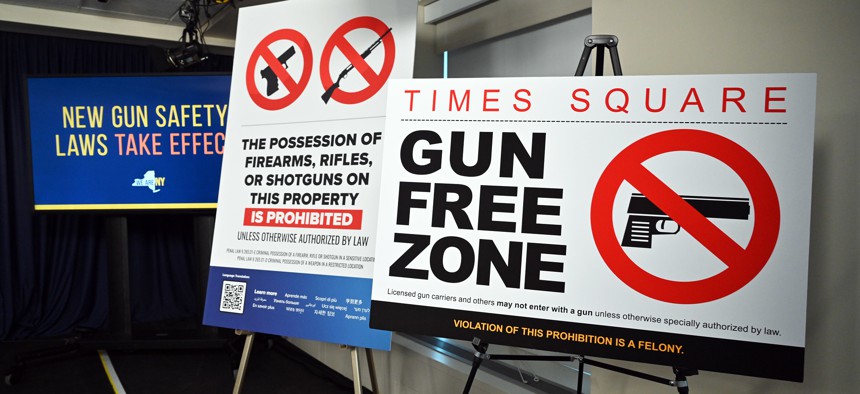 New York rolled out a public information campaign on Wednesday to brief New Yorkers on the new concealed carry law that will take effect today, while elected officials and law enforcement made clear that education is a top priority, though questions remain about how the new regulations will be enforced. 
A website launched by Gov. Kathy Hochul's office on Wednesday lays out details on the new restrictions, including the heightened application standards for obtaining a permit to carry a gun in public. In addition, the website, gunsafety.ny.gov, includes downloadable signage for businesses who want to ban people from carrying guns on their property, along with guidance on safe firearm storage and information for gun dealers.
Hochul on Wednesday, at a press conference alongside New York City officials and law enforcement, also debuted a commercial-like public safety announcement about the new law that takes effect Thursday and is aimed at strengthening concealed carry restrictions in the wake of the Supreme Court's overturning of New York's existing law. The decision eliminated the "proper cause" standard licensing authorities used to determine who can carry a gun in public. 
The Wednesday announcement comes after New York City Council members on Tuesday expressed concerns that the public would be unaware of the new restrictions. Under an emergency order from the New York City Police Department, guns are banned in a 34-block radius surrounding Times Square, for example, meaning people with existing concealed carry permits could be arrested and charged with a Class E felony if caught with a firearm there. 
NYPD officials have said the department has no plans to increase patrols or set up checkpoints in the area. Signage will be posted at the entrances to Times Square warning people that it is a gun-free zone. And while the new state law that takes effect Thursday clearly states that guns are banned in Times Square, among other "sensitive places," the barriers set up via NYPD emergency order and pending council legislation go far outside of the common understanding of where Times Square is. 
"As the governor stated . . . our chief concern is education. And compliance, obviously. I think the NYPD and obviously our partners as well have some of the best detectors of firearms, and we're going to continue those efforts. If we see a need for further checks . . . we can explore that as an option," New York City Police Department Commissioner Keechant Sewell said at the Wednesday press briefing alongside Hochul, New York City Mayor Eric Adams, New York City Council Speaker Adrienne Adams and State Police Superintendent Kevin Bruen. 
The law could be especially confusing for license holders who need to travel through Times Square with their firearms to get to a destination where they are permitted to carry a weapon. NYPD officials explained at a council hearing on Tuesday that permit holders traveling through designated "sensitive places" with a firearm must do so in "a continuous and uninterrupted fashion" with the weapon stored in a locked container and the ammunition separated. 
"Everyone has a responsibility, independent of this, to be aware of the laws, to follow the laws, and there's consequences if they don't," Hochul said in response to a question from a reporter about how those specific cases will be handled.  
Among other legal questions is how the state can use social media to determine who can obtain a concealed carry permit, since the Supreme Court's ruling was intended to eliminate a degree of subjectivity from the process. 
"This is a modern-day opportunity to understand the character of an individual, because right now the law is and always has been that you can ensure that people have good character. Only people with good character are allowed to have a pistol permit," Hochul said.
At Wednesday's press conference, the officials presented a united front against the Supreme Court's decision and praised each other for enacting unrelated gun control measures, along with new provisions to deal with the expected influx of people legally carrying guns.
"I really want to thank the governor for taking a surreal moment with a real response," Adams said. "I remember speaking with the governor and she immediately moved into action and stated we are not going to wait until this terrible, terrible Supreme Court decision created a state of havoc in our city."
Hochul also touted the various gun safety initiatives enacted during her tenure, including strengthening the state's Red Flag Law, budgeting $227 million for anti-gun violence initiatives and raising the age of who can buy an assault rifle from 18 to 21.