Advocates and electeds rally for a women's care and equity agenda
A rally was held outside New York City Hall to discuss the future under the state's first woman governor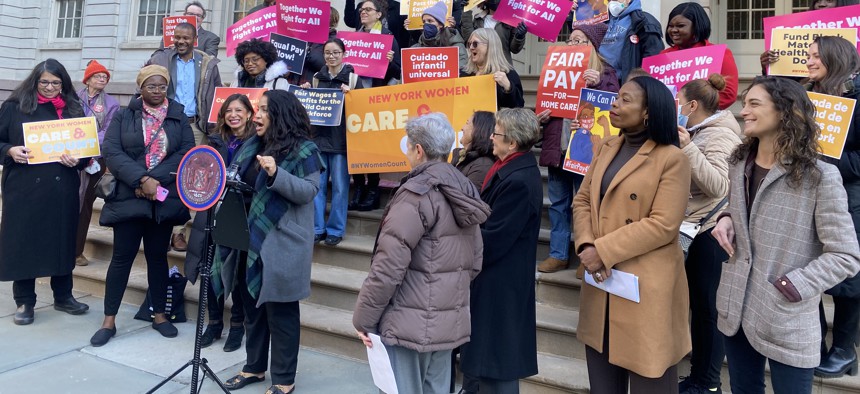 Advocates and electeds rallied on the steps of New York City Hall Tuesday in support of a women's care and equity agenda, urging New York's first woman governor Kathy Hochul to pursue legislative changes for equity. The proposed agenda includes sustainable investments into pay equity and child, home and reproductive care. 
Assembly Member Jessica Gonzalez-Rojas addressed attendees by opening with a quote from civil rights activist and New York native Audre Lorde. "There is no such thing as a single-issue struggle because we do not live single-issue lives," she said, speaking to the economic, reproductive, and workers' justice efforts across New York's coalition of activists.
While the election of the first woman governor was a significant feat, fears and tensions have risen in New York over the country-wide attacks on reproductive care, lack of universal childcare and an increase in the wage gap on gendered and racial levels. PowHer New York's Women Care and Count Rally, as the event was called, brought together a coalition of nonprofit organizations, elected officials and advocates to advance women's rights as providers, mothers, and autonomous bodies. 
"We have an opportunity and a responsibility in this new session with our very first governor, who is a woman, with such a strong representation of women, women of color and working-class women in the legislature, to take the voices of our communities with us to Albany," said state Senator Julia Salazar during her remarks at the rally. "We need universal childcare without exceptions, pay equity, and we need to pass the Equal Rights Amendment."
Others at the event included state Senators Jessica Ramos, Julia Salazar and Jabari Bridgeport; Assembly Members Deborah Glick, Jessica Gonzalez-Rojas and Souffrant Forrest, Chief of Staff for Assembly Member Andrew Hevesi; Council Members Jennifer Lewis and Jennifer Gutiérrez and Wendy Stark, president & CEO of Planned Parenthood New York.
"We want New York women to have the knowledge, the information, everything that they need at their fingertips to know that they're getting paid a fair salary for a fair day's work," said "New York State Senator Jessica Ramos, who introduced the salary transparency bill," I'm sick and tired of women who look like me, Black women, Indigenous Women, Asian women, any woman being underpaid."
Two weeks ago, New York City's Pay Transparency Law went into effect, requiring job postings to include salary ranges intended to level the playing field in salary negotiations and transparency. Yet, New York state's version of the bill has only recently passed the House and the Senate and will soon await Hochul's final say. Currently, advocates are urging Hochul to sign Ramos' proposed bill into law for New York State, as its intended purpose is to address systemic pay inequities, which primarily impact women and minorities. 
Rallying to highlight the many layers of advocacy within the umbrella of women's rights, elected officials and advocates alike came together to discuss the future of New York under Hochul's administration. With issues of pay equity and access to female reproductive care, Bridgeport spoke about women leading the childcare system. 
"Last year, we did a universal childcare tour going around the state, talking to childcare providers, asking them about their struggles. It became immediately clear that the entire sector was on the verge of collapse," said Bridgeport, chair of the Committee on Children And Families. "The only reason it has not collapsed is that thousands of women across the state are working for low pay or no pay," he added. "I don't know what kind of society we can call ourselves if we allow ourselves to be held up on the backs of women working for low pay or no pay, but we're not a dignified society."
On the reproductive healthcare front, Stark stated, "We need a state where women and people of all genders have health equity and justice, and access to the healthcare they need, including abortion. We are in a moment of deep crisis in this country, and that is a vast understatement….We need to fight so that everyone has access to bodily autonomy and to make the decisions they need to make for their own future, families, and health."
While Gov. Hochul has pledged her support for reproductive care, organizations working on the frontlines to provide sexual and reproductive medical care are facing increased numbers of patients, straining resources and existing funding. 
"I'm so proud to carry The Reproductive Freedom and Equity Program because we know New York is a safe haven, but we have to put our money where our mouth is," said Gonzalez-Rojas, "We cannot say we're a safe haven and still deny people who are struggling to make ends meet, rather than to assure that they can get abortion care here in New York. And that means people from out of state, and people in rural parts of the state that often can't get to an abortion clinic within many hours because of abortion desserts".