Nonprofits tackle food insecurity as holidays approach
Organizations like HelpNYC and the Met Council are giving away turkeys, hot meals and more with Thanksgiving just days away.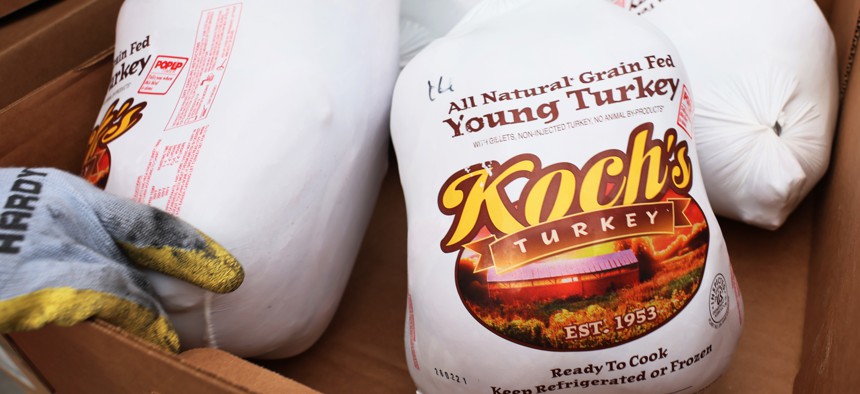 As the holiday season approaches, local nonprofit networks are answering the call to provide resources for food-insecure New Yorkers. 
According to a recent New York Health Foundation report, 30% of New York adults faced food hardship in 2021. The Robin Hood poverty tracker report also found that in 2021, 30% of New York City adults faced food hardship, and 6% faced severe food hardship. 
Nonprofit groups such as HelpNYC are going into Thanksgiving with a campaign focused on giving away free turkeys and holiday meals. To maximize its outreach, HelpNYC is partnering with more than thirty programs across the city to roll out its Holiday Meals & More Campaign, now in its fourth year and expanded to include toy and clothing giveaways, as well as community events this year.
"Not only do our Holiday Meals & More Campaign connect New Yorkers in need to critical food assistance, but it also provides a chance for New Yorkers to build community and meet others they can spend time with on the holidays," said Rue Parkin, executive director of helpNYC in a released statement. 
 "When I was street homeless, I had no family or friends to spend time with," Parkin added. "Community kitchens and holiday events offer the underserved the chance to connect with their community. I still attend one or two a year to feel the connection to the community that supported me for so many years."
The Met Council, America's largest Jewish charity dedicated to fighting poverty, is also supporting New York's hungry with 1 million lbs. of food that include Thanksgiving-specific items, such as turkeys, stuffing, vegetables like yams and carrots and dessert. 
"As inflation continues to increase the cost of food, low-income New Yorkers and those living on fixed-income are struggling more and more with food insecurity," said David Greenfield, CEO and executive director of the Met Council. 
"Whether that's families who typically turn to us for help or find themselves feeling the extra pinch this year, we're doing everything we can to help families in need," added Greenfield. "This is a critical time to support community-based nonprofits providing essential food services for vulnerable New Yorkers."
Met Council will be leveraging its 'Digital Choice Food Pantry System', a digital pantry system and mobile food delivery program that allows people to order food from their home or to a pantry site and schedule their own pick-up time. The digital pantry program has been funded by the Mother Cabrini Health Foundation, which has provided $2.7 million in grants to help expand the program. 
"This year thanks to the grant, we've been able to continue our food distribution, establish new Digital Pantry sites and Mobile Pantry stops, implement technology improvements and administer customer satisfaction surveys to ensure that the needs of food-insecure New Yorkers are being met. The long-term relationship between the Foundation and Met Council has enabled the program to flourish" said Greenfield. 
In addition to food insecurity, food pantry use is also on the rise. According to Robin Hood, food pantry use among low-income, non-citizen New Yorkers increased nearly 80%, nearly doubling from 17% to 30%.
"In the wake of COVID, food pantries have played an outsized role in helping New Yorkers afford food. Compounding the challenges brought on by the pandemic, anti-immigration rhetoric and policy have had a chilling effect on people's willingness to engage with the public food assistance system," said said Matt Maury, senior research analyst at Columbia University, Center on Poverty and Social Policy, which worked with Robin Hood on its latest poverty tracker findings. 
"Our Poverty Tracker data show that the post-covid increases in pantry use have been especially pronounced among non-citizen New Yorkers who have been pushed away from public programs meant to ensure families and children have enough to eat," Maury added. "These findings also highlight how food pantries provide a safe haven for non-citizens who are striving for a permanent citizenship status."