Nonprofits
Survey: Asian American community members want diverse and integrated schools
A Coalition for Asian American Children and Families report found positive interest in school integration within the AAPI community.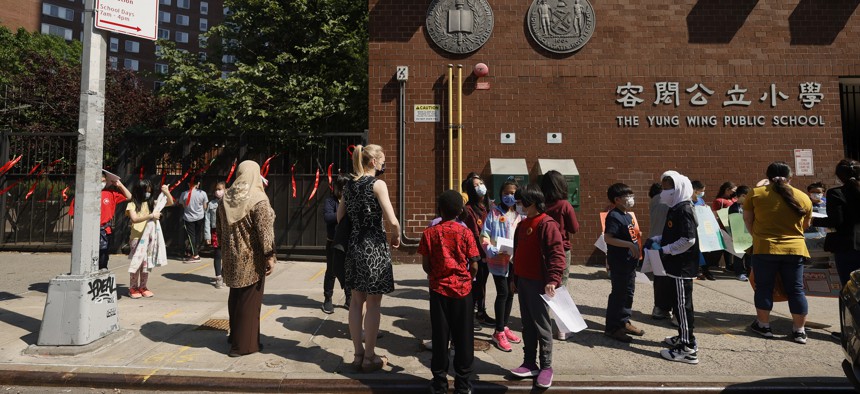 Asian American and Pacific Island community members fully support school integration in New York City, according to a new polls that found that both students and parents believe racial diversity is a major factor when selecting a school.
The survey, entitled A Diverse City Needs Integrated Schools, was prepared by the Coalition for Asian American Children and Families, an advocacy organization that focuses on AAPI youth. Those polled include AAPI immigrants, AAPI individuals with disabilities and those whose first language is not English. Due to the stereotype portraying the AAPI community as educationally successful and not  in need of assistance, many marginalized AAPI members say they feel unheard, according to the coalition which works to reverse this trend. 
The survey received 78 responses from students and parents of students across New York City with some connection to the New York City public school system.
The New York City school system is known to be the most segregated in the nation. Both Mayor Eric Adams and Chancellor David Banks called for an expansion of selective schools and have opened more gifted and talented programs. However, integration advocates don't believe that is the best solution.
"There is this discussion around having opportunities for those kids who work really hard, and I think there's probably the majority of our kids who work really hard, but never have opportunities to receive an education that really is responsive to their needs, and challenging, and providing the resources that they need to actually be successful," said Vanessa Leung, co-executive director of the Coalition. 
"I think there are some easy fixes around just extending the number of seats, let's say for gifted and talented" Leung explained. "But I think that also still sets limitations. For many of our students there are still probably not enough seats."
"And actually an approach that provides accelerated opportunities, as well as project-based learning, and things that are seen in many of the gifted classrooms, they should be accessible to all students," she added. "It can be done with more eyes towards creating spaces that center marginalized students in a way that allows for a focus on providing opportunities to kids who have not have had those things."
The coalition, among other organizations, supports prioritizing seats for marginalized students, taking into account race, language, ability and more. "The student body in schools that are highly-ranked lack racial diversity, and that creates an uncomfortable environment for BIPOC students," said one current AAPI high school student. 
During the coronavirus pandemic, school admissions relied less on grades, test scores and attendance. With the loosening of restrictions, selective schools saw a jump in diversity of freshman students. For example, Millennium Brooklyn's freshman class in 2020 was 43% Black and Latino, versus 20% the year before. 
For the school year of 2022, New York City's specialized high schools have continued to admit low numbers of Black and Latino students, according to the Department of Education data. Black and Latino students make up just under 9% of the student population, which is similar to the previous year's numbers.
Parents have expressed concern that the focus on testing and specialized high school admissions leads to less of a focus on activities and sports that create a well-rounded student.
"I wanted to be an artist [when I was a kid]. Why was someone telling me I couldn't do those things? Because I had to focus on being able to test well," said a parent and New York City school alumni. "My parents didn't have the luxury to think in those terms. As a child of immigrants, I think about what I didn't get to have. I would have loved more art, play, and to dream bigger. I want that for my kid."
Aside from the desire for diversity, the survey also captures the need for students with disabilities to have quality and accessible education. 
"My son has disabilities, so there are specific things that would make an educational environment better for him," said one parent. "I would love it if those things could be found at my neighborhood school, but they can't, so I'm very grateful to have enough resources to jump through the hoops to find those things. For a lot of people, especially non-English speakers, getting diagnosed and learning how to find the education environment that is best for them is additionally complicated."