Events
New York Nonprofit Media's 2023 Nonprofit BoardCon tackles DEI
Diversity, Equity and Inclusion were big topics at the annual event, which returned to Hebrew Union College with a robust schedule of panels focused on best practices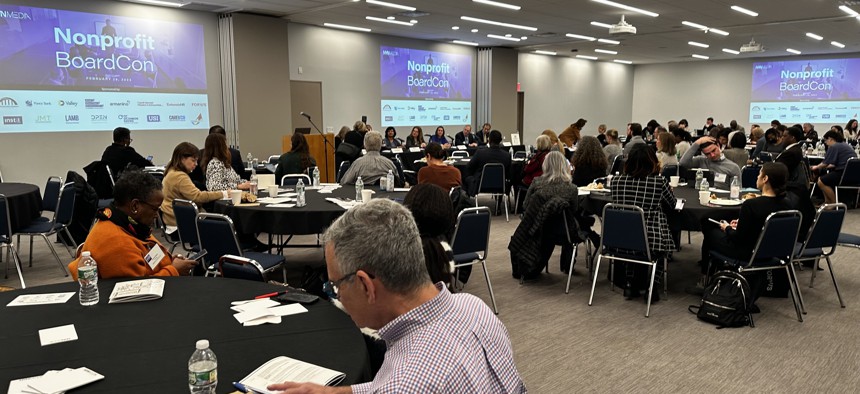 Diversity, Equity and Inclusion were the big topics discussed at New York Nonprofit Media's annual Nonprofit BoardCon event, which returned Tuesday and was attended by dozens of board members, executives and professionals.
The day-long event hosted at Hebrew Union College in Manhattan's West Village provided a comprehensive agenda of panels that discussed everything from the very basics of board responsibilities, recruitment and retention to the importance of DEI on boards. Panelists discussed different mechanisms of ensuring board members are oriented on their roles, such as a board mentorship program, to overcome steep learning curves. 
DEI proved to be the most commonly discussed topic throughout most of the day's programming. 
"When everyone's thinking the same, not a lot can change. Our boards need to be diversified, if not you're going to lose out on so many different perspectives. I think this is a huge problem that needs to be solved," said panelist Mark Dungan, vice president of employee benefits at USI Insurance Services.
During  the panel, "Best practices for the recruitment and retention of millennial board leaders," panelists emphasized the importance of recruiting and keeping millennial board members and the values they bring to the table. Panelists discussed millennials' technological skills, social media skills and their ability to provide solutions for today's issues. 
"You really want to have people at different stages in their careers. Millennials are the rising leaders in the workforce. It is helpful to get some of these young leaders early while they are still developing in their career because you forge that bond sooner. It's an important perspective to have," said panelist Nick Brasse, chief of staff at Volunteers of America - Greater New York. 
Panelists also emphasized the importance of championing members of different backgrounds. Nancy D. Miller, executive director and CEO of Visions/Services for the Blind and Visually Impaired, lended some advice on how to support incoming board members at the "Enhancing the Executive Director/Board Partnership While Delivering Mission" panel. 
"Focus on how you're going to help that individual … break in what might very well be seen as a clique or an all boys or girls or other kind of network," Miller said. "I think it's particularly important to have a multigenerational board, where you have a lot of board diversity. It's really important to let the board know, why is this new board member coming on, what are they bringing to the organization, so it helps level the playing field." 
The panel went on to highlight the challenges of being an executive director and recovering from the pandemic, which struck nonprofits particularly hard. 
The panel, "Diversity and Inclusion in the Boardroom," opened with revealing statistics: in a sample size of 1,300 nonprofits in the U.S., 84% of board members surveyed identified as white and 78% of chairs also identified as white. Panelists responded by explaining how board members should view and incorporate diversity and inclusion. 
David Pearson, senior vice president of People and Culture, noted: "Sometimes, when people are going through the hiring process, they hire folks that look and sound like them, and that's not the way to go about it. Once people do become aware as to what their unconscious biases are, that's where it starts to become a game changer and bring so much to the table, so much to the dialogue." 
Keith Little, former CEO of SCO Family of Services, made a point of adding that "this type of work, which is racial justice, social justice work, it's about a feeling, it's about creating a culture, and not just initiating the action." 
Several panelists also mentioned the challenges that come with establishing DEI initiatives.
 "This is work that requires being great," Little said. "This is work where you can easily be deterred. You're going to be scoffed at, you're going to be placated in some ways. You're going to be pacified. But if you're courageous, this work will continue and be successful."