Nonprofits
NYS doesn't pay nonprofits enough to do the jobs they're contracted for: Report
The inaugural annual survey from New York Council of Nonprofits shows agencies struggling to hire new people, make payments on time.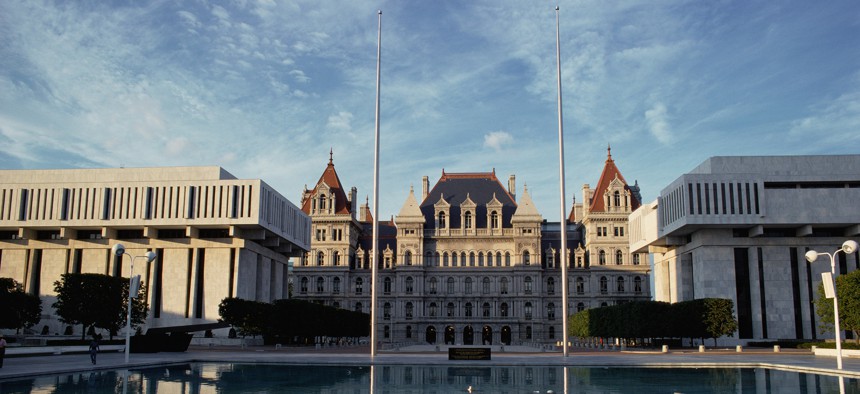 Times are hard for New York state nonprofits that assist older blind or low-vision adults. That's according to Nancy Miller, executive director of one such group, VISIONS, and volunteer president of the New York Vision Rehabilitation Association, which represents other such groups. She said that, for years now, funding from the state for these groups has been so low – as low as just half of their operating costs – that two of them have gone out of business since COVID-19, leaving VISIONS as the only such group to serve from the tip of Long Island all the way up to Albany. Another two that could not manage their cash flow were acquired by larger nonprofits, she said.
"When some agencies close, it puts more pressure on those of us who remain," she said. "This isn't what we think is going to happen to us – it's already happened." She added that her agency had not gotten an increase in state reimbursement for services in over 15 years.
Nonprofits serving people with vision issues are not alone in this regard. In December, when New York Nonprofit Media reported that nonprofits statewide were suffering staffing shortages, nonprofit leaders who rely largely on state funding said that the main reason for the understaffing was that they did not get enough from the state to raise salaries in order to either retain current staff or hire new staff – especially since for-profit employers like Starbucks and Amazon had raised their wages in recent years. Not to mention that comparable human service jobs within government generally paid more.
To illustrate what it calls the breadth and depth of nonprofit need right now in the Empire State, New York Council of Nonprofits, Inc., a statewide advocacy group, has just released its first-ever annual State of the Sector report. It was based on results of a survey sent to NYCON's 3,100 members, and includes these findings:
New York's more than 116,000 nonprofits comprise 17.8% of the entire state's private employees—more than those employed in construction, manufacturing and finance combined.
Half of members said they were concerned about funding their basic operations in 2023.
Of members who said hiring was a main challenge, 61% said the main reason was the inability to offer competitive salaries because of budget constraints.
Of the 67% of members that get funding from New York State, 80% said that funding doesn't cover the cost of delivering the service or program expected by the state; 62% said the state has delayed their payments between a month and a year; and 25% said they've had to use a line of credit due to those delays.
NYCON CEO Megan Allen said that when she was visiting member nonprofits statewide last year, "one of the things I heard most was nonprofit staffers feeling like the general public doesn't understand what nonprofits do and what a large sector of the economy we are. So we wanted to build awareness about that with both the public and legislators."
NYCON wanted to get the report out early in the year so that it might have some sway in the state budget process. On February 1, Gov. Kathy Hochul released her proposed FY2024 budget including a 2.5% cost-of-living-adjustment in wages for staffers of nonprofits providing services on behalf of multiple health and human service agencies, including the New York State Office for the Aging.
"I can't say for sure that that's not enough" to make nonprofits whole, said Allen, "but my guess would be no, because nonprofits haven't seen enough funding for a long time – and then there's inflation on top of that." Plus, she added, health and human service agencies make up only a fraction of all state nonprofits. Other kinds were hit hard by the pandemic – such as arts organizations, which lost ticket revenue, and food programs, which experienced a surge in need amid COVID-19-related job losses.
Miller pointed out that the COLA adjustment in the budget would only apply to nonprofits with a line-item in their budget for salaries. "We are outcome funded," she explained. "We only get paid when the blind older person we work with achieves a goal," such as learning how to get around the house without sight. 
"If we advertise our services and get more clients," she continued, "we run out of money before we can serve them – but even if we do serve them, we lose money on each of them. We've been subsidizing the state for years. That's why several of our colleagues have gone out of business if they don't have other sources of revenue like private donors or foundations."
As for her group, she said, "we are constantly fundraising to make up the gap in what the state pays us."
Miller said she was disappointed not to see more money earmarked for nonprofits in the governor's budget. "After putting in all this advocacy with the governor's office, we have to refocus on the Legislature, where everyone is concerned with their own district" as opposed to statewide needs, like older blind people. "It's always easier to do that if something has already been put into the governor's budget. But now we're starting from zero."
She estimated that $4 million more in funding would make her particular service sector whole. "That amount is so small that it could be a rounding error in the budget," she said. But hers is but one small sector of the whole nonprofit universe.
Allen said she hopes that the report "builds awareness that we are a major part of the New York state economy – and that legislators realize not only that we're not being paid enough for the work we do but that delays from the state in receiving funding makes it difficult to operate programs. Of course there are a lot of challenges to address in the state, but we nonprofits have been dealing with these challenges for many years and really need help."
Miller echoed that. "I don't think the general public understands the economic engine that nonprofits are. If we weren't here, who would provide these services? What would your quality of life be? Nobody expects a building contractor to get from the state only half of what it costs to build a building—yet that's what they expect of us."