Officials reach a tentative compromise on bail
After weeks of negotiations, legislative leaders and the governor have all but signed off on a deal that would remove the 'least restrictive means' standard for violent felonies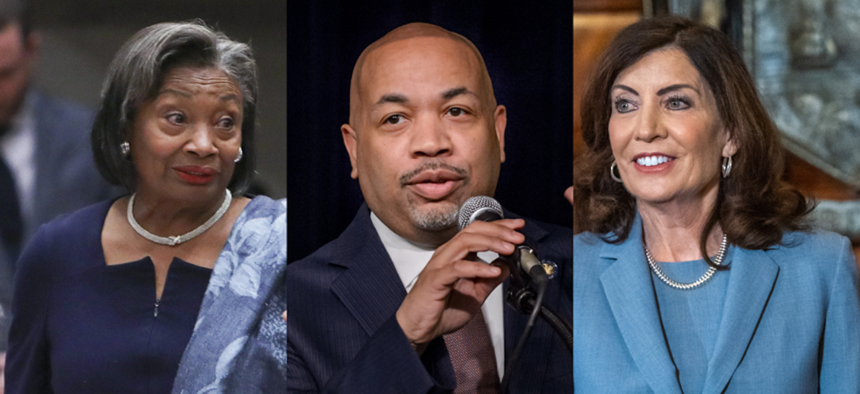 After weeks of holding up the budget over her proposal to further tweak the state bail laws, a source with knowledge of negotiations told New York Nonprofit Media's sister newsite City & State that Gov. Kathy Hochul and legislative leaders have all but finalized a deal that would give judges greater discretion to set bail in violent felony cases. The compromise would remove the requirement that judges impose the "least restrictive means" when determining whether to set bail for violent felonies but would still define bail strictly as a means of ensuring a defendant's return to court. The governor had originally proposed removing that strict definition of bail.
With the budget now over two weeks late, legislative leaders and the governor have repeatedly said that the fight over bail has been the major holdup. The state's controversial bail reform law has already been modified twice since it was originally passed in 2019 – once in 2020 and once last year – to make more offenses eligible for cash bail. Hochul proposed further changes to the law in this year's executive budget, which both state Senate Majority Leader Andrea Stewart-Cousins and Assembly Speaker Carl Heastie resisted. 
After the Legislature passed a second budget extender last week, Heastie said that "most of the oxygen is still on discussing bail." Hochul had dug in during negotiations over her proposal to give judges greater discretion to set bail for violent felonies, insisting that leaders reach an agreement on that before moving on to other parts of the budget. Although her proposal would not make any more offenses eligible for bail, it would remove the requirement that judges impose the "least restrictive means" when setting pretrial conditions for those felonies.
"There will be changes to (the) bail system to make clear judges have discretion and least restrictive standards will be removed for serious offenses," the source said. "The governor should be happy."
But the compromise won't be exactly what Hochul had originally proposed. The language in her executive budget would have removed both the "least restrictive means" standard and the "return to court." standard for setting bail generally. The source said that the "return to court" standard will stay in place as part of the compromise. 
Public defenders and legal experts had sounded the alarm bell over the prospect of removing that standard, which they said would fundamentally change the purpose of bail in New York by allowing judges to consider other factors like perceived dangerousness when deciding when and how much to set bail. "The Governor now seeks to undo that norm and threaten the liberty of those she is elected to govern by completely removing the standards guarding against the carefully limited exception," read a letter signed by over 100 law professors from last month.