New York State
Socialist legislators back bill to block New York charities from funding Israeli settlements
Many Democrats condemned the legislation, and leaders of both the state Senate and Assembly promised that it would never receive a vote.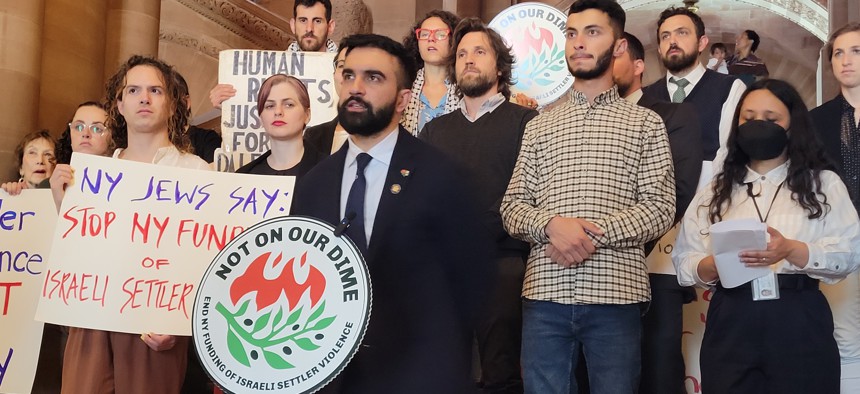 Back in the day, New York had the "three I's" that lawmakers would often visit: Ireland, Italy and Israel. Today, those first two are less prominent than they once were, but Israel remains a country that many New York politicians keep close ties with and continue to make frequent visits to. Support for the Jewish state has long been unquestioned in any official capacity – until now.
In a first-of-its-kind proposal for the United States, Assembly Member Zohran Mamdani has introduced legislation that would target tax-exempt charities that provide money to Israeli settler organizations. Dubbed the "Not on our dime!: Ending New York Funding of Israeli Settler Violence Act," the bill would give the state attorney general the authority to dissolve any nonprofit organization found to be using tax-deductible donations to support organizations that aid in the occupation of the Palestinian West Bank. Although the United States government takes no official position on the Israeli occupation, the U.N. has repeatedly declared that Israeli settlements in the West Bank violate international law, including the Geneva Conventions. 
"There's this example of New York state lagging behind international law, lagging behind U.S. foreign policy," Mamdani, a democratic socialist, told City & State. "And this legislation is intended to bridge that gap and make it clear that New York will not continue to effectively subsidize war crimes." 
Mamdani said that he introduced the bill after various groups reached out to his office to voice their concern regarding reports that found New York-based charities were sending around $60 million a year to organizations that assist in the settlement activity of the Israeli government deemed illegal by the international community. He said that the bill is "very clear and very targeted" and asserted that those opposed to it have mischaracterized what it would actually do. Mamdani said that the bill is specifically focused on the actions of charities and their funding of settler organizations. He did not specifically tie the bill to the Boycott, Divestment and Sanctions movement supported by some pro-Palestinian politicians and groups. In 2016, then-Gov. Andrew Cuomo issued an executive order directing the state to divest all assets from organizations engaged with the BDS movement.
The coalition behind the bill has set up a website with details on groups funded by New York-based charities that are allegedly supporting the Israeli occupation. In an interview, Mamdani specifically mentioned the group Israel Land Fund, whose stated goal is to "redeem and purchase land throughout Eretz Yisrael for the Jewish people." The organization was almost completely funded by the New York-based charity Central Fund for Israel in 2017. 
Mamdani's bill has received support from the Democratic Socialists of America and is backed by many of his fellow members of the Socialists in Office caucus. Assembly Members Sarahana Shrestha, Phara Souffrant Forrest and Marcela Mitaynes are listed as co-sponsors of Mamdani's bill, and state Sen. Jabari Brisport has introduced a Senate version of the bill, co-sponsored by Sen. Kristen Gonzalez.
Mamdani held a press conference on Wednesday in the Capitol to announce the legislation, where he was joined by advocates who back the bill. "I say with the fullness of my heart, not in our name, because Jews are not a monolith," said Rosaline Petchesky, a member of the progressive group Jewish Voice for Peace. "We do not all support the state of Israel, we are not all Zionists, many take the position of supporting Palestinians and Palestinian human rights. And not on our damn dime is something we all should be supporting." Mamdani was also joined by Diala Shamas, a senior staff attorney at the Center on Constitutional Rights, and Palestinian activist and journalist Basel Al-Adra. 
The proposed legislation was met with swift backlash, and Democratic leadership in both the state Senate and Assembly issued statements promising that the bill would never come to a vote. Assembly Speaker Carl Heastie told the Jewish news outlet Forward that it is "a non-starter and it is not something we are considering." A spokesperson for state Senate Majority Leader Andrea Stewart-Cousins echoed that sentiment on Twitter: "This is the same in the Senate, this bill is not moving and not something we would consider passing."
Assembly Members Daniel Rosenthal and Nily Rozic, who are Jewish, also drafted a letter signed by 25 state lawmakers condemning the bill. "This bill is a ploy to demonize Jewish charities with connections to Israel," the letter reads. "It was only introduced to antagonize pro-Israel New Yorkers and further sow divisions within the Democratic Party." The letter does not mention Israeli settlements in the West Bank.
Mamdani acknowledged that his legislation faces an uphill battle. "I have already received a phone call to my district office saying all Muslims should die and all Muslim lovers should be killed as well," said Mamdani, who is Muslim. "This is the reality when you dare speak up about Palestine and Palestinians." But he said that he has faith that organizing efforts will get more Democrats on their side despite the strong pushback and dismissals from legislative leaders. He alluded to the recent success of his Fix the MTA campaign, which he launched late last year. "This is a journey I've been on before," he said. "If you asked many people in December whether we'd have a free bus in every borough starting in October, I think they would have told you the same thing."