Opinion: More people will die at Rikers if Hochul rolls back bail reform
We are family members of people who died at Rikers. If Rikers had killed white people, the governor would close it, not condemn more people there.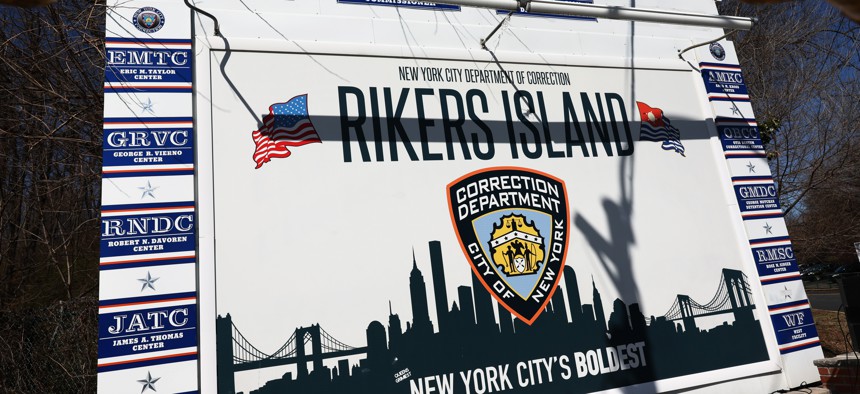 Right now, Gov. Kathy Hochul is pushing a proposal to weaken New York's bail laws again, supposedly to clear up confusion for judges. But let's be honest: The real reason is politics – and a lack of concern for the lives of people who don't look like her. We feel confident that Hochul's proposed changes would lead to an increase in the number of New Yorkers stuck in dangerous jails.
We are just some of the dozens of grieving families of New Yorkers who died on Rikers Island amid an ongoing humanitarian crisis in the jails. We have an urgent message for our elected lawmakers: Do not condemn more of our fellow community members to these deathtrap jails. 
If our families were white – if the majority of people in these jails were white – we suspect we wouldn't even have to make that plea. By now, Hochul would be working to close the jails, rather than trying to fill them even more. In fact, a state commission responsible for monitoring all local jails, whose leadership is appointed by the governor, has a legal obligation to close jails that are unsafe, unsanitary or fail to follow state regulations.
Right now, the jails are abandoning people with mental health needs in tiny shower cages as de facto solitary confinement. People are languishing without urgently needed medical care for everything from painful chronic diseases to broken bones. Suicides, self-harm and overdoses are surging behind bars. Jail officers, jaded and desensitized by the bleakness in which they work day after day, are bringing in drugs and weapons to sell and outright encouraging people to hurt themselves, or even watching idly as they do. New York City's jails have taken the lives of 36 people since late January of 2021. 
While the crisis at Rikers rightly gets attention, people are dying in jails across New York state, with deaths reported in at least Erie County, Broome County and Nassau County jails last year.
Our loved ones are gone, and we would give anything to get them back. Still, we know that people who do make it out of these jails alive bear the physical and emotional scars of their ordeal. They come out worse, not better. 
Numerous City Council members and state legislators have inspected the jails recently, seeing with their own eyes the daily atrocities. But still, the political conversation seems focused on whether to jail more people, not less. 
We know why – the answer is excruciatingly obvious every time we look in the mirror.
The governor's latest proposal would reportedly remove the "least restrictive means" standard  from the bail laws, meaning judges would have no guidance on when and why to set bail. Instead they would lean even more on their own biases, or they could just set bail with no reason at all. This is not a rollback of the 2019 reforms – it would undo the bail laws of the Civil Rights era. 
Everyone agrees – public safety comes first. But when people like this governor talk about it, we are left to wonder, whose safety?
Often, the fight over the bail laws is framed as a tension between safety and racial justice, but this is false. It's a fight over whether the safety of all New Yorkers – and not just the privileged few – matters.
We live in communities across the city and, like our neighbors, we have the right to be safe in our own homes, on the sidewalk, in subway stations – everywhere. New York's jails deprived our loved ones of this right to safety – and make us all less safe. They bring about trauma and despair, not growth and healing. We've seen it firsthand. 
More than that, an unequal and unfair justice system only worsens the poverty, inequality, shame, anger and exclusions from society that create the conditions for violence to occur in our communities. 
Policymakers can't sit on their hands when faced with very real concerns about safety, but neither should they ignore actual solutions and instead point fingers at basic civil rights protections just because it's the politically convenient thing to do. 
This year, we'll find out if they're willing to make real and lasting investments and policy reforms that actually address community safety, like expanding supportive, affordable and reentry housing, community-based mental health care, drug programs rooted in dignity and public health and material support for traumatized crime victims to stop cycles of violence.
Whatever the politics, they must also go further to rescue more – not fewer – people from the dangers of these jails, if they have any basic human decency. The current laws weren't enough to save our families.
All we can do is hope and pray – and get organized to demand that political leaders protect our families, our communities and the lives of all New Yorkers. This will not be the last you hear from us.
Tamara Carter, Lezandre Khadu and Amariliz Torres are advocates who lost loved ones on Rikers Island. Carter and Khadu are also members of Freedom Agenda, an advocacy organization working against incarceration.