Opinion
Opinion: Pride is reproductive freedom
Celebrate this month by affirming services and intersectional movements for reproductive health, rights, and justice that center LGBTQ+ communities.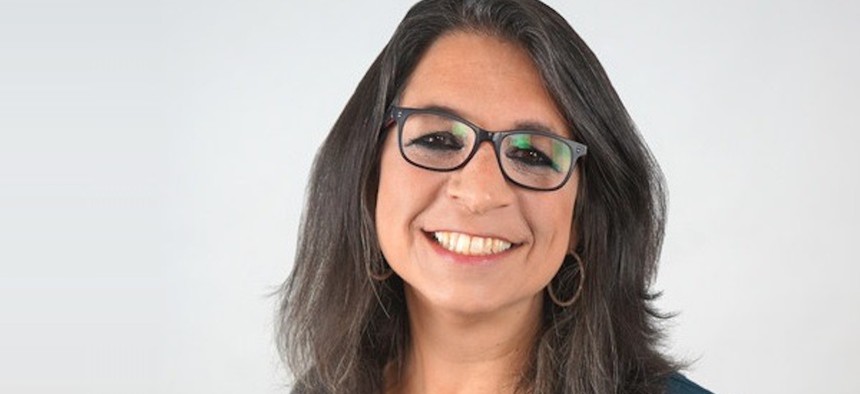 In the 54 years since New York City's transgender and queer communities – primarily Black and Latiné -- fought back against police oppression at the Stonewall Inn in Greenwich Village, we have seen remarkable strides for some in our communities as well as much horrific backlash.  To honor Pride in its entirety is a complex negotiation – we must hold the twin truths that we are living in the age of the greatest queer and trans visibility in our nation's history, and also that ongoing violence and current policy and bodily attacks on our communities, particularly the most vulnerable among us, are a devastating manifestation of white supremacy and fascism in action. This year, Pride coincides with the first anniversary of the overturning of Roe v. Wade and the end to our constitutional right to abortion, an appalling stripping of our bodily autonomy. As we recognize Pride this year and look to the future, imagining the joyous possibilities of the world we want to live in, I believe that reproductive freedom is a foundational part of our journey.  
Sistersong Women of Color Reproductive Justice Collective defines reproductive justice as "the human right to maintain personal bodily autonomy, have children, not have children, and parent the children we have in safe and sustainable communities." The Black-women led reproductive justice movement inspires us to do much more than fight for abortion rights, but to analyze power and systems of intersecting oppressions, center the most marginalized, and join together across issues and identities. It is to this movement and to Black women's and trans and queer folks' intellectual labor that the mainstream reproductive rights movement, of which Planned Parenthood is a leader, owes every measure of progress we have made regarding how we work within and care for our communities. To me, striving to be an ally to the reproductive justice movement, to honor my identity as a queer woman, and to advocate for our communities is to fight for a broad spectrum of societal transformation as core to the project of bodily autonomy for all.  
Prior to my role as president and CEO of Planned Parenthood of Greater New York, I led Callen-Lorde, the global leader in LGBTQ+ healthcare – provided regardless of ability to pay -- for many years. I saw, firsthand, the devastating health disparities faced by our communities, even in a "progressive bubble" like New York City. Queer and trans people are at greater risk of health conditions caused or exacerbated by the daily stress of oppression, including suicidal ideation, substance abuse, mood and eating disorders and anxiety. Trans people of color have the highest risk of HIV infection. LGBTQ+ people are less likely to have health insurance, stable employment and stable housing. Bodily autonomy doesn't just mean the right to access the health care we need, including abortion and gender affirming services – it also means the right to our own futures and the right to live with dignity, free from violence, criminalization, economic instability and fear.   
At PPGNY, we are proud to provide services that directly impact the lives of queer and trans people. We offer services to our communities like STI testing and treatment, HIV treatment and prevention (including PEP and PrEP) education, hormone replacement therapy (including estrogen, anti-androgen, and testosterone), case management and more. Still, I know we have work to do to ensure we are well meeting the needs of those we serve. We commit, this Pride and always, to work with our partners in building accessible, affirming services and intersectional movements for reproductive health, rights, and justice that center LGBTQ+ communities.  
While New York is a progressive beacon in our nation, we have some incredible opportunities – and deep responsibility -- to create a roadmap for ensuring access and equity for generations to come.  At PPGNY, we were proud to support the passage of the Equal Rights Amendment in 2023, which will now appear on the ballot in 2024. New York voters will have the opportunity to add protections to our state's Constitution that prevent gender-based discrimination - including discrimination based on gender identity and gender expression. We are also proud to support efforts to pass comprehensive sex education legislation that will mandate medically accurate, queer-inclusive, and affirming sexual health education for New York youth. PPGNY is also advocating for other important legislation that expands and protects abortion access and gender affirming care, including measures like the Reproductive Freedom and Equity Fund, which boldly invests in abortion access and reduces barriers to care, hospital transparency legislation that provides insight into hospitals that limit care by implementing policy-based exclusions, and other protections that support providers and the patients they serve. New York can and should be a haven for bodily autonomy amidst a national landscape where everything from enjoying a drag show to accessing necessary health care is under fire. 
Pride means celebrating and fighting, reveling in the joy of all that we are, fiercely resisting the tyranny we face, and dreaming of the future we deserve.  As we continue the fight for bodily autonomy, including but never limited to access to abortion and gender affirming care, we will continue to contextualize our work in an overarching vision of freedom.  We deserve nothing less.