Nonprofits
The largest city-based workforce development association has a new CEO
Gregory J. Morris will now take on NYCETC's efforts to respond to the city's current economic crisis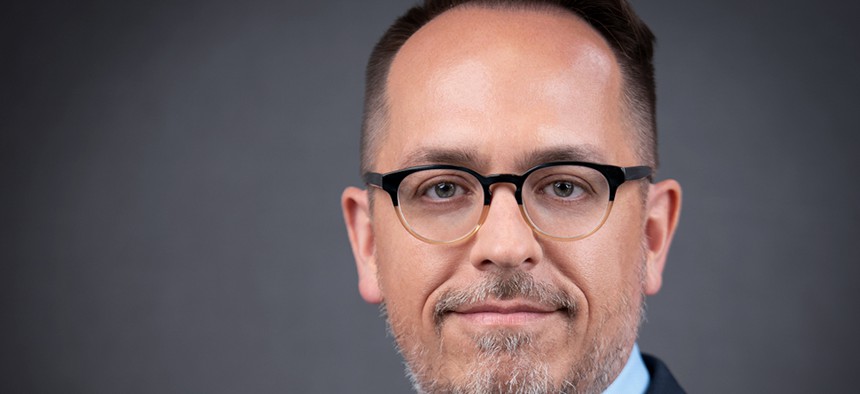 Gregory J. Morris has been named to be the new CEO of the largest city-based workforce development association in the country: the New York City Education and Training Coalition. Prior to taking on this leadership  role, he was a board member for NYCETC. Before that, Morris was with Stanley M. Isaacs Neighborhood Center (Isaacs Center) for eight years. He has also held leadership positions at Children's Aid, The Door, and the University Settlement Society of New York.
As an experienced advocate, Morris has supported children, families, and seniors and hopes to address historic disproportionate gaps in employment and salary New Yorkers face across race, gender, age and more. 
This conversation has been edited for length and clarity.  
What inspired you to serve as a board member and then serve as the ED for NYCETC?
 NYCETC's singular focus on policy and advocacy has been and continues to be a force for accountability, innovation, and transformation in our city's workforce systems. It has historically called out the systemic barriers to employment access and retention, and represented the extraordinary resolve and impact of the numerous providers – big and small – across the city's workforce development landscape who serve hundreds of thousands of New Yorkers every year, regardless of their individual starting point. I was honored to serve on the NYCETC board because I shared the commitment that NYCETC has to ensure that everyone has access to the skills, training and education necessary to thrive in the local economy, and that our businesses, educational institutions, philanthropic partners, and labor are all working in alignment with providers and community-based organizations to broaden economic opportunity and to push us to become an equitable city.
For years before the pandemic, I was focused on creating and implementing education and workforce development programming that could support young adults and others who have not been able to find a foothold in our city's labor market or find jobs with growth potential and a high school equivalency that leads to college entry. When those two focus points intersected, with the right infusions, coaching, guidance, and support over time, we saw unemployed and underemployed clients connect to careers. Our efforts were strained by the pandemic, and we were compelled to add on more layers of support and reconstruct and reboot our service models overnight. 
I'm excited to leverage my experience as a leader and strategist to guide NYCETC forward as it navigates a challenging period – challenging not just because of the hardship many New Yorkers face amid an uncertain recovery and an unfavorable financial forecast, but also because we know the next iteration of our city's workforce, and by association our collective economic success, requires a complete overhaul of our systems and our intervention strategies – the way we teach and train, and the way we partner.
The more than 200 members of the coalition represent the city's diversity – in size and scope –  but they all have the proven ability to create pathways to job success and retention for those who have historically been left behind, and they tend to be people of color, immigrants, older adults, individuals who are justice involved, and other historically excluded New Yorkers with limited social mobility. Importantly, they share an overall desire to propel all New Yorkers forward – regardless of their starting point – for the 21st century economy. 
What's it going to take for New York City to recover from the significant job loss due to COVID-19? And what role has NYCETC played in helping NYC to recover?
Today, we know that more than 170,000 jobs have not come back to the city since the pandemic struck. New York City's unemployment rate is still double the national rate. We are the "capital of the world," but we have bounced back slower than any other major metropolitan city. We can attribute that to many factors and pain points before the pandemic, including a fractured and siloed workforce system. If you look at the situation as intensely as NYCETC has, it's easy to recognize the City's approach to workforce development wasn't fully aligned. Whether it was to prepare young adults for the workforce, upskill already talented New Yorkers, or invest in significant, sustainable resources to help people with unique and complex barriers to economic mobility, the different parts of the system haven't been designed or aligned to maximize our collective potential.
Thankfully, we're making progress toward bringing many of the overall lost jobs back. In August, private sector jobs in New York City increased – but the city's unemployment rate was still higher than the statewide rate. We have much more work to do to create and grow a workforce development system that recognizes and empowers our current and future labor force. 
Throughout its history, NYCETC has been able to represent the needs and interests of those organizations that push forward efforts to get things done when it comes to training and placement, employment, and retention. The coalition has been working closely with our members and other stakeholders across the city to make sure that the recovery from the pandemic is equitable and inclusive, and that the economy we're building following the recovery finally recognizes the training providers and other community-based organizations that didn't waver or yield during the pandemic to prepare New Yorkers for the in-demand jobs then and are preparing New Yorkers for opportunities in stable and growing sectors in a post-pandemic recovery as a source of its strength. 
Why do you think NYCETC's idea of inclusive growth and the inclusive growth blueprint is valuable for the current administration?
New York City is facing multiple crises. The city is increasingly unaffordable. A persistent digital divide has compromised the ability of many New Yorkers – especially public housing residents – to access the Internet, which in turn limits access to jobs and education. Our education system is also still reeling from the pandemic, impacting youth and working parents alike. Too many New Yorkers still experience hunger and food insecurity.
We are all interconnected and therefore need to address these multifaceted challenges holistically, and we can do so through workforce development. The Mayor's economic blueprint and overall support for workforce programs is a step in the right direction. But everyone needs to pull together and embrace that inclusive growth mindset when we envision the workforce development system. New York has gone through enough economic recoveries to recognize there are always those who are left behind. The individuals who typically bear the brunt of a crisis also persistently lack access to the same opportunities that many who already benefit from structural advantages continue to acquire. By embracing an inclusive growth mindset, we can actively diminish structural inequity and tear down barriers to self-sufficiency and prosperity on both an individual and community basis. 
The likelihood of success in any job often requires durable skills, such as real world readiness, digital access, and literacy. At the same time, access to child care, a strong education system, quality health care, nutrition, and a safe and sustainable living environment are critical to ensuring people can succeed and thrive. If we don't provide individuals and families with these necessary supports, everyday challenges can quickly spiral into devastating crises. When we think about the future of our workforce and upward mobility, we must also think about addressing historic inequities and commit to an inclusive growth that requires all of us to share and sacrifice together so that we can lift up everyone in new and evolving workplaces that are safe and effective.
What do you envision NYCETC accomplishing these next few years and further into the future, and how will that impact NYC?
It's critical for workforce providers to have a seat at the decision-making table and to engage in conversations with the administration and key stakeholders. As the largest city-based workforce development association in the country, the Coalition is ready to fight on behalf of our members and the provider community to support New York's workforce. 
We applaud the commitment that both our current City and State administrations have made to elevate workforce development. Executive Order 22, signed by Mayor Eric Adams, is a deliberate and impressive commitment to the realignment of our workforce systems and reflective of the aspiration that our Coalition members share to strengthen skills, build access to careers, and build meaningful and effective partnerships with employers.
I'm looking forward to sitting down with the administration and the City Council as well as labor, the business community, and our education institutions and members to make sure that the City's investments and commitments are actually resulting in people getting the jobs they want. We know that providers desperately need more resources to expand capacity and innovation within our ecosystem. We hear it from our members, who are grappling with the growing pressures of client recruitment and staff retention and with the demand to expand services. 
Together, we can reimagine our workforce ecosystem and build an inclusive economy that ensures every New Yorker has access to the skills, training, and education they deserve and that every business has access to and can help maintain a highly skilled workforce. I expect the Coalition to hold all stakeholders accountable for their commitments, and to ensure we are on the right track to creating pathways to a 21st century economy.