Nonprofits
Maritza Silva-Farrell on leading ALIGN
The ED discusses advocating for workers' rights, battling Amazon's corporate power, and building coalitions for renewable energy.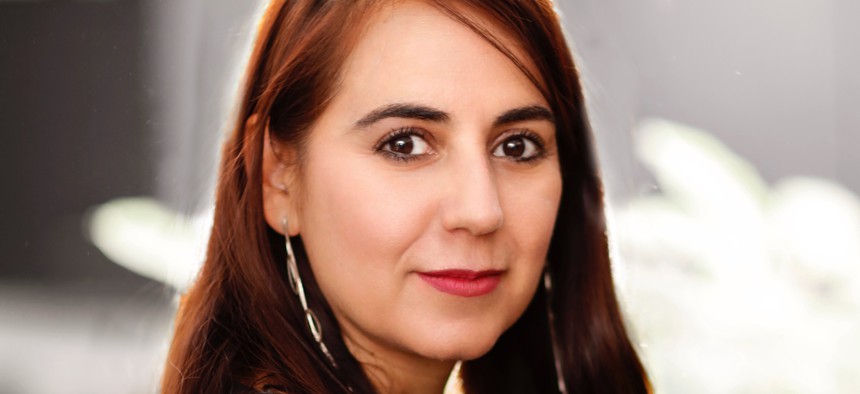 For the past twelve years, Maritza Silva-Farrell has led Alliance for a Greater New York, or ALIGN, toward its mission of challenging corporate power, building a renewable energy economy, and empowering working-class New Yorkers. As ALIGN's executive director, Silva-Farrell has helped shift the organization's focus towards building strong organizational coalitions and advocating for policy change. 
In 2018, ALIGN joined a coalition to halt Amazon's plans to build its headquarters in Long Island City, Queens, highlighting the company's controversial labor practices and environmental impacts. After winning this battle, ALIGN has continued their efforts to empower workers, joining coalitions to pass the Warehouse Worker Protection Act, NY HERO Act, and city commercial waste reform (Transform Don't Trash coalition).
A longtime advocate for socioeconomic and racial justice, Silva-Farrell focuses on New York' most vulnerable communities, addressing issues of climate change, economic hardship, and rising inflation rates through policy advocacy and coalition building.
This conversation has been edited for length and clarity. 
Tell me about your background in advocacy work before you came to ALIGN.
I have been doing social, racial, and economic justice work for almost 20 years. My work centered around organizing and advocating for workers' rights and empowering communities that generally are afraid of stepping up in fear of retaliation. I used to do this work in Long Island before coming to ALIGN. And later, I did some more work on affordable housing and campaign building.
The campaigns that I have been doing, aim to build collaboration with different types of stakeholders to make changes in the conditions of vulnerable workers. Those left behind are immigrant and indigenous people of color, so my work engages in important legislation that has shifted the system in some way. And more recently, I can say that most of my work is to align, pun intended, our work with transformations of existing systems, from fossil fuel needs to an energy renewable energy economy. And we're doing that with labor unions. 
How has ALIGN's mission changed since you joined them?
ALIGN used to be an organization that mostly focused on supporting labor unions, in contract negotiations, and specifically supporting organizing efforts for many unions. The work that I have been doing is connecting the dots between the role that large corporations have in the economy, and tackling those issues through policy solutions, organizing, and mobilizing people communities and building strategic campaigns. A lot of the work that I have been looking at align with themes of income inequality and climate change, which sometimes puts labor unions and community organizations interests against each other. So, part of my work aside from passing legislation is also to build that connectivity and be the connective tissue to ensure that those folks can work together to the common ground solution. Usually, in despite of different approaches and interests, folks want the same thing. They all want clean air. They want to tackle the systems of oppression and racism. Looking at what the interests are, and how do we come together is how I've been shaping the organization mission.
I noticed some recent progress towards climate justice and workers' rights. Can you expand on why you support The Utility Thermal Energy Network and Jobs Act?
One of the things that we have experienced within our work is that we are in a moment of polarization, where you have workers in the current system, afraid of losing their jobs. The thing that we have identified as a solution, is rather than focusing in on depolarizations, we focus on – what the conditions in which workers are in right now. And how can we ensure that the workers will be set and prepared for transition to renewable energy ahead of time?  Identifying technologies that are going to get asked to address a climate change, I address the amount of greenhouse emissions that we have pollution in general in our city in our state. 
We have intentionally engaged in the geothermal work. And this is the most ambitious climate plan in the country moving us away from fossil fuels and electrification of all our buildings by 2050. Now, the utility and gas industry workers have come up against it, as the idea of completely changing the system threatens their jobs. So, seeing those dynamics and the polarization, we thought how can we develop a plan to create an alternative? Is there a way to ensure that the current workers will continue to have jobs, but with a different system?
That's why we engage the geothermal utility specialization. As pilot programs begin, we are going to be working closely with all the unions, the industry, as well as the communities to ensure that we prove and show that we can have both. And as we move away from the fossil fuel industry, we work closely together to address the concerns that workers have to ensure that they have the training necessary and the funding necessary to transition the current industry.
What sort of challenges has ALIGN faced in your advocacy efforts?
There's a couple that I will just elevate here. First, to pass legislation at the city and state levels, we depend on our elected officials. It becomes a slow process, as they don't always feel the same level of urgency to address climate change that we do. Additionally, negotiations with partner stakeholders are always difficult, as we must address everyone's needs. So that's a little bit of a challenge managing some of the different types of interests that organizations and institutions have. 
Looking at some federal legislation, what are your hopes for President Joe Biden's Inflation Reduction Act, and how do you see this impacting working-class New Yorkers?
I think with the federal regulations, specifically, the Inflation Reduction Act, we are feeling discomfort and are unsure of the intentions. It also continues to enable the current system by supporting the fossil fuel industry. So, in that sense, it's really complicated to just be fully excited by Biden's actions. I think he is aware, and I think it is a big step. We see intention on ensuring that there is investment in communities of color and ensuring at least 40% of benefits go to communities that have been bearing the brunt of climate change. And that is good. The hope here is that what is already in place, and what's been proposed, is something that will trickle down into New York State, in a way that will empower our communities.
Can you speak about the impact of COVID-19 on ALIGN's momentum?
As we all know, this global pandemic has brought tremendous challenges to all of us. But as everything else, the communities that are the most vulnerable, are the ones who experience it differently. And that's something we highlight with climate change. Yes, we all experience climate change, but BIPOC folks are the ones who are experiencing disproportionate effects. This is like the pandemic, it's almost three years at this point, and we still have so many fears for working people. Workers in the low wage industries are the ones who continue to be essential, as they always have been working in grocery stores, working on farms, while providing for their families. And those same communities continue to be in the low wage bracket. Therefore, our work at ALIGN has to be intentional; we create health and safety protections for workers and protect immigrant workers from retaliation, through legislation and regulations issued under the Department of Labor.
The reality is that our approach always has to be about intersecting issues and making sure that we tackle this crisis together. And our society is set up to give more power to the ones that already have the power. It is a difficult fight. I think before the pandemic, during the pandemic, and even now, the conditions have not changed for the better. Unfortunately, what we see is more profit growth for large corporations. This is reality.
Looking forward to 2023, what issues is ALIGN focusing on?
I can tell you that we have built a strong coalition to tackle all these intersecting crises. We are deeply embedded in working with the New Renews Coalition, monitoring the implementation of CLCPA (Climate Leadership and Community Protection Act), bringing a just transition for workers. And that shifts the conditions in the industries to become renewable energy hubs, and so on, and so forth. So that's going to be one big goal for us, ensuring that we have the funding to be able to implement the law. The second one is continuing to tackle corporate greed, specifically Amazon. With Amazon continuing to expand their market in New York state, we hope to get the Warehouse Worker Protection Act signed. 
Additionally, we will continue to address the loopholes in the NY Heroes Act, which was a legislation that we passed in 2021 to address a COVID-19 pandemic. We're going to be actively engaging on implementing a law in the same realm of economic justice. And right now, inflation and the cost of living isn't matching the way workers are getting paid. We have a coalition called Rise Up New York. And that coalition will be focusing specifically on building out the campaign to increase the federal minimum wage. Wages should increase with the cost of living, that's an economic justice. And lastly, in New York City, we have Local Law 97 and the initiative for Green Healthy Schools, from K to 12.