Nonprofits
JCC of Mid-Westchester gets a new chief executive officer
Elise Dowell comes with two decades of communications and operations experience.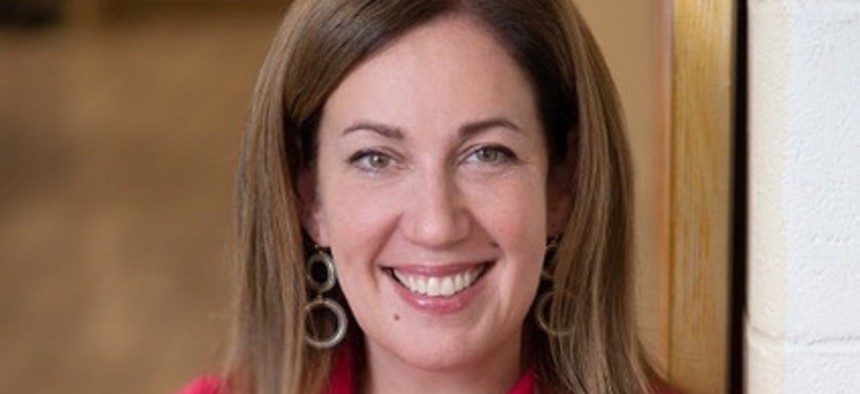 For Elise Dowell, a meaningful first job led to a life-long career. Her first job as a teenager was at a Jewish Community Center in Connecticut. Now, two decades later, Dowell is the chief executive officer of the JCC of Mid-Westchester. She assumed the role in January and said she has been enjoying her role personally, while continuing to grow the organization and being inspired by all those around her. 
Prior to joining JCC of Mid-Westchester in January of 2022, she was the vice chancellor for communications & external affairs at The Jewish Theological Seminary for two decades. Her work allowed for the amplification of donor development, communications strategies, and membership cultivation. New York Nonprofit Media sat down with Dowell to speak about her transition to JCC of Mid-Westchester, her success so far as CEO and what her vision for the future is for the organization. 
This interview has been edited for length and clarity.
What inspired your move at the end of 2021 from the Jewish Theological Seminary to the JCC Mid-Westchester?
I was at JTS for about 20 years and our focus at JTS was really about launching Jewish leaders at the national level. But with this opportunity to be the CEO of the JCC of Mid-Westchester, I was really inspired to make a positive impact in my own local community, and couldn't turn down the opportunity to make such a personal and meaningful contribution. I myself am a Westchester resident, I have been for about 12 years, and my husband and I are raising our family here. So it really felt like the perfect alignment of roles and opportunities.
What leadership lessons did you bring with you to the JCC Mid-Westchester?
My role at JTS was very external. It was partnership and communication based. That's really translated well into partnership building with like-minded organizations, elected officials, and the broader community. And these efforts have really been foundational for the agency and strengthened our coalition of community members with the representatives and institutions that support and share our mission and vision. I would also say that my communications background has allowed me to bring the message about the importance of core foundational organizations like the JCC and the continued relevance that a legacy organization like ours, plays in the broader community. So I would say those are the leadership lessons I would have taken from JTS to the JCC of Mid-Westchester.
Can you tell me about how the pandemic has influenced your thinking about the role of the JCC Mid-Westchester?One of the key lessons we've learned during the pandemic was the vital necessity of community on the most basic and fundamental level and with leading researchers from the American Academy of Pediatrics to the World Health Organization, there's been a lot of discussion about the epidemic of loneliness. This resulted from COVID induced isolation. I would say that this understanding and recognition has really significantly informed our work at the JCC such that we're redoubling our efforts to connect individuals and families in substantive and meaningful ways focusing on their holistic wellness, physical, social, emotional wellness. And we've really been fortunate that so many of our partners and funders believe in us and our ability to play this critical role for the community. That has been the largest influence. How do we counter the isolation and the impact of isolation through this experience?
What has been the most exciting part of being CEO of JCC Mid-Westchester so far?
I would probably say the people. I'm really fortunate to work with an incredibly dedicated board who supports the organization in so many deep and meaningful ways. I also believe that one of the most important jobs of a leader is to bring the right people to the table. And I'm really lucky to work with an amazing team of professionals at the JCC. Collaborating with an amazing team of people really makes every day interesting and exciting. And I also would say that I really enjoy and love being out in the community, talking with longtime supporters and partners who've been involved with the JCC, often for decades. They're some of our most devoted champions, and are really inspiring to me on a personal and professional level.
What has been some of your achievements so far at JCC of Mid-Westchester?
Our team has really both stabilized the organization and launched the most incredible growth and return after an obviously difficult phase of this pandemic. We've really expanded our programming exponentially for the entire spectrum of the community literally from babies to older adults, and the response has been overwhelmingly positive. Both from the participation levels of the individuals who attend our programs, to the partners and supporters who applaud and help fund our work. We put a lot of thought and effort into how we most effectively communicate our offerings to the broader community as well. In partnership with other organizations, and from a sort of marketing and publicity standpoint more generally, and we're really seeing this work pay off. We're often seeing programs at capacity with waitlists. So we know that the messages in the program offerings are being circulated in a way that people are responding. And I think we've also done sort of a significant achievement in that we've fortified long standing partnerships in the community and started to create new ones. We've invested a significant amount of time in Jewish programming and partnerships. We're an organization based on these foundational Jewish values. And those values enable us to welcome the broadest segments of the Westchester community to participate in our program. So I think those are some of our key achievements.
What is your vision for JCC Mid-Westchester moving forward? What are your priorities for the organization?
My vision is to reestablish and solidify the JCC Mid-Westchester as a thriving hub for the community, offering programs and joyous and meaningful lives for those in Westchester. When we use the word joy, I am really not overstating it because we hear patrons and members who participate in our programs using that language. We launched about 20 new programs for older adults with support from our partners. Our early childhood programs are completely at capacity and we're actually opening up new programs in new classrooms in White Plains and a new site. So, you think about joy, you think about the smiling 2- to 5-year-olds in that program. We've been bringing back all these arts and cultural programmings in our auditorium. We recently hosted a feminist Jewish author talk to a full theater. So seeing those faces and seeing that joy of being back in person and experiencing these types of programs, again, really is meaningful. We're seeing the joy that we're able to bring back to the community with these programs. That is part of the vision for the JCC of Mid-Westchester, and we hope to continue to play a role and in doing so for the community.