Cultural nonprofits
Empowering young artists in New York
Nicole Fenichel-Hewitt, executive director of The Art Effect, spoke to New York Nonprofit Media about promoting student growth and the upcoming Reel Exposure International Teen Film and Photography Festival.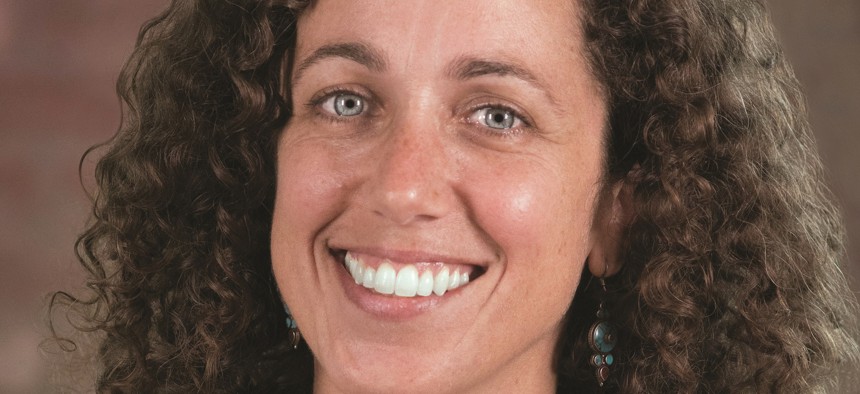 This interview has been edited for length and clarity.
Nicole Fenichel-Hewitt has been at the heart of The Art Effect since 2006, when it was known as Children's Media Project. With a merger in January of 2018, the organization recently celebrated its 5 year anniversary. The Art Effect devotes itself to providing young artists with the tools and resources necessary for success, whether that be through mentorship programs or workforce training. Its annual Reel Exposure International Teen Film and Photography Festival will be returning  in May and in person for the first time since COVID-19. Nicole Fenichel-Hewitt spoke with NYN Media about preparations for the event, engaging with artists from around the globe, and how the agency supports students in their transition to the professional world. This interview has been edited for length and clarity. 
You offer classes ranging from music to illustration to film. I'd love to hear about the kinds of projects students create in those courses and if they've ever gone on to submit them to professional festivals or competitions. 
We have a film called Santa Woman that portrays a young Black woman who wants to be a mall Santa Claus, and they reject her because of how she looks. It's this short heartwarming story that students here made years ago and it just got into another film festival. It keeps getting into film festivals because I think it's a really moving and unique perspective made by some local teens here. 
We also have our own film festival. In May, we will be hosting the Reel Exposure International Teen Film and Photography Festival. Our own students submit but also students from other countries submit and other youth organizations and our students curate it down from around 100 submissions to 12 shorts under 10 minutes that we will screen here in Poughkeepsie. So we have a lot of ways for students to show their work, but we also work with them to submit to all of the Scholastic Awards that happen throughout every state. 
I'd love to hear about the festival because I believe this is the first time it's being held in person since the pandemic. How are you preparing for that and how is it going to differ from the last few years?
Prior to the pandemic we used to rent the Bardavon Theatre here in Poughkeepsie, which is a beautiful 1000 seat theater with incredible sound and screen. But now we have, as part of our merger and our growth, a new space on Main Street in Poughkeepsie, and we're operating out of this historic trolley barn that we're renovating. This is the first time that we're going to be able to have on the walls in the trolley barn gallery all the photos while we're screening the film festival. 
We're also launching the first night a 24 hour film race that ends right before the film festival. That will be screening on the third day, the pieces that come out of that along with some professional panels about how to break into the film and media industry. 
We're excited because through doing the virtual component we learned there were some real benefits there. At the end of the live event, we used to do the live Q&A with any of the young filmmakers who could get there in person but now we're going to do it through a large zoom, so we'll have live communication with filmmakers from around the world. It allows us to present the awards to the filmmakers who are virtual so they have that live presence. Now we're going to livestream the whole event so that those students who are participating in the festival from other countries can watch with their families.
You recently received $10,000 from the New York State Council of the Arts for the Reel Exposure International Teen Film and Photography Festival. How will this money be used to support young artists featured in the festival?
That money is going to help us build our audience back by communicating locally, publicizing the festival through all the regional school districts, and getting as many young people coming to experience the evening together in person. We also use some of the funds to support the awards that are given to the filmmakers who are selected. We have a jurying process and award the filmmakers and photographers, three awards to each category. We give cash prizes for that, so helping young people build their futures when they're already showing so much promise. 
I was also wondering what the transition looks like for students with experience at The Art Effect as they move on to college or enter their professional careers. 
We've created a program called Arts Bridge, which is specifically focused on students who have no one else in their family who's attended college. It was first generation students who have an interest in going to an art school, and we work with them on portfolio development, but we also have support to give them SAT training and even for college applications and FASFA. We're tracking their scholarship offers and helping them negotiate those offers. 
We're also doing a lot of job placement. We recently got some support to create incentives for students to go through our training. This is specific to our film program, they go through our film training and then we have 13 businesses that have hired our students. We had 30 students get gigs or placements in those businesses. We're starting to track that more too and we think of it as portfolio development, professional development, and building on their futures. 
I imagine The Art Effect is constantly trying to evolve depending on how the art world is evolving. For example, has the rise and popularity of digital art and media affected The Art Effect's programs?
The Art Effect doesn't ever do anything twice so we are always evolving. Every single program we do is a response to either what just happened and what could happen differently next time or something new that's come out that we can play with, whether it's a digital tool, an app, or a new artist that we want to show students as inspiration. A lot of it is paying attention to what our students are excited about. So when we first merged we had darkroom photography. The second year, nobody wanted to do it. We stopped doing it. Three years go by, now it's starting to become an interest again. So there seems to be some cycles around some of that but a lot of it is really just an evolution.