Interviews & Profiles
How low-income New Yorkers will be affected by the end of pandemic-era emergency benefits
NYN Media spoke with Public Health Solutions Executive Vice President and Chief Strategy Officer Zachariah Hennessey on how the state can mitigate SNAP benefit losses and reduce strain on food pantries.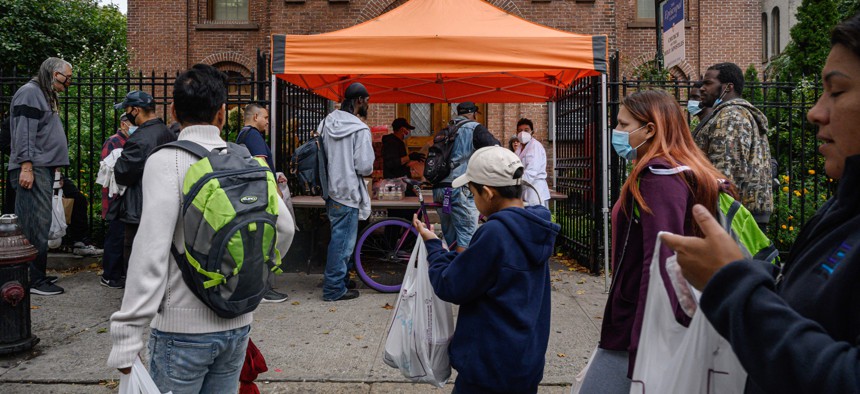 Pandemic-era emergency SNAP benefits ended this week across the United States, affecting nearly 1.5 million New Yorkers. The decision was announced back in December, leaving little time for nonprofits and food pantries to assemble adequate resources to meet spikes in demand. As New Yorkers grapple with rising inflation rates and job losses amidst the current recession, the removal of these additional SNAP benefits is expected to severely harm already-vulnerable and food insecure households. 
As New York City's largest public health nonprofit and one of the city's largest providers of SNAP benefits, Public Health Solutions remains at the forefront of aid, organizing increased referrals to food banks and WIC services to their constituents across all five boroughs. 
NYN Media spoke to Public Health Solutions Executive Vice President and Chief Strategy Officer Zachariah Hennessey on the impact of ending of pandemic-era SNAP benefits on the city's low-income families.
This interview has been edited for length and clarity. 
What proportion of the population served by Public Health Solutions will be impacted by the end of pandemic-era SNAP benefits?
The vast majority, if not all, of the 2,600 New Yorkers we serve per year [will be impacted]. The way the emergency authorization has worked is that it's really enhanced all SNAP participants benefits'. Everyone who is on SNAP has benefited to some extent from the emergency authorization. And depending on where they are starting from, their socio-economic circumstances, the amount of the reduction will vary. I took a look at how much the average household was getting of our participants currently, and then what they were getting before the emergency authorization and then I also factored in the 12.5% increase to the base benefit that was added in response to inflation which pales in comparison to what the cut amounts to with the end of the emergency authorization.The average household benefit among our participants will be reduced by more than 35%. Which is in line with the national average reduction, which is around 33%. So [New Yorkers] will be affected a little bit more than the national average in terms of the average reduction. Our 2,600 folks, which is about 1,200 households, received $367 per month in 2022. And before that emergency authorization, the average household received $246 per month. It will be on average about at least $100 loss per household per month, with a typical household being around 2.2 individuals. the increase in response to inflation pales in comparison to what the cut amounts to with the end of the emergency authorization.
How will this removal impact low-income households across New York City? 
The end of the emergency authorization was announced in December. So, there has not been time for a coordinated local government response or for the food system to respond in a timely manner. And the way that emergency authorized benefit worked was the householder the family would get their base SNAP payment on the first of the month and they would get the emergency authorization payments later on in the month. So everyone has gotten their regular payments for March but around halfway through March, they won't get that second payment. So that's really when things are going to become drastic here in New York City. I've seen a lot of public food drives, emergency or supplemental food options like pantries and soup kitchens and meal delivery programs – I can say that those programs are already stretched thin and I don't know that they're going to be able to absorb this, especially when families were able to use the funds to shop for food that was suitable to their diet. Going to a food pantry or a soup kitchen is not the same as being able to shop for your own food for your family. Food banks see challenges in meeting the higher demand and also will be challenged to meet people's cultural or dietary needs in a sustainable way. SNAP has been shown to reduce neighborhood poverty by up to 16% and the sudden termination of emergency benefits coinciding with this record inflation that has hit grocery prices right now is just very unfortunate. The timing on this is awful. We've seen inflation lower, but it's still high. And this sort of sudden termination creates a financial cliff.
What are the public health implications anticipated by the loss of emergency SNAP benefits?
Food insecurity has many negative impacts on health, including increased risk for malnutrition, and multiple chronic health conditions like diabetes, obesity, heart to the mental health disorders and more. Many individuals and families will have to go through other living expenses in order to prioritize rent, housing, and medical care. So it has a compounding impact because food really takes priority over medical care, and that has tremendous public health implications. I think that strain will also be on the public health system as well as the healthcare system. And because people will de-prioritize medical care, some people may lose their housing which may have really grave health consequences. Additionally, there was a lot of energy and enthusiasm from the healthcare sector in making sure that patients who are enrolled in the Medicaid program are also being enrolled in SNAP. And I think with the value of the SNAP benefits going down, some of the work that they were investing in to make sure people were enrolled, might have less effort put into it by these healthcare sector partners. 
As Public Health Solutions operates a network of various services programs, including food assistance services, how is your organization responding to this loss? 
First of all, we're looking to ensure everyone who does SNAP is getting the maximum benefit that they can. Oftentimes we find that when people apply on their own, they don't report all of the information that they should in order to get the maximum amount that they're eligible for. So when people have to reapply, we will be making sure that they're able to get as much as they can. We'll be making sure that everybody who does SNAP is provided information about the WIC program and ensuring that they're connected, and of course we have a food and nutrition services bundle which brings together SNAP and WIC with home delivered meal programs, soup kitchens and pantries. We'll be coordinating referrals to those additional supplemental food programs, but as I mentioned, those are really strained. The largest proportion of the people we enroll in SNAP are families with young infants and young children. So ensuring that they're eligible will be something we mitigate. The second largest population we support with SNAP applications are seniors, with whom we'll be working really closely to congregate meal programs as well as meal delivery programs like Meals on Wheels.
What policies are needed from the state to support households affected by the loss of emergency benefits? 
New York receives $500 million in federal funding for SNAP and then the state also appropriates $36 million, but because this happened so late there was no action taken by New York to mitigate the loss to families. Because the food stamp cuts were signed into law only in December, states nor individuals had much time to prepare. The state should provide funding to supplement the loss. States should work with city government and community organizations to make sure that they do what they can to fill the gap, especially the most critical gap. One of the challenges for New York is that with the public health emergency ending, we are losing a lot of COVID specific emergency authorized benefits that supported the safety net. The state would have to do a lot more to increase SNAP support because sending everyone to the emergency food or the supplemental food system is not a sustainable solution.