Personality
Persuasion's role in organizing: Anand Giridharadas in conversation with Maurice Mitchell
Two provocative thinkers on listening to constituents, an "orgasm theory" of politics, and how to make institutions work for the people they serve.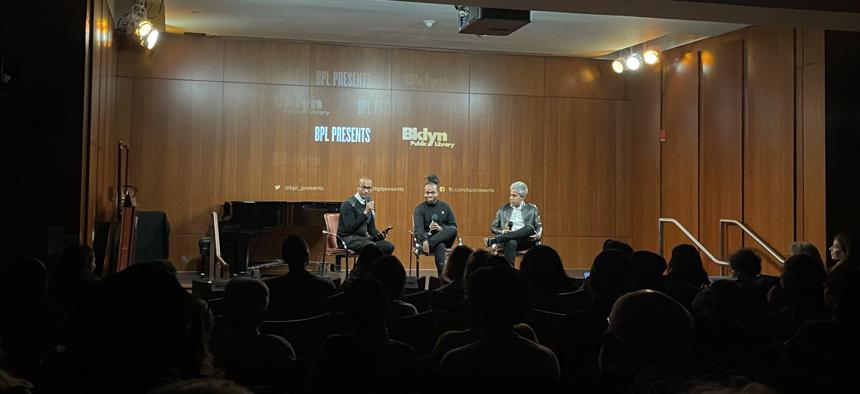 The Brooklyn Public Library recently brought together two writers whose work everyone seems to agree is provocative: Anand Giridharadas and Maurice Mitchell. They were there to talk about how to build movements and overcome political polarization – which, of course, translates to how to fix the United States writ large. The talk was moderated by a joke-cracking Dorian Warren, co-president of Community Change and co-founder and co-chair of the Economic Security Project.
The speakers at the Feb. 28 event were jovial, and, for the most part, in agreement: they both spoke to the belief that by focusing on the wrong things, like neoliberal identity politics, American organizing spaces are failing to recruit people to their perspective. Giridharadas said, "There's a fundamental arrogance on the left," pointing out the party's tendency to value written theory over the action of actually talking to people and listening to what they care about.
Giridharadas' new book, "The Persuaders: At the Front Lines of the Fight for Hearts, Minds, and Democracy," is an exploration of what actually works on the front lines of movement-building. The people he interviews, ranging from leftist political sweethearts like Alexandria Ocasio-Cortez to lesser-known fighters operating to deprogram QAnon supporters, are all masterful in the art of persuasion – the art of getting someone to understand your points and change their mind. 
Mitchell, who is the national director of the Working Families Party and a longtime activist, enters this conversation because of his November 2022 essay, "Building Resilient Communities." In this essay, Mitchell outlines common institutional problems that he has observed in various progressive organizations, and outlines possible routes to leave those issues behind. It's a "guide to fight fascism," in his words.
Giridharadas comes to this argument from the observation that people on the political left are giving up on people on the right. He said, "In a lot of democratic spaces, in ways that are sometimes explicit and sometimes unconscious, we have given up on the idea of persuasion." He thinks that progressive activists label people with whom they disagree as the other, a "they," and then write them off: "In quiet, reflexive ways we continue to believe that 'they' will never change."
Mitchell also spoke out against the idea of villainizing "them," arguing that what activists really need to be doing is break down borders and welcome genuine questions in organizing spaces. 
"Most people are ideologically incoherent," he said. "Therefore when we witness incoherence we shouldn't be surprised – we should make space for it. That's how we build a bigger 'we.'"
Mitchell and Giridharadas' only point of contention was over what Giridharadas jokingly termed his "When Harry Met Sally theory" of politics. He argued that some powerful persuaders, Ocasio-Cortez included, have seized on a type of persuasive argument that gets people so excited that they're "jazzed" to go home for Thanksgiving and talk about politics – and that those policies don't have to be the top priority of their loved ones for their Republican uncles to consider saying, "I'll have what she's having!"
Mitchell disagreed that Giridharadas's "orgasm theory of politics" was the most persuasive strategy available to people wanting to make a difference, saying, "We're not going to 'Thanksgiving dinner' our way out of [the current political climate] – we are going to organize." He pointed out that organizing spaces take work to carve out, and that they should not feel the same as safe spaces. "If your coalition space only includes your friends," he said, "then you're just hanging out, not organizing."
For nonprofits, the overall takeaway was clear: organizations need to listen to their constituents. Adopting an on-the-ground, human-based approach can persuade more people to join in a movement. As Mitchell insisted, it's hard to overstate the value of putting our most authentic selves in conversation with people of differing viewpoints – preventing fascism, to him, rests on democrats' ability to forget the arrogance and "gain some modicum of deeper camaraderie" for people across political lines.