Helping Black and Brown youth harness their power
Minority Millennials founder Dan Lloyd spoke to New York Nonprofit Media about empowering young people of color to become civically engaged and the upcoming We Are The Future Summit.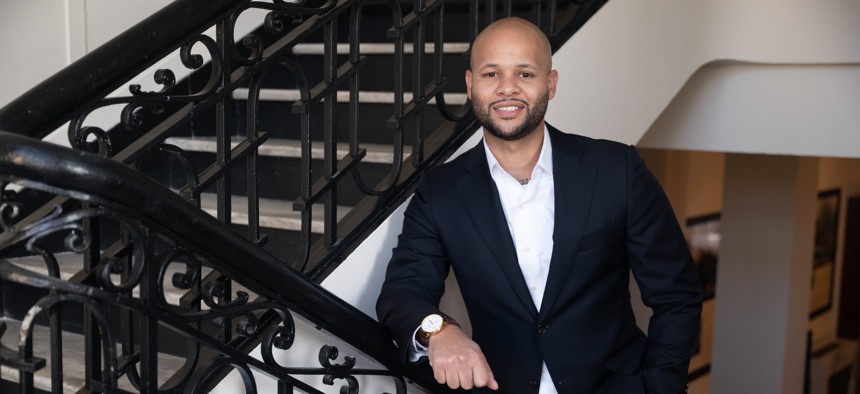 For Dan Lloyd, becoming civically engaged means understanding how power works. Whether it's being able to elect a respectable local representative or campaign for changes in legislation, his nonprofit Minority Millennials helps young people of color recognize the many ways that power works. Founded in 2017, the organization also aids brown and Black youth in accessing career opportunities, becoming involved with public policy, and kick starting their own businesses. Lloyd wants Millennials and Gen Z'ers to discover and pursue their passions, all while building generational wealth and enjoying economic freedom. On Thursday, Minority Millennials will be hosting its first summit at Hofstra University. Joined by politicians, nonprofit leaders, and public advocates, the We Are The Future Summit hopes to educate and uplift the next generation of New Yorkers. 
This interview has been edited for length and clarity. 
Your nonprofit offers business advisory services to young people of color and helps them secure necessary resources for their entrepreneurial ideas. Can you tell me about some of the businesses you've helped grow in the last few years and what that process has been like?
We hosted a shark tank for new business owners in 2019, and one of the businesses was an art curation company Colored Colors. It's now in its fifth year and has become one of the most successful art management production companies on Long Island. Its owner was on his way to New York City today to run a five week art vendor program at The Vessel in Hudson Yards. He was saying, just the opportunity to share his vision in front of investors, made him have to put together a business plan and make his idea worthy of investment so that he can get it off the ground and into the market. That's just one business that we've worked with. 
We've supported a lot of individuals. We've worked with a number of retail businesses since COVID-19 to ensure that their back end business and accounting was appropriate. Our main focus is certification. We really try to help individuals that are doing a service but may not be understanding how that service can be certified and then to potentially get bigger procurement contracts. 
Minority Millennials also provides mentoring and research opportunities. How does your organization prepare Black and brown youth for their professional careers?
Honestly, it's more so about preparing them to understand who they are. We like to really focus on explaining to someone, "What is it that you naturally like? What did you used to dream up when you were younger? What do you dream of now? How is that something that can be profitable in this type of economy and market and how can you do something that you really enjoy but at the same time, have a social impact?" 
If those things really align with what you feel is burning in your heart, then we can help nurture that idea and that's where that economic development and business development comes into play. Once we nurture that idea, we can also connect that to a business opportunity like funding or depending on what that industry is, a job opportunity. We really want to be able to steer certain individuals from going through a four year college if they don't need to be. You can learn a skill, learn a trade and get into the offshore wind industry or something of that nature. 
Your "We Are The Future Summit" aims to educate and empower Black and brown youth, especially with regard to civic and economic power. Why do you think the time for this event is now, and what do you hope participants walk away with?
The time is now because we have an election coming up in 2024 that for the first time that younger cohort of Gen Z that's 16 and 17 and about to graduate will actually be able to vote. We want to have the biggest mental impact, the biggest emotional impact on their lives now, so that they understand the role that they play in the future of America, and quite frankly, the future of society. Millennials are getting a little older, so now we're getting into positions to make major decisions. Combine millennials and Gen Z and we can really shift American culture and society to reflect the needs of our demographic. So, that's why this is really important right now, specifically for Long Island in New York. Long Island has been historically segregated, racially and economically. We want to use this Summit as a way to bring in outside influencers from New York City and from Albany and elected officials from across the state to show young Long Islanders what it looks like to be civically engaged and that it's not a specific type of person or individual that runs for office. There's a lot of young people that are making an impact, so we want it to be a motivation. We hope that everyone walks away excited and aware that this was something different. It was about politics, but we have live performance – a live MC, a DJ – so this is very much going to feel like a festival more so than an actual sit down conference. 
One of the panels, "The Future of Labor: 21st Century Workforce," will focus on how industries are changing and what they may look like in coming years. What practices do you want to see from industries in the future and what can they do to best serve young professionals of color?
Cannabis is a major industry that's coming to New York and Long Island. Offshore wind is a major industry that's coming to New York and Long Island. We have a lot of resort casinos that are looking to come to Long Island. There's three multibillion dollar industries that in the past would really only be open to Caucasian business owners that have been established to get procurement opportunities or can position themselves to get into union labor to do these construction jobs and service jobs. Now, as an organization, because we have positioned ourselves to help recruit, we can make sure that young people know of these industries but are also skilled and take advantage of these opportunities. Offshore wind is going to be around for the next 50 years, so these are careers that will not get disrupted by artificial intelligence and technology. It's a great career to get into and be trained for because you can really take care of your family or yourself for the next few decades. It's a really unique moment to position Black and brown young people to be very successful in a very uncertain economy. 
Since Minority Millennials is a relatively new nonprofit, I'd love to learn more about its history. Is this an organization you'd been working on or had in mind for a long time, and what was the process of developing and executing it?
We started in 2017, so we're six years old but we're celebrating our fifth official year as a 501(c)(3). We started it because, quite frankly, I played basketball in the past and my business partner played basketball and we had a basketball tournament with over 1,000 people at the park and most of the individuals, we probably could say 95%, were not interested in what was happening in local elections that year or that month. It was August and local elections were in November. I remember sitting there thinking, if we can get 900 individuals to vote in a local election, imagine how one, we would scare everyone out here, and two, we would empower our communities because they have no idea what's going on. Even worse, it doesn't seem like they even care. The problem with that is just because you're naive to how power works doesn't mean power is not actually still working. It goes back to, do you like feeling like you're being taken advantage of? 
It doesn't have to be political power. It could just be self awareness and the power of "are you able to make decisions with full information access to how that can steer and position your life regardless of where you want to go." We created the organization to bridge the gap between policy and culture, that's kind of our motto, and that's what we're working on. One of our slogans is proof of progress. We're going into our sixth official year. This is our first big summit, and in another five years we want to make sure that all of the initiatives and our mission has been accountable and there's significant metrics of change when it comes to equity in jobs, economic development, and political will.