Nonprofits
Three onboarding best practices for post-COVID-19 hires
If your nonprofit's onboarding process hasn't undergone a refresh recently, consider these critical changes that will resonate with new employees.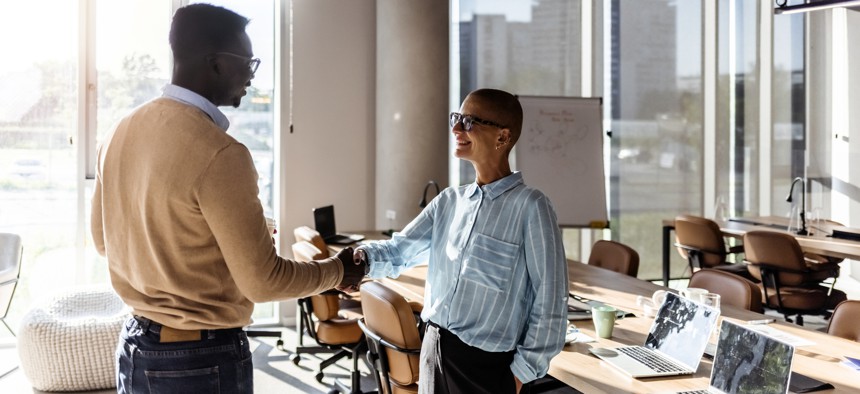 Onboarding is a new employee's first introduction to your organization's culture and values. As we watch the next generation of nonprofit employees enter the workforce, it is clear that they are seeking onboarding processes that serve them well and set them up for success in their new roles.
What's the current state of the average organization's onboarding practices? Gallup shared enlightening onboarding statistics in 2021. Only 12% of employees in the U.S. report that their employer does a good job of onboarding. But, employees who reported great onboarding experiences are 2.6 times more likely to be extremely satisfied with their workplace.
In recent years, many organizations have expanded their onboarding processes beyond simple paperwork tasks to make it a truly valuable experience for new hires. The following are three of these changes and what makes a successful onboarding process in 2022 and beyond.
A successful onboarding process is focused on cultural infusion, not paperwork.
If you are able to look back to a time before we were all carrying around tiny computers in our back pockets, you probably remember how onboarding used to be. It was once a transactional process; new employees would show up on day one, sign a stack of paperwork, get shown to their office or cubicle, and gain access to the organization's computer system.
While the transactional paperwork still exists – it is critical to make sure the new hire gets paid for their work and your organization remains compliant as an employer – a truly successful onboarding process will extend far beyond that alone. Successful onboarding involves a series of touchpoints designed to integrate the hire into the organization's culture.
This includes checkpoints such as:
Introductions to the new hire's team, other teams across the organization, and organizational leadership.
Training about the employee's role as well as informational sessions about the roles that other teams play.
Culture-focused interactions, such as coaching programs and team-building activities.
Regular check-in meetings with HR and the hiring manager to ensure relevant learning and cultural assimilation, and to respond to the new employee's questions and concerns throughout the process.
Rather than onboarding lasting a week or even a month, a successful process can now extend multiple months into the new hire's tenure at the organization, ensuring they are successfully welcomed.
It is a multi-team effort, rather than led by HR or the hiring manager alone.There is a common misconception that onboarding is handled by HR or the new hire's manager alone. While both play crucial roles in the onboarding process, they are far from the only teams that should be involved.
Each of the following teams plays an important role in the onboarding process:
Internal HR department or external HR consulting partner - HR should plan, coordinate, and oversee the various onboarding tasks. For smaller organizations that do not have a full internal HR department, an external partner can help build out their onboarding processes.
Hiring manager - This person will serve as the day-to-day point of contact for the new hire and help acquaint them with the role.
IT, payroll, and benefits departments - These teams will answer any questions the new hire has about each respective department. How does the new hire access internal tech systems? What is the payment schedule? How are benefits structured, and when can the new hire access them?
Training department - This team will train the new hire to succeed in their new role. This could be role-specific training or even general company-wide compliance training (i.e. safety procedures, DEI, anti-harassment, and more).
Senior leadership - Leadership should aim to have informal introductions and interactions with new hires during the onboarding process.
Senior colleagues - These colleagues can act as informal mentors or be recruited to serve in a more formalized mentor program across the organization.
It has undergone a refresh since pre-pandemic life.
Over the past few years, your employees have experienced both the COVID-19 pandemic and the significant racial justice protest movement of 2020. Just as you may have unveiled new work from home and DEI policies as a result, your onboarding process should have changed as well.
In particular, for an onboarding process to be successful in 2022 and beyond, it should account for:
Any adjustments that are needed for new hires who are joining the organization remotely. For example, consider how you will facilitate introductions for remote employees so they can assimilate into your culture from a distance. You may choose to host a virtual happy hour for employees to connect or mail organization merchandise to the new hire as part of their onboarding package.
Strategies to ensure equity and equal treatment throughout the onboarding process. Just as it is important to hire with DEI in mind, carry those values through onboarding. This includes sharing your organization's DEI goals and values, clearly communicating any mental health, disability, or family-related resources available to new hires should they need them, and incorporating DEI into your training efforts. You can also offer options for new hires to personalize their onboarding process, such as making a more flexible training schedule in which new hires choose when to complete various learning activities. Then, they can fit training into their schedule as works best, rather than stressing about how to complete all of the elements on a strict schedule in addition to a busy workload.
Beyond making these adjustments, you should regularly examine your onboarding process going forward to ensure it is continuing to serve your team well and aligning with organizational priorities.
As a baseline, ask new hires for feedback on your onboarding process after they've completed it. What did they find useful? What changes would have made the process more useful for them?
While you may not implement all of this feedback, you may gather valuable insights to consider. Plus, the new hires will appreciate the opportunity to make their opinions known and will feel like a valuable addition to the organization.
Paper-pushing onboarding processes that simply gather a few signatures from new hires before showing them to their desk and calling it a day are a thing of the past. Now, truly successful onboarding processes are:
Focused on cultural infusion.
An organization-wide effort.
Adjusted to align with remote work and social justice concerns.
If your onboarding process hasn't undergone a refresh recently, consider how you can adjust it with these three critical practices in mind. Even further, remember that you can consult with HR experts to conduct a full audit of your onboarding processes and more.