Nonprofit hits $100M fundraising milestone
New York Road Runners' Team for Kids will use the money for free youth and community programs.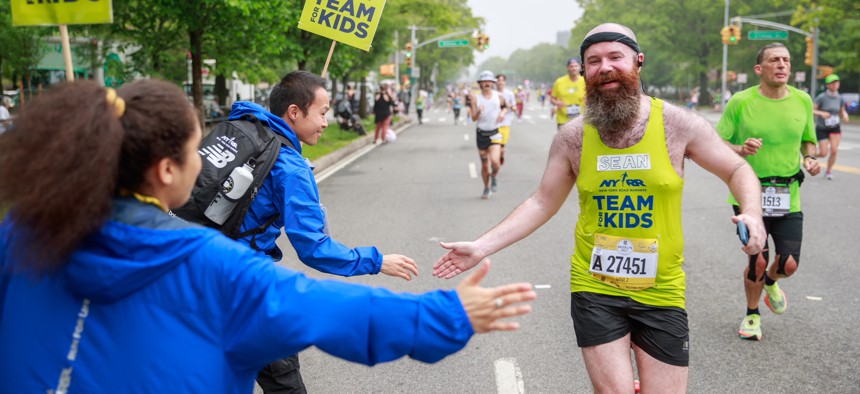 New York Road Runner's Team for Kids is heading into the United Airlines NYC Half Marathon having collectively raised more than $100 million to support free youth and community programs since the charity's inception in 2002.
The funding has supported NYRR's free youth program, Rising New York Road Runners, adding teachers, staff and equipment, while providing more resources and more opportunities. The program serves over 112,000 children nationwide.
"Reaching $100 million is an incredible milestone for NYRR Team for Kids and our youth and community programs," said Marissa Muñoz, senior vice president of community impact at NYRR. "Thanks to the devotion and support of every Team for Kids member who fundraised over the last 21 years, our programming and impact have grown exponentially. We're able to provide more opportunities for community members and exemplify NYRR's mission to help and inspire through running."
Rising New York Road Runners began in 1999 with just 12 students out of a school in Red Hook, Brooklyn. Today, there are 800 Rising New York Road Runners sites across the country with about 50,000 youth participants in New York City alone. NYRR also offers a Rising New York Road Runners Wheelchair Training program, a racing opportunity for New York City youth ages 6-21 with physical disabilities. 
"For us, it's really a matter of expanding the scope and the scale of our program. To help ensure that more people, young people, have access to the physical fitness program and the resources, they need to be physically active for life. That is critical to the work that we do," said Muñoz. 
Meb Keflezighi, Team for Kids ambassador and TCS New York City Marathon champion, called his several years of supporting the charity a "privilege and honor." 
"TFK's mission aligns with my personal goal to empower the next generation of students and athletes to chase their potential," Keflezighi said. "Through Team for Kids, the lives of thousands of kids have been changed for the better and I look forward to the program's next milestone."