Fundraising
Hispanic Federation Gala raises over $3 million
The money raised will go towards supporting programming across 42 states and Puerto Rico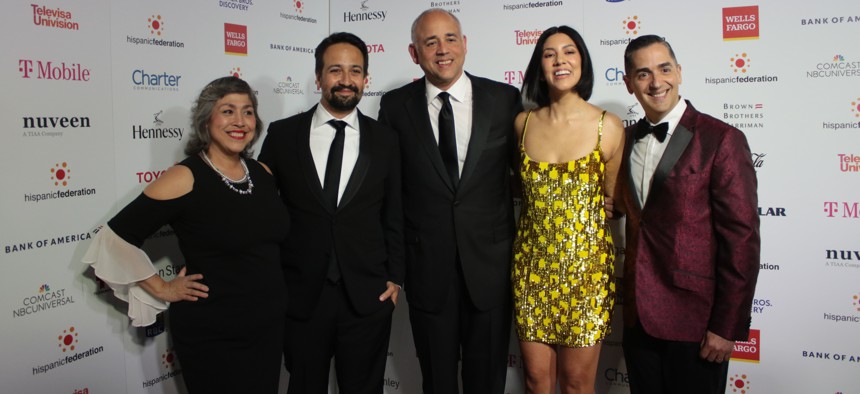 This year's Hispanic Federation Gala, chaired by Lin-Manuel Miranda, raised over $3 million dollars to support its many programmatic areas. 
The event, held Thursday night at the American Museum of Natural History, featured actor Wilmer Valderrama as a special presenter and actress Stephanie Beatriz as an honoree. The night also honored Jose Minaya, CEO of Nuveen, with the Individual Achievement award; T Mobile for the Corporate Leadership award; and Instituto del Progreso Latino for the Community Service Award. 
The Federation, a Latino nonprofit membership organization founded in 1990 to empower the Latino community with a focus on education, health, immigration, civic engagement, economic empowerment, distributes funding to support its nonprofit members. The Federation is represented by more than 600 organizations serving 42 states and Puerto Rico. It has distributed over $17 million, impacting 4.2 million individuals and families.
"I think that the fact that we serve as a model for capacity building and  technical assistance for our agencies, encourages us and motivates us to have the highest standards when it  comes to fundraising cultivation of  donors. " said Frankie Miranda, the Federation's president and CEO.
"Really thinking about the experience, this is our presentation card to many new potential donors and  supporters. This is a continuation to keep people  informed that have been supporting us for many years and it also is a sense of pride for many of our member agencies that  participate in the event, feeling that they're welcome," he added. "And in this important cultural  institution, they are recognized  among the most impressive list of people that are involved in charity or philanthropy in our area.  I can say without a doubt that our event is the premiere Latino event in  the country."
The Federation created an emergency assistance fund during COVID-19 after the pandemic devastated the Latino community, committing more than $14 million by the end of November 2020. Now, as the pandemic subsides, the Federation is working to raise awareness of essential human rights that have been under siege, including reproductive rights, bodily autonomy as well as anti-LGBTQ bills legislation. There Federation is also focused on immigration and asylum seekers. 
"In order to have a fair  inequitable recovery in our  community," Miranda said, "we need to elevate many of  these issues and continue fighting  for our Latino families and  communities."