Fundraising
Ukrainian aid nonprofit redefines charity as 'cool'
The Sunflower Network fundraises using a pop-up approach to sell art and clothing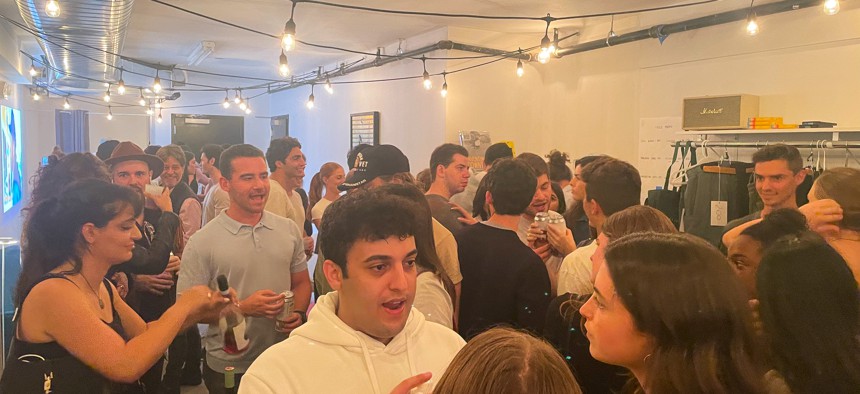 If you were walking down Avenue B last Thursday, you probably noticed thumping music emanating from an unmarked storefront surrounded by hordes of twenty-somethings. You might have assumed that you were passing a secret gallery opening, or a buzzy new speakeasy. However, the event in question was not an exclusive party for youth in the know, but rather a fundraiser – a fundraiser for a new nonprofit.
Of course, this isn't your average nonprofit: The Sunflower Network is an organization run conspicuously by young people, with an eye toward aesthetics. This nonprofit was founded in response to the Russian invasion of Ukraine, with the goal of "building community at the intersection of purpose and culture," according to a press release. That means that in addition to raising funds to help Ukrainians in need, they're also working to spread an appreciation for Ukrainian culture back home in America – in other words, they're raising funds by selling Ukrainian clothing.
"We are scrappy, ambitious, out-of-the-box young people," explained Dustin Ross, founder and CEO of the Sunflower Network. "What really makes what we're doing special is the complement [of our work]. We're building community and celebrating culture in such a way that pushes forward the fact that we're actually building a hospital; and we're building a hospital, which allows us to galvanize people behind the cultural work we do."
This nonprofit raises funds to travel to Ukraine to deliver aid, and carry back art by hand. There have been six "missions" thus far, and according to the Sunflower Network, they've already delivered an estimated $3 million to Ukrainians in need; now, their new project, dubbed "Project Horizon," aims to build a new hospital in Brody, Ukraine.
When Ross first heard about what was happening in Ukraine, he was moved to action. Within a month, he had bought a one-way ticket to Bucharest, with plans to find his way to the Ukrainian border, and packed a duffel bag full of donated tourniquets. After his first mission was a success, he started making frequent trips to Ukraine and fundraising to buy medicine and supplies primarily through his Instagram, empowered by being able to see the impact of his actions.
"[Americans] have a broken model of crisis response," Ross said. "We try to parachute in this fully vertically-integrated, international infrastructure that just doesn't work, because every situation – every country – presents its own distinct challenges." 
His answer to this broken model is finding local organizations that can actually speak to the needs of the community in crisis. At first, Ross' organizing was devoted to providing direct aid in Ukraine; but after a while, he realized that he could fundraise more effectively by bringing his love for Ukrainian culture back home. 
"Charities are not cool, and people often don't want to engage in that kind of work because it's not cool," he explained. So he had to make it cool: "At first, we wanted to make a documentary. Then we thought, why don't we just bring art back and allow people to engage with it directly?"
The Sunflower Network's June pop-up is organized around Ukrainian fashion. Every piece in the collection on display was designed and manufactured in Ukraine, and then hand-carried to the U.S. by Sunflower Network team members. This collection featured pieces by several different Ukraine-based brands, most of which make streetwear: picture upscale tees and baggy pants with lots of pockets. 
While it might not have looked like your average nonprofit gala, the opening of the Sunflower Network's pop-up exhibition was a resounding success: It was attended by over 200 people, and several pieces were sold. If you missed the opening night, there's still time to check out these Ukrainian designers' work: The exhibition remains open to the public until July 2.