Frontline Hero: Adina Lichtman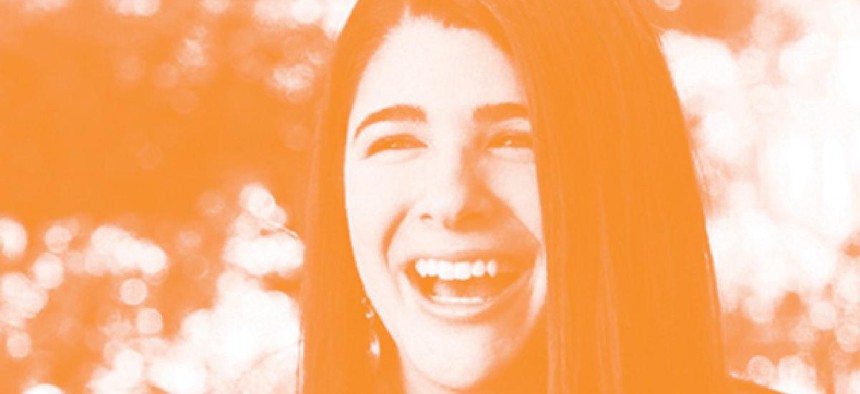 The best way to find out how to help is often to ask those you aim to serve.
Adina Lichtman came to this realization on a chilly November evening in New York City.
"I was handing out sandwiches to those experiencing street homelessness when one man approached me," Lichtman said. "He told me, it's great that you're giving out sandwiches, but one thing we really need is socks, especially as winter approaches."
"Here I was, sandwiches in hand, assuming that I knew the best way to help people," Lichtman added. 
After some investigation, Lichtman discovered that even though socks are considered an absolute necessity to the street homeless community, they represent a very small portion of overall clothing donations—and are one of the easiest articles of clothing for many community members, especially college students, to donate.  
"I started that very night, going to door to door in my NYU dorm," Lichtman said. "To my surprise I collected over 40 pairs of socks in a single night, from a single floor. The next morning, I walked out of my dorm room to find a huge pile of socks from others who had heard what was happening."
Lichtman began recruiting other likeminded NYU students to form Knock Knock Give a Sock, an organization that has since expanded to include representatives on 25 different college campuses and has distributed over 30,000 socks to the street homeless population. Lichtman has also enlisted corporate sponsors, such as the sock manufacturer Planet Sox, to join the organization in matching donation campaigns. 
Lichtman says that she is continually surprised by the far-reaching impact socks can have. 
"Many of our clients go through several pairs of socks over the course of just a couple of months in an attempt to stay warm and dry," Lichtman explained. "The doctor at a medical clinic we had delivered socks to realized that he could use socks as an incentive for clients to come back for necessary tests and examinations."
The offer of a clean pair of socks has been enough to encourage patients to come back for uncomfortable—and potentially live-saving—examinations, such as mammograms and Pap smears. One client returned for a pair of socks and ended up receiving an examination that found breast cancer in the earliest stage. 
"These socks have really saved lives in ways I never could have imagined," Lichtman added. 
Lichtman hopes that her team can continue to expand the organization's scope within New York City, and hopes for sock donations to become as much about community connectivity as helping the homeless. 
"We are working towards branching out beyond college communities into office spaces and apartment buildings," Lichtman said. 
"Imagine if New Yorkers began to get know their neighbors by knocking on their doors and asking for a pair of socks for those in need," she said. "What a great city we could create if every building had the goal of becoming a community and meeting the needs of others."
Lichtman says she is grateful to be part of a generation that is dedicated to social change, but maintains that her experience has shown that this spirit cuts across demographics. 
"None of us are getting paid for what we do; it comes solely from the desire to make the world a warmer place," she said. "I don't know exactly where this desire comes from, but as a college student, I can say confidently that we're not the only ones who have it."
"We've collected thousands of socks, an undertaking that simply is not possible for five people on a single college campus," Lichtman continued. "We've found that doing good is contagious, and I believe our organization effectively engages communities to give in a way that is possible even if people are short on time or money."