Helping Hungry Seniors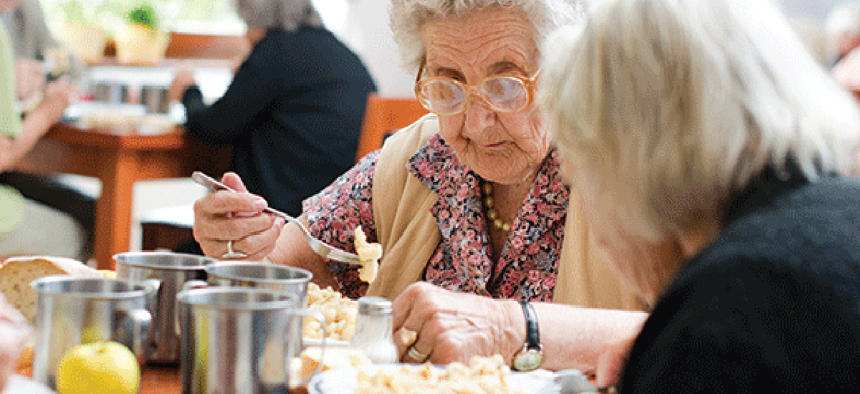 At the Dyckman Senior Center in Inwood, one of dozens across the city, clusters of seniors sit at long tables talking and eating a lunch of chicken and rice with a side of green beans, for which they've each paid $2. Such congregate meals have much value, advocates for the aging say, reducing isolation and providing a nutritious, hot meal—for some seniors the only one of the day.
According to the New York City Coalition Against Hunger's 2014 annual hunger survey, an estimated 10 percent of seniors—some 170,000—are "food insecure," which the city's Department for the Aging defines as having "an insufficient household budget to be able to purchase food that will provide the nutritional content needed for good health." From 2011 to 2013, nearly 18 percent of seniors in Brooklyn and 17 percent of seniors in the Bronx were food insecure, the survey found.
Adequate nutrition is particularly important for seniors because the impact of an insufficient diet on health can be devastating. Malnutrition makes seniors more likely to suffer from diabetes, depression, high blood pressure, congestive heart failure, heart attacks, gum disease and asthma. According to the National Council on Aging, seniors who skip meals may become lightheaded, increasing their chances of a fall. Providing meals and food support is much less costly than potential hospitalization or nursing home care, which in New York City averages over $100,000 a year.
Last month, panelists from DFTA, along with its nonprofit arm, the Aging in New York Fund, and a handful of other organizations that provide food for the aging, participated in a discussion in Harlem on what they called a growing crisis of senior food insecurity. The problem is particularly pronounced in the upper Manhattan neighborhoods of East and West Harlem, Washington Heights and Inwood, where "older people are significantly more likely to be of low income than in the city overall," according to Ali Hodin Baier, Aging in New York Fund's executive director. That's in part because there are much higher rates of immigrant seniors in those neighborhoods, with 75 percent of seniors in East Harlem having been born in another country, Hodin Baier noted.
"Given the rent burden, a lot of people are literally deciding between, 'Should I have a second or third meal today or am I going to pay the rent or get high-blood-pressure medication?'" Hodin Baier says.
In response, some organizations are expanding their services to seniors. Citymeals-on-Wheels, a nonprofit that partners with the city to deliver about 40 percent of all home-delivered meals to homebound seniors, operates a mobile food pantry. The organization now delivers a bag of shelf-stable groceries to clients two to four times a month after realizing that about 8 percent of its clients were living on the one meal a day they received due to limited income and an inability to leave their homes, says Executive Director Beth Shapiro. Sixty-six percent of Citymeals' 18,000 clients are women, Shapiro says, with an average age of 82—although more than 200 clients are 100 or older.
"People just didn't think about living this long," she says. "They've outlived their savings, they've outlived their friends, family, even their own children sometimes. For us, bringing food to their door is a very cost-effective way to keep people in their homes."
DFTA and the city's Human Resources Administration are also engaged in a push to enroll more seniors in the Supplemental Nutrition Assistance Program, formerly known as food stamps. As of 2013, there were 375,000 city residents age 60 and older enrolled in SNAP, two-thirds of whom were immigrant seniors. HRA estimated that another 174,000 seniors qualified for the program but were not enrolled. Although nationally, seniors report not applying for SNAP out of shame or concern they would be taking food from needy children, in New York City, language barriers, fear of government and the complex process of applying are reasons eligible people don't enroll, the Coalition Against Hunger found.
In April, the de Blasio administration and HRA kicked off a citywide outreach campaign targeting areas with high under-enrollment among seniors and immigrants. The campaign includes video public service announcements featuring two older New Yorkers, as well as signs in bus shelters, subways, bodegas and barbershops. The campaign also includes a new website, FoodHelp.nyc, which includes information about how to apply for SNAP benefits, notes HRA spokeswoman Laura Hart. Although federal funding cuts for SNAP mean seniors have seen their benefits drop—Queens resident Caesar E. Barber's SNAP money was reduced from $200 to $189 a month last year—increasing the number of New Yorkers enrolled in SNAP puts money in their pockets without costing the city.
Citymeals also recently funded a case manager tasked with enrolling meal recipients in SNAP. Changes to the enrollment procedures mean seniors are no longer required to leave the house to enroll, though the process is proving to be more lengthy and involved than the group had anticipated, given the time it can take some seniors to locate and gather the necessary paperwork.
At last month's senior hunger panel, Hodin Baier said federal support for nutrition programs is crucial, and said Congress should restore funding for the Older Americans Act, which funds congregate and home-delivered meals and other programs, to "at least fiscal year 2010" levels. She says better data collection is required to show that SNAP provides substantial economic benefits to local economies, and that the Older Americans Act's nutrition program keeps Medicare and Medicaid spending lower by keeping seniors in better health.
DFTA and nonprofits are also working to expand participation in the Senior Farmers Market Nutrition Program, which features, for instance, classes on how to prepare local produce, which immigrant seniors may not be familiar with. Barber, 69, says the farmers market program stretches his food stamps, since "for each $10 you spend, you get $4 free, so you get $14 worth of food."
Help for working seniors
DFTA does have job training and employment services for those age 55 and older who meet income limits through its Senior Employment Services Unit, which works closely with Workforce1 and has decades of experience placing older workers in job sectors like data processing, food service and home care.
Still, for seniors who need or want to keep working, age discrimination in employment is "a huge problem," says Bobbie Sackman, a veteran advocate for the aging. "The workforce is walking away from 50- and 60-year-olds." The Council of Senior Centers and Services changed its name to LiveOn, Sackman says, to reflect the idea that older people continue to live and contribute, and to combat the idea that just because someone is older they are not worthy of social and monetary investment.
Nationally, the Women's Institute for a Secure Retirement, which says its mission is to improve "the long-term financial security of women through education and advocacy," has many resources on its website to provide women with information about financial planning for retirement, noting that "even if you have to start small, it is better than not saving at all and will add up over time."
In New York, DFTA's focus is on helping today's seniors struggling with poverty. But a new initiative from city Public Advocate Letitia James and Bill Samuels, founder of the reform group Effective NY, proposes to create "retirement security for all" by pooling workers' contributions into a single pension fund. James and Samuels were at a City Council hearing this week on legislation to form a retirement security review board of experts that would evaluate several proposed options from the City Comptroller's Office for how to implement such a fund. Effective NY has been working toward this goal since 2011, and while specifics have not been worked out yet, "there seems to be broad-based enthusiasm for setting up a retirement fund of this type," says Morgan Pehme, Effective NY's executive director.
Good news in the budget
New York City has an extensive and long-standing network of service providers and support for seniors. Even programs not directly focused on income support can have an impact. The city has increased funding for mental health services at senior centers, and the budget agreement worked out this week upped its support for preventing elder abuse, which often takes the form of outright theft or financial fraud. Parks and libraries continue to be heavily used by seniors (Barber says checking CDs out from the Queens Public Library constitutes his main form of entertainment). LiveOn's Sackman says the city would benefit from a comprehensive planning process in which all city agencies and programs considered what impact an aging population will have on the work they do.
Full details of the fiscal year 2016 budget agreement were still emerging, but City Council member Margaret Chin applauded the budget's allocations for home care services for 500 low-income, home-bound seniors who have been on a waiting list, for expanded elder abuse prevention and intervention services, and for the mayor's inclusion of units with social services for seniors in his affordable housing agenda.
Sackman says she's pleased the budget reflects "some steps forward in recognizing the needs of seniors and that this is a rapidly growing population in the city." But she adds, "It's still a mountain to climb."
This story originally appeared on citylimits.org as part of a three-part series looking at the challenges facing the aging in New York.