Nonprofits optimistic about David Hansell's "strong management"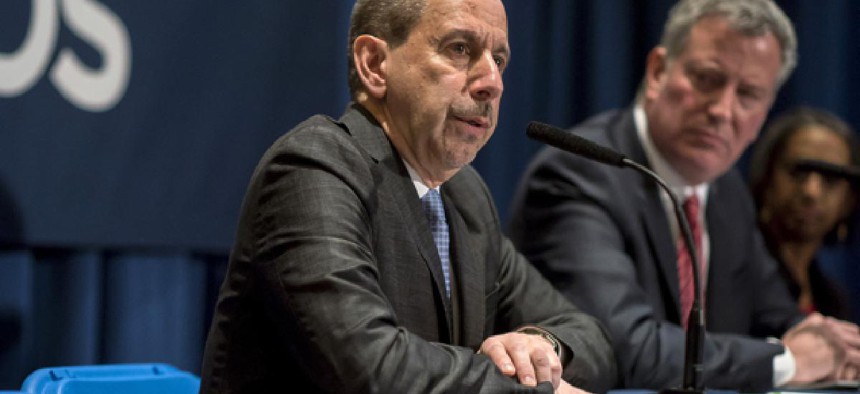 New York City Mayor Bill de Blasio appointed KPMG executive David Hansell to replace former Administration for Children's Services Commissioner Gladys Carrion, who officially stepped down earlier this month following a string of deaths and high-profile abuse cases.
At the Feb. 21 press conference announcing his appointment, Hansell said his worldview was shaped while serving as director of legal services and deputy executive director of the Gay Men's Health Crisis in the 1990s as it responded to the AIDS crisis.
"That experience showed what happens when government takes a callous attitude towards those who need its help the most," he said. "But it also showed me the good that government can do when it cares for the most defenseless among us."
The challenges facing ACS, which looks into as many as 60,000 cases per year, are daunting. Hansell said that when he begins on March 6, he would review how the agency works to protect children who may be at risk, responds to cases in which children have been mistreated or neglected and collaborates with the NYPD.
Some nonprofit leaders expressed optimism that the former government official, who has worked as a human services consultant since 2012, would help reform the embattled agency.
Jeremy Kohomban, president and CEO of The Children's Village, told New York Nonprofit Media there were three major benchmarks that he would use to gauge Hansell's ultimate success: whether the agency implemented reforms backed by the New York City Department of Investigation and other probes, whether it invested in paying preventive workers better wages and whether it supported communities and neighborhoods where children are more at risk of abuse or neglect.
"The current crisis of the past two years is unprecedented in duration and escalation," Kohomban said, noting that even in some of the most stressful days of the child welfare service in the 1990s, there hadn't been a state monitor. However, Kohomban said, "I can't see the monitor being an impediment to success because we've got a great track record of working together as a city and a state."
"What we need at ACS is strong management," he added. "We need someone to really get us through this crisis."
After a probe of the circumstances leading to the death of 3-year-old Jaden Jordan, the city Department of Investigation said last month that there were several systemic issues of staffing and training at ACS, particularly with emergency workers on weekend or night duty. That followed numerous reports of agency failures by the DOI and City Comptroller Scott Stringer over the past year. After the state questioned the city's handling of the agency, the state Office of Children and Family Services selected Kroll Associates to monitor the agency's response to high-risk cases.
Adding to the concerns, average caseloads for front-line workers rose from 9.2 cases to 13.8 cases over several months at the end of last year following high-profile child deaths that prompted many to call the agency and report potential problems, according to the Daily News.
Despite the present challenges, both City Hall and advocates said there have been some successes. The number of children in the foster care system now is about 10,000, one-quarter of what it was 20 years ago, and it is providing 46,000 children with preventive services. De Blasio also said it has recently hired more than 600 child protective specialists to respond to and investigate reports of child abuse or neglect.
Hansell comes to the position with a wealth of government experience. He worked for the city's health department in the 1990s and, under Mayor Michael Bloomberg, he was chief of staff for the city Human Resources Administration. In 2007, he was appointed commissioner of the state Office of Temporary and Disability Assistance, overseeing a $5 billion agency, according to the mayor's office. He served in former President Barack Obama's administration in the U.S. Department of Health and Human Services from 2009 to 2011, where he managed child welfare, economic support and early childhood education programs. He also worked as a consultant for Case Commons, where he helped adopt a case management system for child welfare work.
"He has a personal strength to understand that no matter how daunting a social problem he deals with, it's his job to make a difference, and he knows he can," de Blasio said, noting that Deputy Mayor of Health and Human Services Herminia Palacio made the initial selection of Hansell.
The mayor's office released a statement with positive reactions from nonprofit leaders including Jess Dannhauser, president and CEO of Graham Windham; Bill Baccaglini, president and CEO of the New York Foundling; and Susan Stamler, the executive director of United Neighborhood Houses.
Jennifer March, the executive director of the Citizens' Committee for Children, who first encountered Hansell when he worked at the HRA, thought that his experience across different levels of government could serve ACS well. One important element, she said, was to continue the progress the agency has made in early childhood education and juvenile justice.
"In terms of the child welfare work, I think it's a real opportunity to take a deep breath and really try to strategically plan what needs to happen in the short term, to bring calm, and really create a sense of support and morale that is needed across the system," she said.
Jim Purcell, CEO of Council of Family and Child Caring Agencies – an umbrella organization for more than 100 child welfare service providers – said the general consensus from numerous providers was that Hansell was a good listener and manager.
"Child welfare is an extremely challenging arena where both public and private agencies must work closely together to both protect children and strengthen families," he said. "We look forward to working with David Hansell, who some of us know as a smart, committed leader, who listens well and cares deeply for the children and families of New York City."