Celebrating a great business model for immigrants on International Women's Day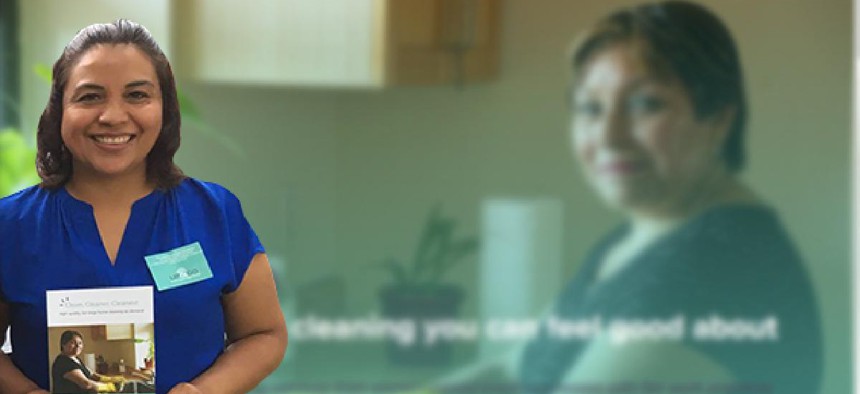 "Hello, how are you? Do you need a cleaner?"  
Fifteen years ago, when I first arrived in New York City from Mexico, you could find me asking these questions on the busy sidewalks of my neighborhood. Some of my relatives cleaned houses for a living and helped me land one job here, but I needed more. So I brought my entrepreneurial spirit and a smile out to my neighborhood and it worked – I picked up two more clients.
My good work and friendly relationship with these clients landed me new customers through word-of-mouth, which meant I could spend more time working and less time marketing. But even after 15 years of hard work, earning a living remained a struggle. I had dreams of using my skills to build more for myself, my family, and my community, but I wasn't sure how to get there.  I was still learning English, and though I improved through language classes and translation help from my daughter, the language barrier still made it tough to negotiate fees for cleaning services. It didn't help that there aren't set rates for house cleaning and some customers don't realize how much time and expertise it takes to do the job right.
With support from nonprofit community job center La Colmena and the Center for Family Life I started my own cleaning business called Brightly Cleaning. Then I got involved in Up & Go, an online booking service that I launched with fellow women house cleaners and entrepreneurs. By using Up & Go, customers can find local house cleaning businesses like mine, read reviews, book an appointment, and pay online. But unlike other "sharing economy" platforms, Up & Go is also owned by workers like me. We set the prices and 95 percent of the profits go to supporting our cooperatively-owned businesses. We invest the remaining 5 percent in Up & Go, advancing our technology and the customer service we provide.  
The cleaning cooperatives participating in Up & Go are Apple Eco-Cleaning, Brightly Cleaning, and Cooperative Cleaning of New York. As worker cooperatives they are all owned and operated by the cleaners. When someone hires me or another cleaner, they get to work with the boss herself. We pride ourselves on providing a service as professional as electricians and as personal as your trusted hair stylist.
I have always provided a high-quality service, but as a business owner I feel even more committed to making sure my customers are happy. Our success depends on earning those repeat customers and five-star reviews. We specialize in eco-friendly cleaning techniques, which are healthier for everyone. My clients know in advance how much the service will cost, and what will be included. I also think they are happy to support a local business with fair work practices where the workers are paid a living wage.
We feel good knowing we provide a service that people need so they can focus on their careers and families. And, as business owners, now we can too.
The Center for Family Life in Sunset Park, a community-based organization that has spent the past eleven years incubating worker-owned businesses like mine, worked with the local workers' center to help us launch the house cleaning cooperative in my neighborhood. For the past  year, I've been going to our business meetings every week. I often spend my days working alone, so it's helpful to exchange ideas with my fellow "worker-owners."
We received training in green cleaning methods using baking soda, white vinegar, and good-smelling essential oils. We went through all the steps of setting up a business: filing our LLC, opening a bank account, and setting up the rules and structures for making decisions about how to run our business. We discussed our rates and established our high standards of service. By joining with fellow cleaning cooperatives on Up & Go, we got to learn from their experiences, too. We also learned about funders Robin Hood and Barclays and the tech team at CoLab Cooperative, which worked together to help get Up & Go off the ground.
It gives me a feeling of dignity to finally have other people to see us as we see ourselves: professionals providing a valuable service. As a member of my cooperative business and Up & Go, I am not only a professional house cleaner, but also an accountant, a marketing strategist, and a business owner. I want to study to obtain my G.E.D. and perhaps one day help other communities start up their own cooperatives.  
This International Women's Day I'll be meeting with my colleagues and reflecting on all that we have accomplished together, and all we have to look forward to. We all have a lot to celebrate.    
Cirenia Dominguez is a professional house cleaner, business owner, and mother.