How an obscure nonprofit became one of New York City's largest contractors
It all began in 2014 when Thomas Bransky, the son of a Chicago hotel owner, came to the city in order to build an organization to help house the thousands of homeless New Yorkers that had a right to shelter each night. But at first he was far from successful.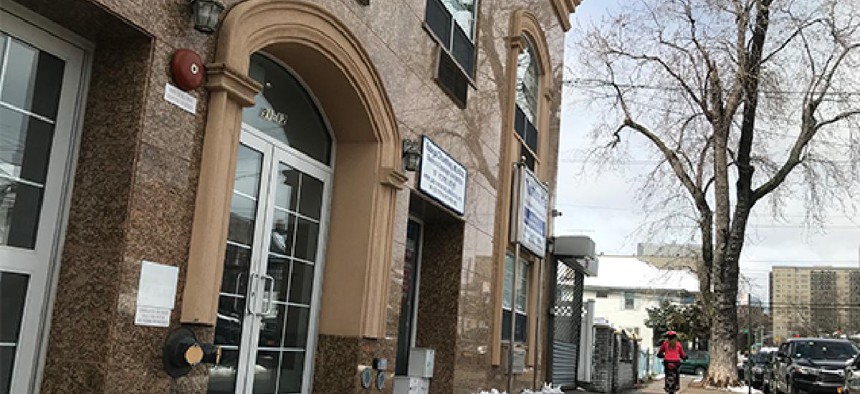 Four years was all it took for Childrens Community Services to transform into one of the biggest nonprofit social services providers in New York City, with responsibility for housing thousands of people every night. 
It all began in 2014 when Thomas Bransky, the son of a Chicago hotel owner, came to the city in order to build an organization to help house the thousands of homeless New Yorkers that had a right to shelter each night. But at first he was far from successful.
The Queens-based nonprofit was a quarter-million dollars in the red in 2014, according to IRS records. But by the summer of 2017, record homelessness had propelled the organization to securing what is now the eighth largest year-to-date spending of any city contract, according to Checkbook NYC. Despite having lost management of certain Manhattan hotels, for reasons the Department of Homeless Services would not elaborate on, CCS submitted one out of 15 bids on a three-year, procurement with the New York City Department of Homeless Services, and won the $368,931,246 contract, according to the Checkbook NYC records.
Housing homeless people in hotels is one strategy the city has used for decades to meet its state mandate to provide emergency shelter to anyone who needs it. However, hotel use has been increasing as the city moves away from sheltering individuals in often-dilapidated private apartments known as cluster sites or scatter sites. That shift is a component of Mayor Bill de Blasio's plan to "turn the tide" on homelessness which includes building 90 shelters throughout the city. The plan has not kept pace with original projections however, with less than a dozen of these shelters built by the end of 2017.
Thus the city will pump $123 million into Childrens Community Services this year, according to a copy of the contract provided to NYN Media. This amount will cover in its first year more than 300 employees, a $101,000 phone bill, $330,400 in office supplies, $12 million for food and $9.7 million for hotel beds, all of which costs the city $270.62 per unit each night.
For that money, Childrens Community Services puts 1,245 units in use for homeless families, according to the contract, which took effect on July 1, 2017. The organization is then required to assist their transition out of the shelter system by overseeing an independent living plan. Families are supposed to meet with a CCS caseworker every two weeks to discuss progress in that plan as well as efforts to secure employment and social services such as food stamps, with CCS' help, according to the contract.
A prescribed timeline determines to what extent contract and client meet their responsibilities to ultimately secure permanent housing for the family – all of which is to be recorded in a database shared with the department.
Isaac McGinn, a spokesman for the Department of Homeless Services, said in an email that the contract with Childrens Community Services followed the proper procurement process and that by centralizing social and housing services within one organization, accountability for city money is more easily managed.
"The mayor's plan calls for ending the decades-old practice of using hotels as shelter once and for all," McGinn said in the email. He added that by issuing new contracts for locations, the city can enforce protocols and better monitor provider's performance.
The city relies on hotels to make up the difference between the available beds in shelters and the increasing number of people who need them – about 60,000 on any given night, according to the daily city shelter census. So great is the need to find homeless services providers to organize the hotels program that the city cannot be too choosy, one former city official said in a telephone interview.
"They're literally willing to sign a contract with all comers who can meet the city's contract terms," one former city official told New York Nonprofit Media in a phone interview. "They will not turn anybody out the door."
But many details about this particular homeless services provider and its founder, Thomas Bransky, remain unknown – even among a half dozen other homeless services providers and nonprofit leaders NYN Media contacted.
The listed headquarters of CCS is a call center on the second story of a commercial walk-up on a sleepy corner in Jamaica, Queens, according to a woman who answered the phone on April 2 and later confirmed in person to NYN Media. The office address associated with the 2017 contract coincides with the listed address of a UPS office a few miles away.
A January 2018 meeting with Queens Community Board 8 is among the few public records that record an interaction with Bransky, who did not respond to multiple requests for comment.
According to the meeting minutes, Bransky said he spent a period of time running "Chicago partnership programs" on behalf of Big Brothers Big Sisters of Metropolitan Chicago. A spokesperson for that organization told NYN Media via phone that no one by the name of Thomas Bransky had been in a leadership role at the organization within the last decade, although it could not be confirmed whether he had ever volunteered for the organization in some capacity.  
Nonetheless, his qualifications were substantial enough to win contracts with The Department of Homeless Services following an initial meeting with the city agency in 2014, Bransky said, according to the minutes.
"Within six months, he was told that his agency ran the best the program in New York City," the meeting minutes state Bransky said. "They reached all of their social service objectives and met their goals for maintenance and sustaining the units. They set the bar for the entire agency."
But sharing this supposed success does not appear to have been a priority for Childrens Community Services.
It lacks a social media presence. Stock images fill its website, which lists the popular real estate website Property Shark and a Cedarhurst-based company called APEX Asset Management as key partners.
Though the contract did not elicit the notice of the New York City Council last year, the large amount as well as CCS' mysterious past may lead the council to review it in the months ahead, according to Councilman Justin Brannan, the current chair of the Committee on Contracts.
"We haven't dug into it yet," he said in an interview. "(But) it's definitely on our radar as we're planning the next couple of months of hearings. This is the type of stuff we want to look into."
A Department of Homeless Services spokesperson clarified post-publication that Childrens Community Services lost management of certain Manhattan hotels in late 2017. The article has been updated to reflect that there was no contract for CCS to lose.