The latest from John Oliver ... Vibrant Emotional Health ... Muscular Dystrophy Association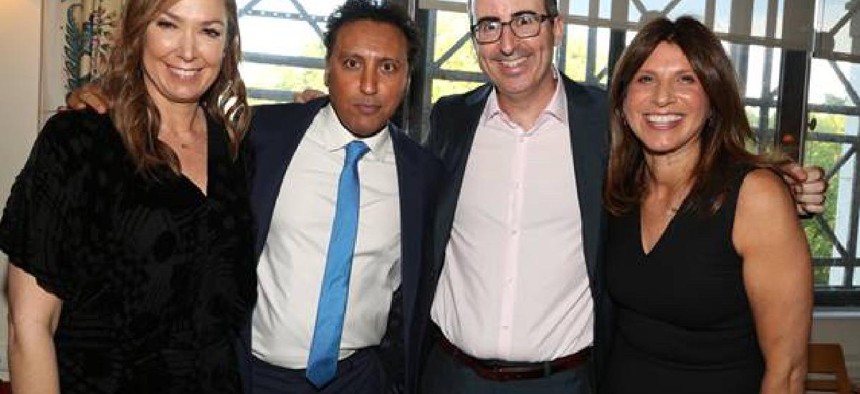 The host of HBO's Last Week Tonight John Oliver was a surprise guest at a June 11 fundraiser for Physicians for Reproductive Health. Fellow comedian Aasif Mandvi and actress Elizabeth Marvel were also on hand at the event, according to a press release. More than $544,000 was raised at the Manhattan event, which was held in honor of abortion providers.
Muscular Dystrophy Association landed two big names for its upcoming gala. Jets wide receiver Quincy Enunwa and chef Dan Churchill will be attending the June 25 event in Manhattan, the New York Post reports. Proceeds from the event will benefit the 63-year-old organization and its effort to send about 150 youth to summer camp this year.
Wells Fargo Managing Director Kara McShane is joining the board at Breaking Ground, according to a press release. She currently oversees commercial real estate capital markets and finances at the bank, which she joined in 2010.
Town & Country has gone all out with videos of its 5th annual philanthropy summit, held last month in New York City. The event brought together just about anybody who is a big name in philanthropy, from Lin-Manuel Miranda to Oprah. The magazine posted several of the VIP-heavy panel discussions on its website this week – including this one featuring Robin Hood Foundation CEO Wes Moore discussing poverty solutions with Facebook co-founder Chris Hughes and MSNBC anchor Stephanie Ruhle.
Homeless people in Buffalo got some free haircuts at a local park. The courtesy cuts were a treat from volunteer do-gooders Charlene Minx and Julie Jackson who cut hair for both men and women at Fireman's Park on June 17. The Buffalo News has dozens of photos of the event.
The Mental Health Association of New York City is shaking things up with a new name. Vibrant Emotional Health is the new name of the 50-year-old nonprofit, according to a June 14 press release.
"Our new name, Vibrant Emotional Health, communicates our hope for, and commitment to, all who are struggling with mental health and emotional challenges, and for a culture that values and supports emotional wellbeing," said Kimberly Williams, president of Vibrant Emotional Health.  
Send your press releases, photos, and word of your latest happenings to reporter Zach Williams at zwilliams@nynmedia.com.