The latest from New York Foundling ... New York City Councilman Rafael Espinal ... NYC contracts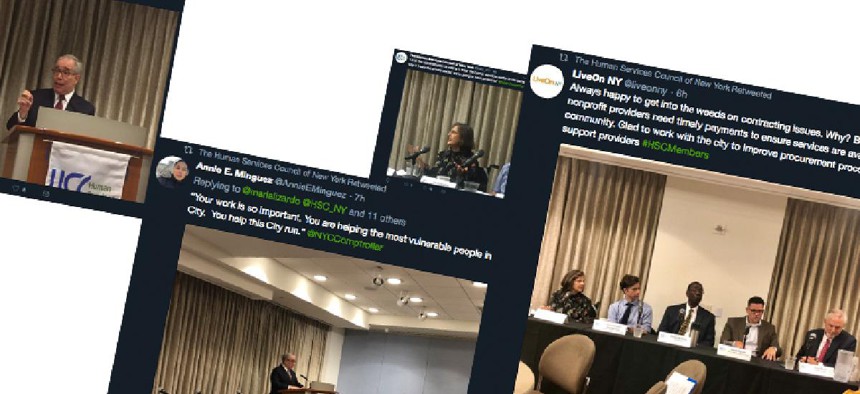 New York City Councilman Rafael Espinal is introducing legislation that will allow nonprofits to use games of chance in fundraising. The legislation would rectify "outdated wording" in local laws that prevent games of chance from operating in the city, according to a Sept. 12 press release. "This games of chance legislation is already in effect throughout the state, and has been proven to raise hundreds of thousands of dollars for good causes," according to the release. "It makes sports events more philanthropic, and opens the doors to new ways of fundraising for all the great nonprofits that work to make our city a better place."
The New York Foundling and The THRIVE Network are joining forces. A Sept. 11 press release did not call it "a merger," but noted that "under this new programmatic expansion, THRIVE's individuals and staff will have the support of The Foundling's strong operating budget, an array of business and administrative departments, and access to innovative technology, financial reporting, facilities, and program impact evaluation tools. In addition, the expansion will allow staff members of The Foundling and THRIVE to enjoy a larger network of colleagues and improve the sharing of best practices for staff members across both organizations." The THRIVE Network will continue to use its own name.
The New York City Department of Homeless Services has a new travel agent. Fox Travel and Tours received a $100,000 contract to provide "on-call travel reservation and ticketing services" for the department, according to the City Record. The Administration for Children's Services, meanwhile, has made a $2.8 million "emergency purchase" of chaperone and childcare services" from Gotham Per Diem, according to the City Record.
The Human Services Council of New York hosted a panel discussion on Sept. 12 about New York City's procurements process. Those in attendance included New York City councilmembers Helen Rosenthal and Stephen Levin, as well as City Comptroller Scott Stringer, whose office released an authoritative report earlier this year of the contract delays nonprofit contractors experience when they deliver social services on behalf of the city.
Here are a few of the highlights of the event from social media:
Nonprofit providers deserve to be paid on time for the critical services they're providing our city's communities. We are long overdue on needed changes to NYC's procurement process.

Thank you @HSC_NY for having me at today's panel on the city's contracting process. pic.twitter.com/ltq00UETjz

— Stephen Levin (@StephenLevin33) September 12, 2018
"Your work is so important. You are helping the most vulnerable people in our City. You help this City run." @NYCComptroller pic.twitter.com/vmMy2X3bQe

— Annie E. Minguez (@AnnieEMinguez) September 12, 2018
"Until the administration is willing to treat the human services sector in the same way it treats the private sector, we're going to have problems" @HelenRosenthal pic.twitter.com/v5LegAMhio

— The Human Services Council of New York (@HSC_NY) September 12, 2018
Always happy to get into the weeds on contracting issues. Why? Because nonprofit providers need timely payments to ensure services are available in the community. Glad to work with the city to improve procurement processes & support providers #HSCMembers pic.twitter.com/SlmLPW4py8

— LiveOn NY (@liveonny) September 12, 2018
Panel discussion on procurement issues at the City - many thanks to Doug Bauer from The Clark Foundation, Dan Symon of MOCS, Fred Shack @UrbanPathwaysNY, @StephenLevin33, and @HelenRosenthal @NYCCouncil #HSCmembers pic.twitter.com/pFTwaQgZo6

— The Human Services Council of New York (@HSC_NY) September 12, 2018