The latest from SCO Family of Services ... NYC contracts ... Alyssa Milano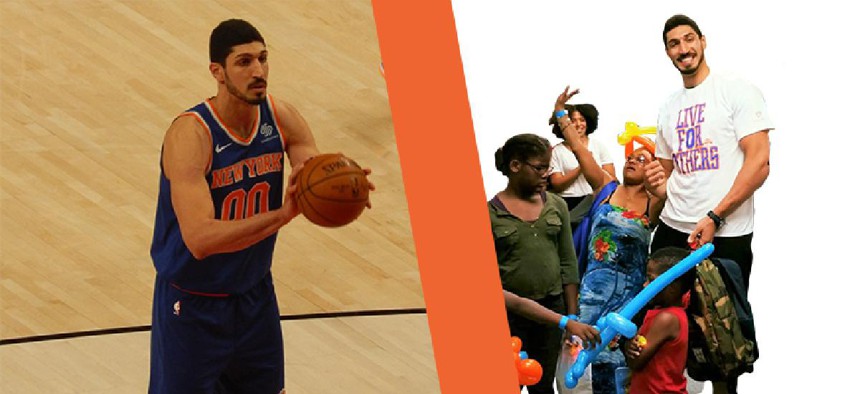 New York Knicks center Enes Kanter was put to work on Aug. 31 delivering backpacks filled with school supplies. His appearance was part of SCO Family of Services' Flushing Family Residence back-to-school fair, which benefited children from the 98 families who currently live at the Brooklyn homeless shelter, according to a Sept. 10 press release. "We are thankful to Enes Kanter, DJ Boof, the Knicks, the Garden of Dreams Foundation and all of the community organizations who came together to give our kids a rousing send-off as they begin the new school year," SCO Executive Director Keith Little said in the press release. "And it was all made possible by the efforts of our amazing staff."
The authors of a new book say seven specific elements create a successful nonprofit. William Meehan III and Kim Starkey Jonkey discuss their new book, "Engine of Impact: Essentials of Strategic Leadership in the Nonprofit Sector," in a three-minute video posted on YouTube by J.P. Morgan:
Brooklyn-based Camba has received a $2.2 million contract from the New York City Department of Social Services/Human Resources Administration. The money will fund a year's worth of non-emergency scatter site housing and support services, according to the City Record. GlassHouse Systems, a Lisle, Illinois-based company, received a one-year, $3 million contract to deliver Unix server support services.
Alyssa Milano has hit the road with the Vera Institute of Justice. Milano, best known for her roles in "Charmed" and "Who's the Boss?" did not provide many details in a Sept. 10 tweet, but she has maintained a public profile for her political views, from the allegations against Harvey Weinstein to her willingness to serve as a foster parent to migrant children whose parents were detained at the U.S. border – the place she will visit this upcoming Wednesday:
Today, I will start a 3 day journey with @verainstitute to dive deeper into the immigration policies of our country.

I'll interview immigration attorneys and their clients. I will visit courts and detention centers -culminating in a trip to the border on Wed. #SAFE pic.twitter.com/e6awrQoBP6

— Alyssa Milano (@Alyssa_Milano) September 10, 2018
From City & State's Sept. 11 First Read newsletter:
Rep. Sean Patrick Maloney, who is running for state attorney general, talks on the campaign trail about wanting to be New York's first openly gay statewide elected official. But New York City Public Advocate Letitia James, one of Maloney's primary rivals, is winning more LGBTQ support. She just released a letter signed by more than 100 lesbian, gay, bisexual, transgender or queer New Yorkers involved in politics, all backing James – including New York City Council Speaker Corey Johnson and American Federation of Teachers President Randi Weingarten.
Perhaps the only LGBTQ group backing Maloney's campaign is the Victory Fund, which seeks to elect LGBTQ people. James has been dominating the field in endorsements, thanks in part to her position as Gov. Andrew Cuomo's preferred candidate, including nods from such prominent LGBTQ political groups as the Jim Owles Liberal Democratic Club and the Stonewall Democratic Club of New York City. SDNYC President Rod Townsend told City & State his group's endorsement isn't a rebuke of Maloney. "We voted based on who we know. And Tish has that personal touch," he said. "I think it's wonderful (Maloney) is running, but at the end of the day, members voted for who they know.
Send your press releases, photos and latest news to zwilliams@nynmedia.com.
An earlier version of this article included the incorrect dates of an Aug. 31 event at SCO Family of Services' Flushing Family Residence.