The latest from Services for the UnderServed ... Community Access ... NYC contracts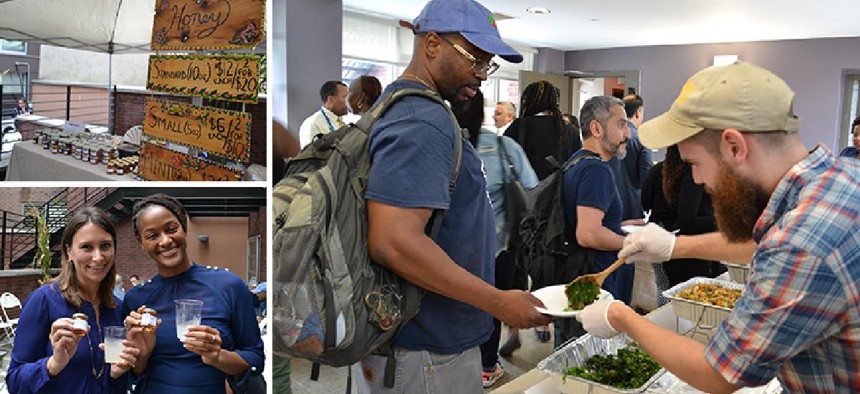 Services for the UnderServed hosted a Sept. 14 event that showed how urban agriculture can help disadvantaged people. The event, held at the nonprofit's Fox Point supported housing facility in the Bronx, featured farmers who shared a meal made with produce from more than 40 urban farms and gardens throughout New York City, according to a spokesperson. The 2018 Harvest Luncheon also included discussion of how working on such farms and gardens can give people job skills and confidence in their personal lives. People affected by homelessness, drug abuse, mental disabilities and poverty have participated in such programming since 2010. About 500 people took part this year.
The nonprofit Community Access released a statement following the fatal shooting of a 54-year-old Queens woman by police on Sept. 17.
"In 2016, the Council of State Governments Justice Center reviewed the city's behavioral health crisis system and made several recommendations to the Mayor's Office of Criminal Justice on how to improve the response to these types of incidents, including the following:
'Implement a division of NYPD that oversees all specialized behavioral health responses by the NYPD... to ensure that there is consistency in responses and best practices across all five boroughs …' and,
'Expand the current triage desk to assist with all 911 calls coming into NYPD identified as a behavioral health crisis…to ensure that available behavioral health diversion opportunities are identified as quickly as possible. Allow for the triage desk staff to access…databases to identify prior history and available response options.'
These common-sense recommendations are based on best-practice models used in other communities. It's time for New York City to catch up and implement systems that anticipates and avoids a crisis, which is far better and safer than responding to one."
The New York City Administration for Children's Services has awarded an $861,828 contract to Cumberland Hospital. The money will fund "extraordinary needs foster care services," according to the City Record. Elizabeth Osborn, of Valhalla, N.Y., received a $38,900 contract from the agency to provide a "fire setting assessment." Boston-based Global Protection Corp. will provide $1.66 million worth of condoms, per a contract with Citywide Administrative Services. Episcopal Health Services, a Bethpage-based organization, has a $3.1 million contract to provide services to children and families on behalf of the Department of Health and Mental Hygiene. Volunteers of Greater America of Greater New York has received an $8.6 million contract from the Department of Homeless Service. The money will fund a safe haven for chronically homeless adults at 1365 Cromwell Avenue in the Bronx through June 2023.
A new report examines how well New York City is keeping pace with a rapidly changing labor market. In short, the report states that Mayor Bill de Blasio needs to do more. "Extraordinary forces are reshaping New York City's economy for workers and businesses, yet it's within our control whether we succumb to them or transform our workforce system to meet this moment," Stacy Woodruff, director of the Workforce Field Building Hub, said in a Sept. 17 press release. "We hope this report, which distills learnings from the leaders in this field, moves us from words to actions that truly support New York City workers and businesses."
The report includes five recommendations on how the city could better help low-income people and the businesses that might be looking to hire them. Here they are, taken verbatim from the press release:
Focus not only on more funding, but how funds are deployed.

Invest in an essential information infrastructure to support ongoing systems of information sharing and analysis to better serve employers and jobseekers.

Strengthen collaborative capacities to emphasize impact over scale and invest more deeply in fewer organizations serving employers and job seekers.

Organize a robust, multi-stakeholder advocacy campaign that targets the mayor, city council and key state legislators.

Empower a council of leaders to act as the stewards of the workforce ecosystem.
And then there is this: