New York City nonprofits had a big day at the City Council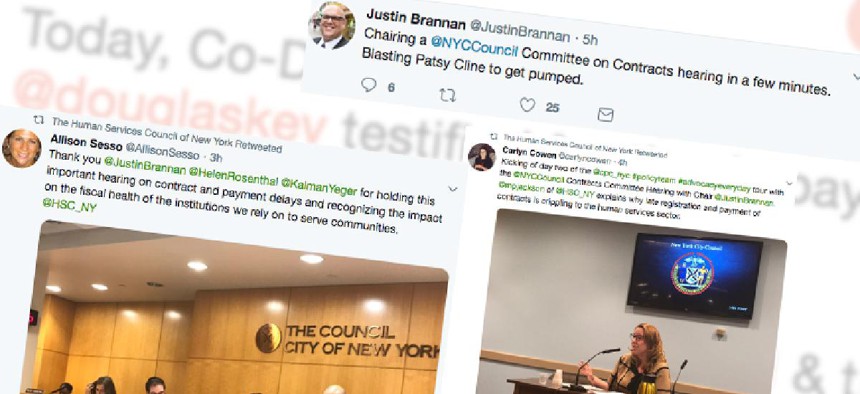 A slew of nonprofits testified Thursday in support of city legislation aimed at improving the city contracts process. The legislation would require better reporting of late contract approvals – a long-running complaint of nonprofits that provide homeless shelters, foster care, youth development, and other services on behalf of the city. A hearing held at 250 Broadway in Manhattan featured nonprofit leaders testifying about the impact of late contract approvals, which in effect means that nonprofits pay for city services while they wait months and sometimes years for reimbursement.
Sector leaders represented at the hearing included representatives from the Human Services Council, United Neighborhood Houses, The Supportive Housing Network of New York, LiveOn NY, SeaChange Capital, Sheltering Arms, Catholic Charities, Urban Pathways, and Good Shepherd NYC.
The hearing occurred the day after Allison Sesso, executive director of the Human Services Council, received recognition for her efforts to push the city to improve its treatment of nonprofit contractors. She was the recipient of the 2018 New York City Employment and Training Coalition's Kathleen Masters Leadership Award.
Congrats and thank you to Allison Sesso @HSC_NY @AllisonSesso for her leadership on human services in NYC! @NYCETC_org #NYCETC2018Awards @PublicWorksIQ pic.twitter.com/6rI8cYRC31

— Celeste Frye (@CelesteFrye11) November 15, 2018
The City Council also had a packed house for a hearing on the Trump administration's proposed "public charge" rule. The rule would make it harder for some immigrants to get permanent residency because of their prior receipt of social services. Here is what you need to know. Comments on the proposed rule (USCIS-2010-0012) will be accepted until Dec. 10, and can be made here. Transcripts of the hearing and a video stream will be available here.
Packed chamber for @NYCCouncil hearing on Trump admin's proposed change to "public charge" rules which would deny health care coverage to Green Card holders and other immigrants. Register your public comment on this cruel proposal here: https://t.co/iSv4r6GNZj pic.twitter.com/tYZlY8BfYj

— Mark D. Levine (@MarkLevineNYC) November 15, 2018
The New York City Employment and Training Coalition has something to say about Amazon's move into Queens. The coalition expressed excitement that the online giant would create thousands of new jobs in the city, but expressed concerns in a statement that the new project would not benefit marginalized communities.
"The news this week of what Mayor de Blasio has described as 'the largest economic development deal in NYC history' is exciting and potentially historic for the city's business ecosystem," reads the statement. "In many ways, this validates New York City's dream of becoming a true technology ecosystem, one that rivals any other region in the nation. However, it must be met with some apprehension as we know from experience that this does not come without potential consequence. Marginalized communities across the city and in the public housing near this development may be left to wonder whether they will have a real opportunity to benefit from these new jobs or once again see career opportunities stay tantalizingly beyond reach."
There's a new board chair at Community Resource Exchange. Brooke Richie-Babbage was elected to that position at the annual board meeting on Nov. 14, according to a press release. She previously served as executive director for nine years at the Resilience Advocacy Project, among other positions. She will replace Patricia Hewitt, who will serve as board treasurer.
Three other people have joined the board. Amer Ahmed is a senior litigation associate at Gibson, Dunn and Crutcher LLP. Brian Daly is a partner at Schulte Roth and Zabel in the the investment management unit. Tanya Keenan is the university campaign director and an advisor at The New School.
New York Foundling has awarded $100,000 in scholarships for students pursuing social work careers. The money will go to graduate students attending New York University and Fordham University, according to a Nov. 14 press release. "Child welfare is a challenging, complicated, and, at times, a stressful field, but I can't imagine anything more rewarding than devoting one's life to keeping children and families safe and healthy," Bill Baccaglini, president of the nonprofit, said in the press release. "We constantly need to attract talented, compassionate and smart individuals to enter this profession, and these scholarships will provide a spark – pointing a few more promising students our way – and toward a career making a difference in children's lives."
St. Nicks Alliance Corporation has received a $3.4 million contract from the New York City Department of Social Services. The money will fund for one year 120 units of housing and services for people living with AIDS, according to the City Record. The Department for the Aging has awarded a $143,000 contract to the Washington Heights Inwood Preservation and Restoration Corporation to fund senior services. The department has also given a one-year, $655,711 contract to the New York Foundation for Senior Citizens to fund senior services. The Administration for Children's Services is looking for providers of non-secure and limited-secure placement services, according to the City Record.